Boeing Deal: Expect a Close Vote
On the eve of the union vote after an eight-week strike, some machinists consider the tentative Boeing settlement simply a "Band-Aid"
Joseph Weber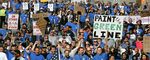 For some workers at Boeing (BA), 56 days on the picket line is not enough. As 27,000 machinists prepare to vote Nov. 1 on a contract that could get them back on the job by Nov. 3, signs are emerging that the vote could be close. It's no sure thing that the deal will pass, some workers say. "The contract is a lukewarm, Band-Aid version of the first one we got," says 21-year Boeing mechanic Russell Wise, who plans to vote against the tentative settlement. "People are unhappy about that."