So Much for Buy-and-Hold Advice
You bet on stocks. You diversified. You lost a bundle. Should you get out? Experts disagree
By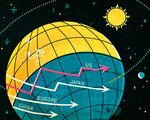 They were reassured that stocks have the best long-run returns, so they plowed their savings into the market—only to watch in dismay as government bonds outperformed stocks over an entire decade. Moreover, investors were lectured again and again on the wisdom of diversifying their portfolios internationally. So they did. But foreign markets have done even worse than their U.S. counterparts lately. The most exasperating example is Japan, whose key stock market index is now back to where it was in 1981.
What many investors have failed to realize is that "the long run" can sometimes be very, very long. So says London Business School economist Elroy Dimson, co-author with his LBS colleagues Paul Marsh and Mike Staunton of the 2002 book Triumph of the Optimists, which challenged work by University of Pennsylvania Wharton School professor Jeremy Siegel, author of Stocks for the Long Run. The climb back into the black after a fall can take even longer outside the U.S., says Dimson. In Italy, he says, stocks failed to keep up with inflation over a 73-year period through 1978.
Dimson is far from the only expert betting that the U.S. market may need a lengthy recovery period. And, of course, stocks may not have hit bottom. Rajnish Mehra, a finance professor at the University of California at Santa Barbara, says that according to his calculations, stocks in the U.S. would have to drop a lot more to get as cheap—in terms of the ratio of total equity (including private equity) to gross domestic product—as they were in the dark days of the 1970s. That ratio peaked at 1.8 around 2000. It recently dropped to 0.8, but that's still twice the 0.4 equity-to-GDP ratio of the mid-1970s, says Mehra.
As for foreign equity markets, the worst-case scenario is that some might simply go away. In the 20th century, thriving stock markets in Russia and China were closed down by communist takeovers. Granted, those are extreme examples. But even in the absence of such a doomsday scenario, international diversification doesn't always lower the volatility of returns—because in major crises, stocks fall in every market. Thus, in 2008 global diversification isn't protecting investors from the financial crisis that originated in the U.S. In sum, two pillars of investment advice—buy stocks and go global—have proved to be weak reeds lately. No wonder pundits such as Jim Cramer, the CNBC stockpicker, are sounding off about "how the best way to invest is not to buy a bunch of stocks and just sit on them."
To be sure, darting in and out of the market like a day trader isn't necessarily the best idea, either. One advantage of settling in for the long haul is that you don't miss bolts from the blue like the rally on Oct. 28, when the Dow Jones industrial average soared 889 points, or 11%.
Wharton's Siegel says now would actually be the worst time to quit stocks, with equities cheaper than usual as measured by their prices compared to their earnings. As of Oct. 28, Britain's FTSE 100 traded at seven times the past four quarters' earnings, vs. 14 a year ago, and Germany's DAX is around nine times earnings, vs. 14 a year ago. China's Shanghai Composite is at 14 times earnings, vs. 47 a year ago. And talk about a round trip: Japan's Nikkei is back to where it was in 1981, while U.S. and European indexes are at levels not seen since 1996 and '97. Even China's once high-flying market is back to where it was in 2000. (These figures do not account for reinvested dividends.)
You don't have to be a Siegel acolyte to believe that right now, stocks—particularly international ones—could be bargains. Robert Arnott, chairman of Research Affiliates, a Pasadena (Calif.) investment manager, criticizes Siegel's argument for long-term stock outperformance as a "simplistic thesis," saying "it assumed stocks are wonderful at any price, and that's not true."
Nevertheless, Arnott likes current global market valuations and is particularly keen on the battered emerging markets. "Over half of [worldwide] GDP growth comes from emerging markets," he says. "It's a two-thirds-off sale right now."
Dong Tao, Hong Kong-based Credit Suisse (CS) chief economist for Asia (excluding Japan), adds that good companies in the region "are not going to be washed away.... Fundamentals one day will come out."
That may prove true. But the global credit crisis is a dangerous and unpredictable beast, and in this environment, history may not be the greatest of guides. William Goetzmann, a Yale University School of Management finance professor, says the serious breakdown of credit and unprecedented government intervention in the banking system make it hard to compare this period with previous ones. Too many investors focus on simple statistical formulations and fail to heed "real, serious events that could cause ruptures," says Goetzmann. "Now is the time for real caution about projecting statistical models forward."
And since equity investors are the last in line to be paid in the case of a bankruptcy, they are particularly vulnerable if the financial system breaks down. Another potential risk: While emerging-market valuations may be tempting, Mohamed El-Erian, co-CEO of bond investor Pimco, points out that stock market investors are, of course, at greater risk in countries without strong property rights and the rule of law.
Will stocks pay off in the long run? Statistics show they have in the past. But it all depends on how long you're willing to wait. Investors probably shouldn't think too hard about what British economist John Maynard Keynes once said: In the long run, we're all dead.
With Ben Levisohn and Tara Kalwarski in New York and Frederik Balfour in Hong Kong
Before it's here, it's on the Bloomberg Terminal.
LEARN MORE