Golf School as a Tool
Companies are increasingly using clinics to reward employees, entertain clients, and boost morale
By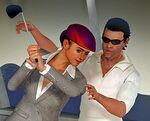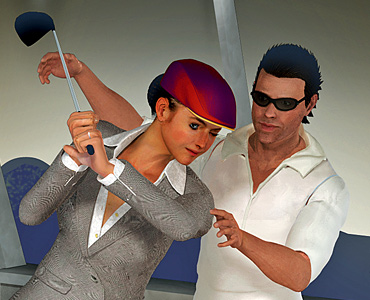 Ed Henkes, national account manager at an electrical-parts maker, wanted to repair a relationship with a key customer that had been frayed by a personality clash with one of his former reps. Henkes, who works for FCI-Burndy Products in Manchester, N.H., knew that buyers at the other company, Graybar Electric, shared his passion for golf. So he thought the course would be a perfect place for the two parties to reconnect. Rather than propose a competitive round that could reignite old grudges, Henkes had a better idea: a corporate golf school where everyone could work side by side on improving their games.
So in early April, Henkes sprang for the equivalent of a "corporate buddies trip" to Las Vegas. After three days of on-course instruction from the VIP Golf Academy's teaching staff, everyone was on the same page again. "Our sales guys said [we] couldn't have done anything better to improve relations," Henkes recalls. "This really brought them together."
Corporate golf schools don't promise to bring customers back into the fold. But more companies now see them as a way to reward key employees, entertain valued clients, and keep morale high in an otherwise gloomy business climate. Many top instructors, including Butch Harmon and David Leadbetter, offer programs that have been customized for the corporate crowd, and leading resorts such as Kiawah Island and Troon North Golf Club also offer golf schools for the business set. "Corporate golf is alive," says Ronnie Miller, director of instruction at Kiawah, where revenue from corporate schools jumped from less than 15% of its instruction business in 2006 to 20% in 2007.
ADAPTING TO TOUGHER TIMES
Part of that demand is coming from female executives and their employers. Case in point: Marquis Jet, which was so convinced of the value of teaching golf to its female sales reps that it sent 20 to 30 employees to corporate golf programs each of the past three years. It helps them become confident enough in their game and course etiquette that they can spend more time talking business "and not worrying about what club to use," says Marybeth Dowd, Marquis Jet's event manager.
But with the economic turmoil prompting companies to cut costs, golf schools have had to adapt. Most have responded by reducing the number of three-day retreats at luxurious golf resorts, which can easily run $3,200 per person, in favor of one-day schools for about $500 per participant, lunch included. Some schools also travel to the client, setting up outings at a country club or resort near company headquarters. At ESPN Golf Schools, 80% of its corporate business used to come from three-day sessions. Now, 80% is from one-day sessions. "We had to reinvent ourselves," says ESPN Golf Schools President Charlie Ricks.
At most of the one-day clinics, instruction focuses on three critical parts of the game: driving, chipping, and putting. At the ESPN schools, the day usually starts with breakfast, followed by swing evaluation and tips. Then it's off to the short-game area for wedge and putting lessons. However, the level of instruction can vary wildly between schools and is sometimes a function of how much corporate clients are willing to pay. Bird Golf Academy, based in Avondale, Ariz., limits its instruction to one professional per student, but VIP Golf's Corporate Golf School for Executives strives to keep its ratio at four golfers per teacher. ESPN goes no higher than six-to-one.
Top instructors caution against attending schools where the ratios are much higher than that. Often, that's when the experience deteriorates. Some students have been frustrated when, after paying good money, they were ignored by instructors who spent most of their time with the one or two most demanding students. Meanwhile, "the mild-mannered participant gets shuttled to the back of the bus," says VIP Golf owner Brad Yates. Also, check out the experience of each school's teaching staff. Problems occur when schools employ too many young instructors who play a good game but lack the ability to transfer their knowledge.
Though most golf schools employ PGA professionals as instructors, many assign their most sociable pros to the corporate groups. That helps ensure participants are not only getting golf tips but also are bonding with the others in their group. Eric Gilpin, director of national accounts at job-search site CareerBuilder.com, recalls that at one school he attended with clients, the instructors entertained the group with such trick shots as spitting balls out of their mouths and then hitting them—in midair—200 yards down the range. "We weren't hooked up to TV monitors and computers," Gilpin says. "It was fun."
Instruction isn't the only thing schools customize: Sometimes it's your equipment as well. Gilpin says CareerBuilder has spiced up some of the golf-school trips it has hosted by getting every participant a personalized analysis that fits clubs to their swing. At a CareerBuilder event for customers held at Lake Las Vegas last fall, the company brought in clubfitter EJL Custom Golf of Willowbrook, Ill. Instructors shot a 20-minute videotape of each customer's swing and, with that data, EJL later built and mailed each client a custom-fit driver. "It showed the client we appreciate their business," says CareerBuilder CEO Brent Rasmussen.
Gilpin is an experienced golfer, and he understands that he takes the game more seriously than some. VIP's Corporate Golf School, based in Port St. Lucie, Fla., emphasizes education over entertainment. Instructors teach newbies the basics of course etiquette: where to stand when another player hits, how to repair divots, and how to avoid walking all over another player's putting line. Some instructors even teach alpha executives ways to tame their temper on the course to avoid frightening clients away. These lessons are part of the school's sales pitch to CEOs who want their employees to represent the company well while playing with customers. "The whole key to this in today's economy is to show how a customer can justify the expense," says Yates, of the VIP school. "It's important that there is an aspect that is tied to their business."
Before it's here, it's on the Bloomberg Terminal.
LEARN MORE