Dreams for Sale
Want to own your own golf course? With plenty available across the U.S., there are bargains out there. But first-time buyers shouldn't let their hearts overrule their heads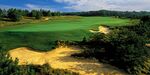 For a certain kind of golfer, owning a course is a romantic dream—like running a bar or investing in a Broadway production. After all, what could be better than waking up, deciding where the pins on each green should be set for the day, and collecting cash from all the other golf fanatics in your town who are just lining up to play?
But it isn't quite that simple.
A treacherous real estate market, uncertain credit climate, and a business model that depends on undependable things like weather and fuel prices make running a golf course a challenge. It's a buyer's market, however, and there are bargains for the shrewd investor. We asked some experts who have been through it to give their best advice to the first-time course buyer. Though not easy, it is possible to make a good deal on a golf-course purchase, even in this tough market.
1. KNOW THE LOCAL CONDITIONS
It doesn't take a sermon from legendary investor Warren Buffett to confirm that the real estate market isn't exactly vibrant. "The same thing that happened in subprime home lending happened in golf, with inflated property values," says Hilda Allen, a veteran Georgia commercial real estate agent who has closed more than 400 golf-course deals. "We're feeling the correction now. There are more courses for sale than ever before."
You can spend $68 million for the Rees Jones-designed Three Ponds Golf Course (and the estate that comes with it) in Water Mill, N.Y., or $400,000 for the Sandy River Golf Course in Farmington Falls, Me.—but virtually every sale is happening at a discount from list price, just as in the housing market. There's plenty of inventory and lots of time to shop around for the right fit.
In the current world of golf-course properties, more isn't always better, either. An attached subdivision, marina, or retail component adds a layer of expense and complexity to the business model. Higher property taxes, more insurance, and additional maintenance are costs you'll need to cover, even if those amenities aren't generating revenue—as developers around the country are learning the hard way. According to Allen, the best strategy for the first-time investor is to buy a course in a familiar area and be wary. That means having a realistic understanding about the course's competitors, challenges, and potential. If your business plan calls for course improvements and a subsequent increase in green fees, make sure the fees are still appropriate for the area—and that your business plan makes sense even if the tee sheet isn't full.
2. JUMP THE FINANCING HURDLE
Picking up a choice property for a quarter of the original construction price might be enticing, but it can be difficult given the skittish credit markets. To take advantage of these opportunities, you'll need to kick in some of your own cash. "In the conversations we're having with buyers these days, we tell them to expect to put in 30% to 40% cash," says Jerry Hinckley, national sales director for the Golf Finance Division at Textron Financial, one of the largest course financiers in the country. "That does two things. If you're buying in a situation where you have a slow turnaround in operations, having that equity gives you a smaller debt service payment while you work out the issues. And the lender is more likely to take that bet on the loan, because the owner has more of a stake in the business."
On the average $5 million to $6 million golf-course purchase, a common loan package would consist of a $3 million to $4 million note with a five- to seven-year term and a balloon payment at the end. The loan would be amortized at a 25-year rate, to keep the monthly payment lower. On a $4 million loan at 8.5% interest, a borrower would have a monthly payment of $32,200. On bigger properties, you can extrapolate the math: "When I see some of these $20 million projects, I wonder how they could possibly pencil out," says Ron Whitten, Golf Digest's architecture editor, who co-owned a public course in Abilene, Kan., from 2003 to 2006.
Hinckley also advises first-time owners to resist the temptation to borrow more initially for expensive capital improvements. "Start conservative. There's always time for things like redoing the clubhouse later, once you know what you have," he says. "You don't want to put yourself in the position where you make a big improvement and reach 90% of your goal, but you're underwater in terms of revenue."
Some sellers are responding to the extra-cautious commercial-lending market by offering to privately finance the sale to a qualified buyer. That can be an attractive option—a motivated seller might offer more flexible terms than a bank—but the details need to be reviewed by a lawyer and an accountant just as they would in a bank-financed deal. Another popular financing method for experienced course owners is a 1031 Exchange—using the proceeds from the sale of one course to purchase another within a specific time period, to defer capital-gains taxes.
3. FIND THE HIDDEN COSTS
The figures in a loan packet are only part of the ownership equation. "If you haven't been in this business, you have to educate yourself about the things that can and do go wrong," says Walt Lankau Jr., who owns a 36-hole public facility, Stow Acres Country Club, in Stow, Mass., and is a past president of the National Golf Course Owners Assn. "If it were simple, everybody would be doing it. You have to have your eyes wide open."
The most common financial bogey—at least for courses in the Northeast and Midwest—is weather. A run of rainy days can put a big dent in cash flow—which can be fatal to a course operating on the edge. "July is normally a good summer month for us, but this year we had 22 days of rain," says Lankau, who also owns a semiprivate course, Owl's Nest, in Campton, N.H. "I'm blessed with good drainage, but a lot of people around here were hit pretty hard by that. It's something that's out of your control, but you've got to have the personality to be able to handle that stress."
Like an old sports car, golf courses can accumulate serious maintenance costs. "The sticker shock comes from the hidden things," says Whitten. "Fertilizers and chemicals are petroleum-based, so you're at the mercy of oil costs. If you don't have a water source, and you're buying your water from the city for $200,000 a year, you'll go broke."
4. PUSH THOSE SODAS AND SHIRTS
In addition to the heavy lifting that comes with managing any business—agonizing over profit-and-loss statements, meeting a payroll, and deciding how much to spend on course improvements—understand that the course-ownership business is more than just about green fees. "A golf course is certainly a great place to come to work every day, but people buy for the wrong reasons," Lankau says. "If you get caught up in the romance of it and don't pay attention to the fundamentals—and as a private business, that's making money—you won't make it."
Golf is first, says Lankau, but food and beverage service and retail sales in the golf shop are a fundamental part of most modern golf-course businesses. That means that the hassles of obtaining a liquor license and negotiating deliveries from distributors come with the job. "A soft drink or a beer is a basic part of the golf experience for somebody at a golf course," he says. "That's the reality, and I have to accept that if I want to make money."
Before it's here, it's on the Bloomberg Terminal.
LEARN MORE