Cash-Rich Drugmakers Eye Mergers or Acquisitions
GlaxoSmithKline, Pfizer, and Sanofi-Aventis are likely buyers. Wyeth, Bristol-Myers Squibb, Eli Lilly, and a host of biotech companies could be targets
By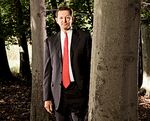 Andrew Witty, the new chief executive of giant GlaxoSmithKline (GSK), surveys the wreckage of the global financial meltdown and sees an upside. With pharmaceutical stocks at record lows, it's a good time to acquire biotech companies and other assets that could drive Glaxo's growth for years. Its midsize rival Wyeth (WYE) is also on the prowl—but there's a difference. Faced with a shrinking market valuation, new CEO Bernard Poussot may have to bulk up to ward off larger predators.
Witty and Poussot are two of seven new faces who have taken over at major pharmaceutical companies since 2006. It's a massive changing of the guard, and it comes at a time of both huge risks and irresistible opportunities. Drug companies have amassed astonishing hoards of cash, which places them in an enviable position as the world slides into recession. But they will have to dig deep into their stashes to buy the growth that has eluded them for the past decade. That means choosing targets that are most likely to create blockbuster drugs and to open up whole new areas of disease treatment.
How the coming shakeout transforms the pharmaceutical landscape is of intense interest to policymakers and investors—and that includes just about anyone with a mutual fund. These are some of the world's most widely held stocks, yet chronic lack of innovation has caused drug company sales and profits to stagnate. Drugmakers are rich—U.S. companies alone are sitting on $113 billion in cash. But the dividends they pay have done little to offset disappointing performances. "Look at the overall value of the top 20 drug companies—they're worth nearly a trillion dollars less than they were in the year 2000," says Peter Tollman, senior partner at Boston Consulting Group.
There's another reason the industry's struggles are attracting such scrutiny. It has to do with the critical role drugmakers play in society. The industry burned through a record $59 billion in research and development money in 2007, according to the Pharmaceutical Research & Manufacturers of America. It has spent $213 billion since 2004, making it among the most profligate industries when it comes to R&D. The payoff for society was supposed to be a steady flow of products that would improve people's lives and reduce the government's health-care expenses. Instead, drug research productivity has been declining. Last year only 19 new drugs were approved in the U.S., and few of them were true breakthroughs.
SHOTGUN MARRIAGES
Will consolidation improve this dismal performance? The track record for pharma and biotech mergers is mixed at best, but that's not quelling the enthusiasm. Drug companies have announced more than $142 billion worth of mergers and acquisitions so far this year, 18% more than they spent in all of 2007. The dealmaking could take a breather while the financial chaos sorts itself out, but many analysts expect to see a slew of shotgun marriages soon, including some megamergers. The first sign of that came on July 21, when Roche (RHHBY) offered $43.7 billion to buy the 44% of biotech bigwig Genentech (DNA) that it didn't already own. Genentech's executives turned down Roche's offer of 89 per share, saying it was too low. But Roche's new CEO, Severin Schwan, says he's certain there will be a deal.
In many respects, this is a good time for companies to replenish their starved research pipelines through mergers. Even before the financial sector's collapse, the American Exchange Pharmaceutical Index had dropped 19% since January. Shares of Wyeth are down 23% this year, and other midtier players have been hit hard. Bristol-Myers Squibb's (BMY) new CEO, James M. Cornelius, a medical devices veteran, recently tried to boost the company's presence in biotech by buying cancer drugmaker ImClone Systems (IMCL). Eli Lilly's new chief executive, John C. Lechleiter, nabbed ImClone in the end. Both Bristol and Lilly are still on the hunt—even as their expertise in cancer drugs puts them in Big Pharma's sights. No one can say precisely who will devour whom, but most of the spoils are sure to go to the biggest predators. In addition to Glaxo and Roche, there's also Pfizer (PFE), which has banked $26 billion in cash. CEO Jeffrey B. Kindler, who started in 2006, is under pressure to make acquisitions that deliver blockbusters without bloating the payroll. "It's accelerated hardship that these companies are facing," says Scott Richter, portfolio manager at fund manager Fifth Third Asset Management. "What do people in Vegas do when they're down and out on the card table? They triple up."
UNIQUE PERSPECTIVE
Glaxo and Wyeth both show the stresses and aspirations forcing the industry to consolidate. Witty, 44, is the paradigmatic hunter. He spent his whole career at Glaxo grappling with the fallout from the mergers that gave his company its "S" and its "K." Now he's applying what he learned to become a smarter shopper. Publicly, he shuns the idea of megamergers, but overcoming that aversion is merely "a function of two people getting together in a room and deciding it's a good idea," he says.
When Glaxo made two of its largest acquisitions, Witty gained a unique perspective from the periphery. He was the general manager of the company's South and East African division during the $14 billion merger of Glaxo and Wellcome in 1995. And when Glaxo and SmithKline Beecham merged in a $76 billion behemoth deal in 2001, Witty was running the Asia-Pacific unit. The company used both mergers to shake up the place; Witty and other regional managers had to reinterview with the top brass to keep their jobs. "We were shocked," Witty recalls. But later he helped reassess the merged companies' product portfolios and integrate far-flung scientists into a united force.
Early on, Witty identified one obstacle to reaping the advantages of a merger. It's the stultifying industrialization of R&D, born from managers' misguided desire to make all the parts function smoothly together. As Glaxo grew, research groups became less like teams and more like assembly lines, passing drug ideas from chemists to biologists to other specialists in the hope that great products would emerge at the other end. Bureaucracy overpowered braininess. "We have to get away from this idea that as long as you have a process chart, anyone can go into the lab and discover a drug," says Witty, shifting in his chair and waving his arms like an impatient grade schooler. "I'm working very hard to re-personalize and de-industrialize R&D."
Witty also mastered a style of innovation more common among biotech startups than pharma giants. Drawing on lessons learned from a brief stint at a biotech startup, he reprogrammed Glaxo's research process by putting scientists into small groups called Drug Performance Units (DPUs). Each is assigned a therapeutic target and a three-year budget. Then it's left alone to decide how to develop drug candidates. Some of Glaxo's recent biotech acquisitions have been turned into DPUs, including Britain-based Domantis, which the company bought in 2007. During a recent visit there, Witty was surprised to meet a scientist who decided overnight to abandon her own experiment and instead help a lab mate with his project, which seemed more promising. Had these scientists been absorbed into Glaxo's once-unwieldy R&D ranks, "that would have taken weeks to happen," Witty says. "This was just two incredibly smart scientists finding the glint of sunlight in the tunnel and pooling their resources. That's discovery."
One tier down from GSK on the drug industry food chain are a host of smaller, well-established companies, any of which could be snatched up by a bigger player. Among potential prey, the tastiest may be Wyeth. Its 56-year-old CEO, Poussot, ran the international drug unit, while his company dealt with one of the biggest product liability disasters the industry has ever seen: In 1997 its weight-loss drug fen-phen was pulled from the market after it was linked to heart valve defects. Now Wyeth has a pipeline with some promising drug candidates, including one for Alzheimer's disease. But Poussot is ever mindful of Wyeth's bargain-basement $45 billion valuation, so the 6-foot-7 former basketball ace is playing defense, hoping to stay independent.
Poussot has been CEO of Wyeth only since January. Yet in his 20-year romp up the ranks, he has helped turn the Madison (N.J.)-based company into a leading player in prescription and over-the-counter drugs as well as vaccines and animal health products. Even so, with yearly sales of $23 billion, Wyeth is a mere shadow of companies such as Glaxo, which is nearly double Wyeth's size in revenue and has a market cap of $96 billion. And because sales have been growing by just 10% a year or less and the stock has been lackluster for the last year, Wyeth is seen as vulnerable. "We need to constantly fight for more productive ways of doing business," says the soft-spoken, professorial CEO.
Poussot's talent for building Wyeth's R&D muscle without getting distracted by fen-phen made him a star. As the diet drug blew up, the company sequestered its litigation team and charged Poussot and a few other top executives with developing new medicines. Poussot had shown his stuff earlier that year, when he compelled Wyeth's U.S. and international drug development teams to integrate their activities. Now he's working on a different sort of assimilation, bringing insurance companies and doctors in to offer opinions on drugs that are several years away from reaching the market. It's partly a response to demands this year from European and U.S. regulators, who are refusing to approve new Wyeth drugs without first seeing additional data to prove they are safe and effective. He hopes the outside voices will help guide the company toward the best opportunities—the drugs that doctors really want and that insurance companies will reimburse.
Diversifying beyond drugs might also help keep Wyeth independent, Poussot believes. He has been shifting some of the company's resources into other endeavors, expanding its consumer blockbuster brands such as Robitussin cough syrup and Centrum multivitamins in developing markets such as China, for example. And Poussot says he's on the lookout for small acquisitions that will boost Wyeth's product offerings across all its businesses. "Innovation doesn't have to be prescription only," Poussot says. He disputes the idea that his company needs to get big fast in order to keep predators at bay. "What matters is to continue to grow," he says.
In a business as risky as pharmaceuticals, it also helps to be lucky. Just weeks before Witty took over at Glaxo, the company raised $9 billion in a debt offering—the biggest corporate bond issue the U.S. had seen in six years. "We saw a moment, and we took it. We didn't know the markets were about to slam close," Witty says. Now he is plotting his next move. "I tell you right now this economic shift in the markets has put a lot of pressure on some companies. Great, we have the capacity to do some transactions."
For an in-depth look at Pfizer's prospects as well as views on the economy, M&A, and other pressing issues from four newly minted drug company chief executives, go to www.businessweek.com/magazine.
With Kerry Capell in London
Before it's here, it's on the Bloomberg Terminal.
LEARN MORE