The Iberian Giants of U.S. Wind Energy
Backed by their parents' capital, Spain's Iberdrola Renovables and Portugal's EDP Renovaveis can exploit the downturn and snap up smaller rivals
Mark Scott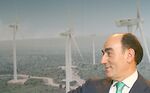 In the wheat fields of Washington State's Klickitat County, the blades of 133 wind turbines spin rhythmically in the breeze. Built in 2006 near the town of Bickleton, the installation—known as the Big Horn Wind Project—produces enough electricity to power 60,000 homes and is one of hundreds of renewable energy projects that have sprung up across the U.S. in recent years.
Yet Big Horn also embodies another trend in America's alternative energy sector. Along with 24 other wind farms around the country, it is owned by Spain's Iberdrola Renovables (IBER.F), a majority-controlled spin-off of European utility Iberdrola (IDRO.F). Already the world's largest wind farm operator (BusinessWeek.com, 6/6/07), Iberdrola Renovables now is the second-biggest wind-energy company in the U.S., behind only Florida Power & Light (FPL). Another European firm, Portugal's EDP Renovaveis (EDPR.LS)—a subsidiary of domestic utility Energias de Portugal (EDP.LS)—is the third-largest, making these two Iberian companies among the leading players in America's push into alternative energy.
Despite a troubled investment climate due to the weak economy, the U.S. wind sector looks set to continue growing—and European companies are likely to increase their role. Tough carbon dioxide emission restrictions forced the Old World's utilities to embrace clean technology before their U.S. counterparts, giving them a crucial head start (BusinessWeek.com, 9/19/07). Their first-mover advantage was buttressed by generous local government subsidies, particularly in Spain and Portugal, that helped make wind energy profitable at an early stage. Now, flush with cash from their European operations, both Iberdrola and EDP have launched aggressive plans to invest billions of dollars in new wind farms across the U.S. by 2012.
Iberdrola and EDP: Deep Pockets
Unlike smaller rivals in the U.S., which are finding it hard to raise funds in tight credit markets, the Europeans are backed by well-capitalized parent companies, allowing them to expand just when others are cutting back. Analysts now expect Iberdrola and EDP to start snapping up some of the cash-strapped independent companies that account for roughly 40% of the U.S. wind-energy business.
"Under current market conditions, the big players such as Iberdrola Renovables and EDP Renovaveis will consolidate in the booming U.S. market," says Eduard Sala, senior analyst at Emerging Energy Research (EER), a consultancy based in Barcelona and Cambridge, Mass. "Players without finance could be forced to sell, with the large, experienced companies filling the void."
Consolidation of the U.S. wind industry is due partly to changing economics that have made the sector less attractive to some investors. Oil prices have more than halved since their record highs in July 2008, so projects in renewable sources have become relatively less cost-effective than when energy costs were peaking. A reduction of available credit, as well as rising charges for loans, also has squeezed developers looking for high rates of return from wind farms.
"Investors are facing hard times, because they either can't find project financing or the economics just doesn't add up on current energy prices," says EER's Sala.
Aggressive Expansion
That has left an opening for well-funded Iberdrola and EDP, which are looking beyond the short term to increase their wind-energy production more than 100% by 2012. For Iberdrola, that means spending $23.4 billion from 2008 to 2012 to increase capacity from 7,700 megawatts to 18,000 MW. Two-fifths of the investment is targeted at the U.S. EDP's planned rate of expansion is even more aggressive: It wants to add 1,400 MW annually between 2008 and 2012, effectively tripling its existing 3,000 MW capacity to 10,000 MW over five years. Total capital expenditure is expected to top $12.5 billion, with two-thirds earmarked for U.S. facilities.
According to estimates, Iberdrola Renovables will generate $2.9 billion in total revenue in 2008, with a net profit of $458.8 million. EDP Renovaveis is expected to post a 2008 net profit of $108.1 million on $787.9 million in revenues.
To ensure a steady supply of wind turbines and maximize their returns on capital, both companies have negotiated discounted deals with leading turbine manufacturers, including Denmark's Vestas (VWS.CO) and Spain's Gamesa (GAMS.BE). The popularity of wind energy over recent years has led to steeply rising prices for turbines as manufacturers were unable to keep up with demand. By securing equipment through long-term agreements, analysts say Iberdrola and EDP have been able to offset spiraling costs better than U.S. rivals.
On the Hunt for Acquisitions
Along with plans for organic growth, both companies also are well positioned for acquisitions as other investors bail out of the renewables sector due to the economy. According to Dresdner Kleinwort (AZ) analyst Javier Suarez, the U.S. wind market remains extremely fragmented and could benefit from the economies of scale offered by consolidation. Last year, EDP started the process by acquiring Houston's Horizon Wind Energy from Goldman Sachs (GS) for $2.2 billion.
"There's significant buying potential, because wind generation is a stable, long-term business model," Suarez says. "Both Iberdrola Renovables and EDP Renovaveis could buy up a bunch of small operators."
To be sure, bullish growth forecasts haven't stopped the Iberian energy companies from feeling the global slowdown. Both have lost more than half of their market capitalization since going public last year, as investor sentiment turned against the renewables sector. On Oct. 22, José Ignacio Sánchez Galán, chairman of Iberdrola Renovables, told investors the company may need to alter its investment plans due to current market volatility. He added, though, that future capital expenditure remained on track and that Iberdrola's 2008 debt was "lower than expected."
Analysts still see strong mid- to long-term prospects for companies. After all, American and European policymakers—as well as politicians from several emerging-market countries—now have backed legislation to reduce CO2 emissions through clean technology. This regulatory certainty should help Iberdrola and EDP profit from their multibillion-dollar investments. Says Credit Suisse (CS) analyst Raimundo Fernández-Cuesta: "The medium-term outlook for the renewable-energy developers remains bright."