Wal-Mart Plans a Crackdown on Chinese Suppliers
After a series of scandals involving dangerous products, the chain announces a strategy to enforce environmental and labor standards
By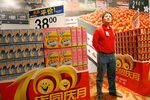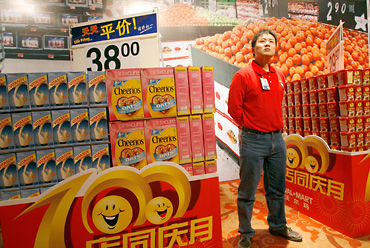 If Wal-Mart (WMT) is to be believed, the world's biggest retailer's latest slogan, "Saving people money, so they can live better," will soon need to be replaced with a greener, more socially conscious one. At a gathering of top company executives, nongovernmental organizations, and more than 1,000 suppliers in Beijing on Oct. 22, the Bentonville (Ark.) retailer announced an ambitious plan aimed at ensuring its products are made according to strict environmental and labor standards. That, too, will help ensure the quality of its products and help meet a goal of ending all defective product problems by 2012, said Wal-Mart CEO Lee Scott at the Beijing conclave. "Meeting social and environmental standards is not optional."
Wal-Mart has good reason to show it is cracking down on wayward Chinese suppliers. The country has been rocked by a series of scandals involving dangerous toys, drugs, and food. Following news last month of the hospitalization of tens of thousands of children sickened by milk tainted with an industrial chemical, governments have been banning imports of Chinese dairy and other food products (BusinessWeek, 9/26/2008). As a result of the scares, customers in the U.S. have shown growing concern about products made in China, where Wal-Mart sourced close to $10 billion last year. The company has also been feeling heat from the Chinese government, which has applied pressure on Wal-Mart through the state-controlled All China Federation of Trade Unions. Bowing to pressure from Beijing, Wal-Mart, which doesn't have a unionized workforce in the U.S., began allowing its 40,000 Chinese employees to open unions and even carry out collective bargaining agreements (BusinessWeek, 7/25/08).
Wal-Mart is now doing more to prove it is a good corporate citizen. While many of its suppliers currently don't obey all labor and environmental laws in China, Wal-Mart in January will begin requiring its nearly 20,000 direct suppliers in China to certify that their factories meet the gamut of such laws. Among the other steps: Wal-Mart's top 200 Chinese suppliers will have to cut their energy usage by 20% by 2012; suppliers will have to provide the names of every factory they use in producing Wal-Mart goods; direct suppliers worldwide will have to source 95% of their production from factories that meet environmental and social standards set by Wal-Mart; and 30% of the company's 100-plus outlets will have to cut their energy usage in half.
An Expansion of Audits
To ensure compliance with these new rules, Wal-Mart is using both carrot and stick. The company claims that the environmental rules help pay for themselves, as suppliers can lower costs by using less packaging and cutting energy use. But in case that doesn't persuade suppliers to get on board, Wal-Mart will expand its auditing of supplier factories to include both Wal-Mart-administered and third-party company-run audits.
None of this will be easy. Auditing of labor and environmental conditions in China's factories has been rife with corruption for years. Indeed, the situation has been so bad that many now see audits as more of a public relations and legal exercise than a serious attempt to "improve factory conditions" (BusinessWeek, 11/27/2006). "Rather than make expenditures on fixing up factories, people instead go for fraud, deception, and lying," says Stephen Frost, executive director of Hong Kong-based CSR Asia, a consulting firm that works with corporations and other organizations.
Because of the opaque nature of China's vast and fragmented manufacturing sector, where suppliers often turn to sub-suppliers who in turn use their own suppliers, it is hard to know the actual producer of a toy or piece of furniture.
"The biggest China challenges are complexity and transparency [and] understanding where all the goods come from," says Andrew Hutson, a manager at the Environmental Defense Fund, an NGO based in Washington that works closely with Wal-Mart. The company plans to consolidate the number of suppliers its uses globally to meet this challenge; it hopes that will make it easier to monitor others in the supply chain. "If they are able to have a relatively small number of very big suppliers, that gives Wal-Mart much more clout," says CSR Asia's Frost. "And then the audit becomes just one plank of a much more effective program."
Squeezing Margins
The new rules may very well raise costs for Wal-Mart's suppliers, despite the company's assertions the measures will lead to savings. At least in the short term, gaining compliance on everything from lower factory emissions to shelling out legal overtime pay is instead likely to mean factories must spend more on production. With labor and input costs rising sharply in China, that will squeeze "already tight margins"). (BusinessWeek, 3/27/ 2008).
Even Wal-Mart suppliers who attended the Beijing summit have their doubts. "We can't accomplish this in one day," cautions Qin Yangjing, who manages the Wal-Mart business at Shenzhen Zuonmens Industrial, a maker and buyer of men's apparel that also sells to Bangkok-based Lotus Supermarket and Britain-based Tesco. While he hopes there won't be a big long-term impact, Qin believes his company's costs will definitely rise for now. "We will have to implement all of this step by step," he says.
Wal-Mart no doubt is hoping the push to make its suppliers greener and more socially conscious will win it big brownie points with Beijing. The company has more than 110 stores in China and owns a 35% stake in Trust-Mart Hypermarkets, a Taiwanese retailer that operates 100 stores on the mainland. Wal-Mart's major rival, Carrefour, has 118 outlets in China. Increasingly, China's government and people are demanding that foreign investors not just focus on the bottom line but also be good corporate citizens. After the May earthquake in Sichuan, critics in the Chinese media and on the Internet attacked both companies for allegedly not donating enough relief money. Carrefour also faced a backlash following reports in April that it supported Tibetan independence. With its latest sustainability push, Wal-Mart surely hopes to smooth the way for continued expansion in China.