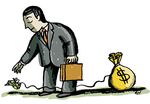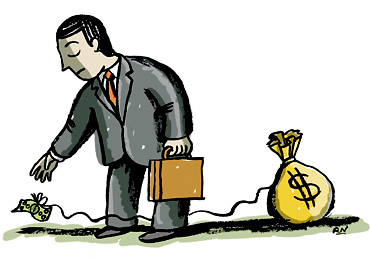 On Oct. 16 white-shoe law firm Simpson Thacher & Bartlett signed on with the U.S. Treasury Dept. as a key legal adviser on the first leg of the $700 billion rescue of the financial system. Simpson Thacher's fee for this complex, politically charged job: $300,000.
Sounds like a good deal for Uncle Sam. But what about the conflicts of interest that might arise?
Simpson Thacher has had extensive dealings with banks that either played a role in the financial crisis or will be receiving capital injections. Lehman Brothers has been a Simpson Thacher client. The firm also worked on the 2001 merger of First Union and Wachovia (WB), now being acquired by Wells Fargo (WFC); the 2004 merger of JPMorgan (JPM) Chase and Bank One; the 2007 tie-up of Mellon Financial and Bank of New York; and a 2008 capital-raising by Washington Mutual (WM), now being acquired by JPMorgan Chase. Those deals touch on three of the nine banking giants in which Treasury is investing billions. Finally, the firm represents private equity kings Kohlberg Kravis Roberts and Blackstone (BX), which may try to profit from the bailout later. Simpson Thacher says it won't help individual banks seeking Treasury aid and that it is mainly drawing up one-size-fits-all documents to be used when the government buys bank stakes.
Still, it will take extraordinary vigilance by Treasury and Simpson Thacher to avoid problems. "When you deal with the federal government, those potential conflicts are multiplied because the government is everywhere," says Stephen Gillers, a New York University law professor who studies legal ethics.
Treasury has to marshal an army of hired guns. Ernst & Young and PricewaterhouseCoopers, named to provide accounting services for the bailout on Oct. 21, together audited many of the Wall Street firms and banks at the heart of the crisis. Bank of New York Mellon (BK), named on Oct. 14 as Treasury's record-keeper and auction manager, is one of the initial nine banks in which the agency is buying a stake. Bank of New York declined to comment, as did Ernst & Young. PwC says it will follow government guidelines to avoid conflicts.
"We certainly have recognized that conflicts are an issue that would need to be addressed," says a Treasury spokeswoman. To the extent that vigilance depends on transparency, Treasury may have work to do. So far it hasn't provided a number of details about its deals with hired help. In publicly released documents, the government blacked out the fees it agreed to pay Bank of New York and the names of key personnel in several contracts. In a contract earlier this year with Morgan Stanley (MS) to evaluate Fannie Mae (FNM) and Freddie Mac (FRE), Treasury blanked out sections where Morgan laid out potential conflicts of interest. Treasury omitted the information for "business proprietary reasons."
With crummy pay and the potential for major headaches, why would Wall Street firms seek bailout work? In Simpson Thacher's case, lawyers at other firms point out that a once-major client, Lehman Brothers, is in bankruptcy. Business from others, including KKR and Blackstone, is way down.
Also, as the firm that Treasury turned to at a critical time, Simpson Thacher will see its reputation blossom. That, along with the expertise it gains working on the bailout, will be a boon in recruiting future clients. Says one person familiar with the firm's Treasury contract: "It's good for the country, it's good for business, it's good for the profile."
Before it's here, it's on the Bloomberg Terminal.
LEARN MORE