The Buying Opportunity of a Century?
Many believe it'll be a long time before we see buying opportunities like these againbut beware the false bottom
Amy Feldman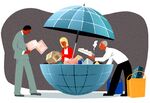 Years of harboring a gloom-and-doom outlook gave Jeremy Grantham, chairman of Boston-based asset manager GMO, the reputation of being a perma-bear. Talk to him now, though, and the 70-year-old is almost gleeful. Stocks, he says, are cheaper than they've been since 1987. Like another value investor, Warren Buffett, Grantham is buying, with a focus on high-quality U.S. blue chips and emerging markets. "This is what serious investors should look for," he says. "We make money by buying cheap assets."
It's not just the pros who see opportunity. Randy Levinson, an editor at Nature Medicine, a New York professional journal, came to a similar conclusion. Watching the wild stock market declines, Levinson says, he was reminded of 1987, when he was president of the student investment fund at California Institute of Technology and he and his cohorts made a bundle. "I remember saying to myself to keep that in mind if the market tanked again," says Levinson. So in mid-October, Levinson invested $4,200 in Diamonds (DIA), an exchange-traded fund that replicates the performance of the Dow Jones industrial average, and bought stock in AT&T (T) and Newell Rubbermaid (NWL). "To me," he says, "when you see these huge swings, it's a buying opportunity."
Across many asset classes, prices appear cheap, and in some cases dysfunctional markets have created long-term bargains. Many money managers see good value in beaten-down blue chip stocks. High-quality corporate and municipal bonds are yielding unprecedented premiums over Treasuries as investors flock to safety. Even in real estate, or specialty areas such as master limited partnerships and closed-end funds, there are opportunities for savvy investors.
BEST BETS
Grantham is buying blue chips with strong franchises and little debt. Darell L. Krasnoff, managing director of Los Angeles-based Bel Air Investment Advisors, recommends his clients do the same. "We like large-cap businesses with cash flow that can sustain their growth through a few tough years," Krasnoff says.
Overseas, there are deals in emerging markets for those who tread carefully. "Markets always overreact on the good side, which was last year, and on the bad side, which is this year," says Antoine van Agtmael, chairman of Emerging Markets Management in Arlington, Va., who coined the term "emerging markets" more than 25 years ago. Van Agtmael had been concerned about the frothiness of emerging markets for the past year. Now he's optimistic about many of these countries, which account for one-quarter of the global economy and even with reduced growth are expanding faster than the U.S. "Emerging markets are cheaper than the U.S. based on any benchmark," he says. Van Agtmael is betting on companies that serve the growing middle classes of China and India as well as the wealthy countries of the Middle East. He worries about commodity-producing markets, such as Brazil and South Africa, and exporters such as Korea and Taiwan.
Michael Winer, manager of Third Avenue Real Estate Value Fund, is also finding deals overseas, especially among Asian real estate operating companies. Hong Kong firms, such as Henderson Land Development (HLDCY), are now valued below the levels of 2004, when Asia was down and SARS was a threat.
For fixed-income buyers, the upside of the credit crisis is that many high-quality bonds are bargains. In some cases, they're dirt cheap, even after accounting for credit risk. "Investment-grade credit is as cheap as I've seen it in my lifetime. It's just crazy levels," says Kathleen Gaffney, co-manager of Loomis Sayles Bond Fund. With hedge fund redemptions causing forced selling and few buyers stepping up to the plate, spreads between investment-grade bonds and Treasuries have widened to more than five percentage points; a normal spread is more like one point. The investment-grade bonds in Loomis Sayles Bond Fund have a 12.41% yield to maturity, collectively, Gaffney says. Even if half those loans defaulted over the next five years—an unprecedented level—investors would still earn as much as with Treasuries, she calculates.
The story is similar in municipals. "Munis have been beaten up to an unprecedented degree because of forced selling," says John Miller, chief investment officer at Chicago-based Nuveen Asset Management and overseer of its muni portfolios. He's finding bargains in high-rated securities, such as AAA-rated bonds issued by financially strong states such as Maryland and North Carolina, and universities including Harvard and Yale. For those willing to take more risk, he says, BBB-rated bonds, such as those for hospitals and sewer systems, yielded around 5% last year and now yield 8% or greater. In the 35% tax bracket, that's equivalent to at least a 12% taxable yield.
Sure, the markets are challenging. But the best investments are often found at the darkest moments. Says Gaffney: "Unless you think the world is going to end, it's the market of the century."
Before it's here, it's on the Bloomberg Terminal.
LEARN MORE