Pressure Builds for Boeing and Machinists to Settle
The two sides will meet again to try to settle a 45-day strike that is damaging both U.S. industrial production and Boeing earnings
Joseph Weber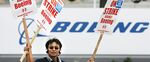 Pressures are building for Boeing (BA) and the International Association of Machinists & Aerospace Workers (IAM) to end a 45-day-old work stoppage. The aerospace giant is expected to release its weakest quarterly earnings report in years on Oct. 22, and there are hints that Washington is getting nervous about the economic impact of the machinists' strike. Expectations are rising that the workers may be coaxed back to factories by early November, though it remains unclear which side will blink.
The parties are scheduled to reconvene on Thursday, Oct. 23, this time in Washington under the guidance of top mediators for the U.S. Mediation & Conciliation Service (USMCS). Underscoring the urgency of the talks, USMCS Director Arthur R. Rosenfeld called the strike by some 27,000 machinists "a priority matter for this agency."
Indeed, the White House Council of Economic Advisers estimates that the Boeing strike alone knocked a half-percentage point from total U.S. industrial production in September. That contributed to an overall 2.8% drop in U.S. industrial production, the biggest decline since 1974, the advisers said on Oct. 16. The White House group, which drew special attention to the strike in its notes, had expected an overall decline of less than a percentage point. The economic advisers ranked the strike impact right up there with disruptions from Hurricanes Gustav and Ike, which together reduced production by some 2.25%.
Compromise on Outsourcing?
The mediators can urge reconciliation between IAM and Boeing, and exert subtle pressure through such gestures as bringing the parties to the nation's capital. But they can't compel the sides to come together. Instead, analysts say they believe the resumption of talks, after weekend sessions that ended in an impasse on Oct. 13, suggests some new flexibility by one or both sides.
"I would say that the union is probably giving up on some aspects of its outsourcing concerns," says Paul H. Nisbet, an analyst at JSA Research, a Malta (N.Y.)-based independent research firm that closely follows aerospace and defense companies.
Indeed, the union contends it has been willing to compromise, particularly around the sensitive issue of outsourcing. In the recent talks, for instance, the IAM suggested it would let suppliers enter factories and deliver parts to receiving areas near assembly lines, where the parts would then be transported further by IAM members. The arrangement could protect some 2,000 jobs, the union says.
But the company argues it needs more flexibility than that, including the ability to cut jobs if needed. "They want to put a bubble around these 2,000 jobs," says Boeing spokesman Tim Healy. "There's no way, especially in this economy, we can agree to preserve the jobs in perpetuity."
Boeing Chief Executive James McNerney Jr. has said the ability to outsource is crucial, especially when it can help Boeing sell planes to countries that want work in exchange for their orders. But organized labor officials want the union to stand firm to resist outsourcing, both domestically and abroad. They contend the IAM should be able, at least, to bid on work that the company wants to outsource.
Economy Looms over Talks
"Members have told me that it's one thing to get [a pay] increase of 4% one year and 3% another year, but if your job is going to be gone in a year, it doesn't mean much," says Rick Bender, president of the Washington State Labor Council, the biggest labor group in the state. The IAM is a member organization of the council.
Still, the looming economic crisis, as well as Washington's rising interest in a settlement, may help drive both sides to bridge their differences. So far, Boeing's order book for new planes—especially its 787 Dreamliner—has remained strong. But fears abound that slowing global demand for new planes could trim orders—something the company declines to discuss.
Boeing has enough orders now to last several years, and reductions in new orders would likely still leave it with plenty of work. "With a six-year backlog, you can lose a year's worth and still have a huge backlog," says analyst Nisbet.
Boeing's thick order book emboldened the union to strike on Sept. 6. IAM members figured Boeing couldn't afford to shut down the factories at a time when customers, hungry for new planes, would take their business to rivals such as Airbus (EAD.PA). With economic uncertainties rising sharply since then, however, airlines and other buyers, such as leasing companies, may be happy now to delay deliveries and paying for the planes. Some analysts, in fact, now suggest that Boeing will likely have to provide financing for purchasers, which it hasn't had to do for years.
Shareholders' Pain
Certainly, the strike has been costly to the planemaker. Net income for the third quarter could come in as low as $596 million, compared with $1.1 billion in the same quarter a year ago, Nisbet says. Sales may drop as much as $1.4 billion, he says, to $15.1 billion, compared with $16.5 billion in the same period last year.
If the strike is resolved and production is fully ramped up anew by the end of November, Nisbet expects full-year 2008 earnings to come in at about $3.1 billion on sales of $60.8 billion, a decline from earnings of $4.1 billion last year on sales of $66.3 billion. The strike is believed to be costing Boeing some $100 million a day, though the reduced revenues could prove to be merely deferred instead of lost.
The strike has been especially costly, however, to shareholders. Boeing's market value has plunged by more than $35 billion in the last year, with the stock now trading at about 46 a share. That's down from about 99 a year ago. With expectations of a settlement stirring, the share price is up from its recent low of just 40.
Both sides have still more immediate reasons to come to terms. Union members by mid-November may have to begin paying the tab for their health insurance, which could cost hundreds of dollars a month at a time when IAM members are collecting just $150 a week in strike pay. Even if the company does compensate the strikers for such coverage—as the union expects—the cost would be tough to bear in the short run, especially with the Thanksgiving and Christmas holidays looming.
From Boeing's standpoint, it would be good to get the IAM strike resolved, with terms set, before the company enters talks with an important engineers' union, the Society of Professional Engineering Employees in Aerospace, on Oct. 28.