South Korea Takes Action to Stem Financial Turmoil
To help stabilize the won and prop up local banks in a currency crunch, Korea's central bank will supply them with U.S. dollars
Moon Ihlwan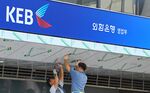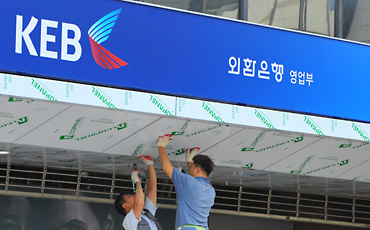 South Korea's central bank on Oct. 17 announced it will provide U.S. dollars to local banks suffering from a foreign currency liquidity crunch, in a step analysts say could eventually help stabilize the country's currency. The move, coming a day after the won plunged 9.7% against the dollar, the worst daily fall in a decade, is designed to send a message to the world that Korea will use its ample foreign exchange reserves to avert a crisis, Bank of Korea officials said.
The plan to supply the banks with dollars will begin next week in the form of auctions for currency swaps. Korean banks in need of dollars could offer better terms for the swaps in which the Bank of Korea will provide the greenback in exchange for the won. "The authorities are determined to remove uncertainties over Korean banks' foreign currency funding," said Bank of Korea Deputy Director Lee Hee Weon.
The swap arrangement is the first measure released after Korea's top policymakers and regulators held emergency talks aimed at calming jitters on the local financial markets. The meeting was arranged after both the won and the benchmark Kospi index on the Seoul bourse plummeted by nearly 10% on Oct. 16. The day before, credit rating firm Standard & Poor's placed Kookmin Bank (KB), Korea's largest lender, and six other Korean banks on its watch list with negative implications, citing potential difficulties the banks may face in foreign currency funding.
Recalling the Asian Crisis
An Oct. 15 statement by S&P, like BusinessWeek a division of The McGraw-Hill Companies (MHP), warned that unless Seoul offers sovereign support for Korean banks, their liquidity risks could be exacerbated "in a process of reverse discrimination." Seoul's inaction (BusinessWeek.com, 10/15/08), it says, contrasts with the efforts of many other nations, which have recently drawn up comprehensive financial support schemes, including blanket deposit guarantees and underwriting of interbank lending risks.
"It is time for all policy authorities to join forces in one direction to stabilize financial markets," declared Korea's chief regulator, Jun Kwang Woo, in a parliamentary hearing. Jun, who heads the Financial Services Commission, said he expected the global financial turmoil to persist until at least mid-2009. Seoul could come up with more relief measures if the continuing financial meltdown threatened banking stability, says Lee at Bank of Korea.
The sense of crisis has been roused after a growing number of investors and media began drawing parallels between the storm hitting Korea and that in 1997 when the Asian financial crisis pushed the nation to the brink of sovereign default. A trigger was the won, which has lost some 30% of its value against the dollar since the beginning of this year, the world's worst-performing major currency (BusinessWeek.com, 10/8/08).
Indeed, some key economic indicators show disturbing similarities. Apart from the sharp currency depreciation, which also occurred during the Asian crisis, Korea's short-term debt has nearly tripled, to $176 billion, in the past two-and-a-half years. A decade ago, in the two-and-a-half years before the Asian crisis, Korea's short-term debt soared 2.2 times.
Health Balance Sheets
Another troubling sign is Korea's current account, which measures trade in goods and services. In the first eight months of this year, Korea posted a $12.6 billion current account deficit, and although the overall annual deficit is expected to be smaller, Korea is expected to post a big shortfall this year after reporting nine consecutive years of surplus. That smacks of Korea in the 1990s, when it piled up deficits in the runup to the meltdown.
But a closer look at the economy brings up striking differences, which makes Korea appear an unlikely victim this time around. No economy is free of dangers in the face of the global credit crunch. "Yet if you consider all the aspects and put them into context, then it is highly unlikely Korea will experience a repeat of the Asian crisis," says Kim Hyeon Wook, economist at Korea Development Institute, a government-funded think tank.
For starters, the balance sheets of both Korean banks and companies look much healthier than they were 10 years ago. Nonperforming loans represent an average of only 0.6% of the profitable Korean banking sector, whose average capital adequacy ratio of 11.4% compares with 7% in 1997. Korean companies, many of which have cleaned up their houses in the past decade, have reduced their debt loads to an average of 92% of their equity from 425% in 1997.
Korea's biggest weapon now is its foreign exchange holdings of some $240 billion, the world's sixth-largest. In June 1997, five months before Korea sought $57 billion in emergency loans from the International Monetary Fund to avoid insolvency, its foreign exchange reserves stood at a mere $33 billion. The Bank of Korea says a total of $36.1 billion of foreign currency loans are due to mature by the end of this year and a further $17 billion will come due in the first half of next year. The bulk of the loans will probably be rolled over, but even if the global credit crunch prompts some foreign banks to yank the money from Korean banks, the maturing loans are dwarfed by the size of the country's reserves.
High-Risk Area
The Seoul government has already used tens of billions so far this year to prop up the weakening won. (At the beginning of this year the foreign exchange reserves were $262 billion.) "The government must have learned its interventions don't work in a market where panic selling dominates," says Seoul-based banking expert Chu Jin Hyung. "The best policymakers can do is to stabilize the banking system and hope investors will regain confidence," thereby stabilizing the won.
In fact, some foreign brokerages already predict Korean bank shares will rebound in the near future after falling between 22% and 40% in the past month. Among other things, "we take comfort from the reassurances of the government's intention to provide a liquidity backstop for the banking system," said a Goldman Sachs (GS) report this week.
That doesn't mean the Korean won will stabilize anytime soon. Although the Oct. 17 government move helped the currency regain 3%, the capital outflow from the Korean market is expected to continue to weigh on the won. Money managers note that U.S. and European financial investors regard non-Japan Asia as a high-risk area that gets sold off during a liquidity crunch, and that Korea, with a large and liquid stock market, becomes the easiest place to pull money from.
Nevertheless, credit rating companies S&P and Moody's Investors Service (MCO) are maintaining a stable outlook for Korea's sovereign credit rating. "We anticipate that decisive policy measures will be put in place to ease domestic and foreign liquidity conditions," said Singapore-based S&P credit analyst Kim Eng Tan, as the agency affirmed on Oct. 17 its foreign currency sovereign credit rating on Korea at "A."