The Trouble with Credit Cards
More small businesses are using credit cards for financing, and their debts are going from bad to worse
By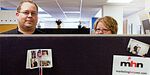 It was the 31% interest rate that forced James and Heather Hills to rethink their approach to startup capital. The couple had tried to get a bank loan to launch their Elgin (Ill.) company, MHN Internet Marketing & Public Relations, in early 2006. But three loan officers told them that without equipment to use as collateral, they wouldn't get a loan. So the Hills team took out a $50,000 home equity line of credit and signed up for two personally guaranteed small business credit cards.
They say their debt was manageable until a partner abandoned a planned joint venture in March 2007, leaving the couple with almost $10,000 for the project on their Advanta card. Since then, they've been late on a couple of payments, and their interest rate steadily increased from 11.74% to 30.99% this April, when they stopped using the card. "It suddenly starts being several hundred dollars' worth of interest charges," James Hills says. Even without new purchases, they don't expect to pay off the remaining $6,000 anytime soon. Advanta, citing privacy laws, declined to comment.
NO ALTERNATIVE
Even before the current credit crunch, entrepreneurs were relying more and more on credit cards to finance their businesses. The percentage of companies using plastic has jumped to 44%, up from 16% in 1993, according to surveys by the National Small Business Assn. At the same time, the share using bank loans dropped to 28% from 45%. A Federal Reserve survey published in 2006 showed that 48% of companies used small business credit cards in 2003, up from 34% in 1998. And numbers from the NSBA and the Fed show that 20% to 30% of all small businesses carry credit-card balances. "We don't have an alternative right now," says NSBA chair Marilyn Landis, a former bank executive who now runs Basic Business Concepts, a financial consulting firm. It's a particular problem for service or information companies that don't have equipment or inventory to secure commercial loans. In testimony before the Senate Small Business & Entrepreneurship Committee in April, Landis told how she applied for lines of credit from various banks and received credit cards instead.
Business owners who depend on credit cards for long-term financing can get caught in the cards' slippery terms. Unlike bank loans or lines of credit that are governed by loan agreements, the terms of credit-card debt can change at any time. Landis saw rates on one of her cards go to 28%, from 4%, and another card reduced her credit line, even though she didn't miss payments or exceed her limit. "It's like trying to build a house with blocks that keep changing shape," she says.
Credit-card issuers argue that small businesses are chancy not just for entrepreneurs but for their lenders. "This is the riskiest form of loan a bank can make," says Ken Clayton, senior vice-president for card policy at the American Bankers Assn., a trade group. "If this were a traditional loan that had collateral that backs it, it would be a lot easier to lock in rates."
Regulations proposed by the Fed would make it harder for credit-card issuers to change the interest rate on existing balances or to apply payments in ways that maximize interest charges. But the changes would apply only to personal credit cards, not the growing number of small business cards, even though the two often function in the same way.
James Hills is still shocked when he sees how much credit-card debt has cost his business. "Even though we pay quite a bit, they keep raising the interest rates, which makes it even harder to pay off," he says. "That's just amazing that they're able to do that."
To compare top issuers' cards, go to businessweek.com/go/sb/creditcards
Back to BWSmallBiz October/November 2008 Table of Contents
Before it's here, it's on the Bloomberg Terminal.
LEARN MORE