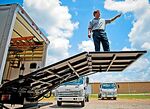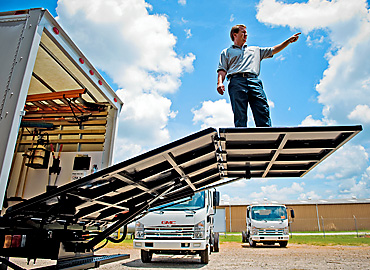 If the very thought of "inventory days" calls to mind one of Dante's circles of Hell, maybe it's time to take a page from Stephen Carroll's playbook. Carroll is the owner of Walking Equipment Co. in Largo, Fla., a $2 million business that sells medical devices such as canes and wheelchairs online. On a busy day, his six employees ship some 500 packages. To track his inventory, Carroll uses software from Stone Edge Technologies that tells employees the location of any item in his warehouse. When an item is picked off the shelves, the software produces purchase orders. Shipping tags and pick lists are also generated automatically. Says Carroll: "I no longer sit on inventory I don't need, and this system helps my cash flow." Later this year, Carroll will upgrade to Stone Edge's premium product, which should let his workers use handheld bar code readers to send inventory information to Carroll's database for near-simultaneous updates. He says he'll then be able to count items in certain sections of his warehouse without doing any data entry. Customers will be automatically notified when an item is back-ordered and told when they can expect it to be delivered.
Inventory management is the unglamorous, but essential, guts of your business. It's imperative to dig into it—probably more deeply than you'd like. Inventory is an asset, but it's also a liability until it has been sold. An undersupply means you might not be able to meet a surge in customer demand when the economy recovers. An oversupply ties up too much cash. "It is very expensive to store inventory," says Mike Braun, CEO of Intacct in San Jose, Calif., which makes inventory management software. "Inventory can go bad, and if you don't move it, that can mean the difference between profit and loss." Inventory management is also important from another angle: If your company happens to be a supplier for a much larger one, increasingly, that larger company will want to know your inventory management capabilities are up to snuff so that they can depend on your deliveries.
The big question for any supply management system is how to balance your suppliers' capabilities with your customers' demands. Although something of a chimera, the ultimate goal is often referred to as just-in-time or zero-inventory management, terms popularized in the 1970s. The premise is that businesses can, with the help of technology, calibrate their inventory levels so that supplier deliveries exactly match customer demand, leaving little to nothing sitting on the shelves.
So how do you know how much inventory you need? Inventory is usually measured in "turns," with one turn being your annual sales divided by the value of inventory. If you're doing $1 million in business a year, and you have $100,000 in inventory, you're doing ten turns a year, and moving your entire inventory about once a month. By contrast, if you have $10 million in annual sales and your inventory value is $5 million, you have two turns of inventory that take about six months to move. That could indicate a problem, since inventory has no value until it is sold.
The goal is to hold as little inventory as possible and still keep your business running. A software business will have next to no inventory, as code can be produced on demand. Retailers will typically have more turns, but not so much that they get caught when fashions suddenly change. Manufacturers often play things closer to the bone.
Carroll has divided his inventory into three categories: items he can get domestically within four weeks; goods he can get within eight weeks from overseas; and items manufactured overseas specifically for him that can take up to five months to arrive. Carroll knows he needs about three turns of inventory for things that can take up to five months to deliver, and only one to two for products he can get more quickly. By managing his inventory carefully, he's increased profits by about 5% and shaved $15,000 from his yearly labor costs.
A PEOPLE PROBLEM
The largest software companies—IBM, Microsoft, SAP, and Oracle—have long designed enterprise level inventory (or supply chain) management platforms for big businesses. These can cost hundreds of thousands to several millions of dollars. These same giants have only recently turned their attentions to the small and midsize business market. Some well known supply chain management systems produced by Microsoft include Great Plains and Solomon, now lumped together under the name Microsoft Dynamics GP. These can also be quite costly, running into the tens of thousands of dollars.
Then there are a group of smaller developers that have designed for entrepreneurs for years. Stone Edge, for example, which Carroll uses, has both a standard and premium level, and costs between $1,500 and $6,000. Microsoft's Business Essentials package, which includes an inventory management component, runs about $2,250 per user. That leaves some entrepreneurs to cobble things together on their own. They've come up with some pretty ingenious solutions, often using QuickBooks and other relatively affordable off-the-shelf packages as foundations.
But your inventory management system is only as good as the people who use it. It won't make up for a lack of strategy, inefficiency, or poor insight into your own supply and demand. "The mistake is thinking the software itself will solve the problems," says Mark Ferguson, Steven A. Denning Professor of Technology and Management at Georgia Institute of Technology in Atlanta. He says a lot of entrepreneurs buy "really sophisticated supply chain software packages and then basically all they are doing is automating bad processes."
With any inventory management system, there are some basics to consider. You need to decide if you want to host the system on your own servers or outsource it. Both have advantages and drawbacks, including cost, accessibility, and the ease of updating software. Any inventory management system needs to support your accounting method, which should keep track of inventory on what's known as either a "first in first out" or "last in first out" (FIFO or LIFO) basis. Both examine the movement of inventory for tax consequences, which in turn affects your profit-and-loss statements. Your system should keep track of goods as they are received and shipped, giving you a view of everything in your warehouse. You want results in as close to real time as possible, and the information should be available to your sales force, preferably online, so no one is making mistakes at order entry time.
Super Lawn Trucks, a $4 million business in Fort Valley, Ga., happily uses QuickBooks Pro—at a total cost of less than $1,000—for its inventory management needs. The 20-person company makes customized truck bodies for landscaping contractors. Tony Bass, its president, says the software gives him an eagle-eye view of what's coming in from suppliers and the expected delivery dates. He makes heavy use of QuickBooks' invoicing features, which let him see all of his supplier information, part descriptions, and products that qualify for a volume discount. QuickBooks tells him what he already has, what he needs for current orders, and when he needs to put in new purchase orders.
Best of all, the system gives him a view of how sales and reorders affect his balance sheet and profit-and-loss statement. Bass sets reorder points, based on historical trends, on each part he uses, and the software generates weekly reports telling him what he needs.
To reach this level of efficiency, Bass spent about four months analyzing invoices. He dissected data looking for part names, place of origination, volume discounts from vendors, shipping time, and, of course, costs, inputting it all to QuickBooks. That has helped him cut turnaround time for his truck bodies from six weeks to less than a month. "You can make a big impact on cash flow based on how you manage your inventory," he says. Every time a part is pulled from inventory, Bass's system ties that part to a profit-and-loss statement on his balance sheet, telling him the immediate cost to his business. He has also halved the number of employees devoted to inventory, saving about $50,000. "It's not good enough just to have the data, you have to look at the reports, and you have to take the time to analyze it," says Bass. That still sounds much better than suffering through yet another inventory day.
Back to BWSmallBiz October/November 2008 Table of Contents
Before it's here, it's on the Bloomberg Terminal.
LEARN MORE