Palm's Co-founder on Being a Silicon Valley Woman
Palm's Co-founder on Being a Silicon Valley Woman
Smallbiz Staff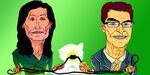 Donna Dubinsky, co-founder of Palm (PALM) and Handspring, is now striving to build a computer modeled on the human brain. She took a break from Numenta, her 15-person startup in Menlo Park, Calif., to speak with SmallBiz Staff Writer Amy S. Choi about staying connected, gardening, and why there aren't more women in technology.
Q: When did you realize you had an interest in technology?A: I fell in love with personal computing when I first saw the Apple 2 demonstrated in business school. I thought, "Wow, this is going to be a huge tool. I have to work there." It wasn't necessarily the technology that appealed to me, but being in a really hot growth market.
Q: When did you realize you wanted to be an entrepreneur?A: I had this incredible experience creating [Apple spin-off] Claris. It was so exciting to make something from nothing, to establish a culture, build a great team, make mistakes, fix them—everything about starting with a blank sheet of paper is very exciting to me.
Q: Isn't Silicon Valley still pretty much a sea of men?A: Yes, most high-tech firms are run by men. It's not an aptitude issue. It's something cultural happening in our schools, with girls dropping out of science and math as early as middle school.
Q: Were you encouraged to study technology?A: I wish I had been, but I was a history major. I had no advanced math or science or engineering. I regret that. When I went to middle school, the girls took sewing and the boys took wood shop. I produced the worst-looking dress you've ever seen.
Q: Do you need technical expertise to run a technology company?A: It depends. If you sell a consumer product, not having a technology background is fine. But if you're selling a sophisticated networking product to an IT organization, it's hard to be credible without a technology background.
Q: What do you do to unplug?A: I actually don't like to unplug. But when I'm not working, I love to hike and tend my garden, which I never did as a younger person. I cultivate raspberries and blueberries and blackberries.
Back to BWSmallBiz October/November 2008 Table of Contents
Before it's here, it's on the Bloomberg Terminal.
LEARN MORE