Mark Andrushko Explains Scriptapalooza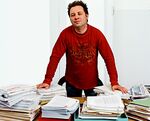 I came to L.A. about 15 years ago to be an actor. After doing a lot of commercials and short films, but nothing big enough to make it, I was ready to get out of acting. I was friends with a lot of writers, and they always complained about screenplay contests. They were a joke—you never knew who was reading the scripts, and you never knew what happened to the script once you sent it in. So in 1998 we launched a competition where top industry people read the screenplays—and we named their names, which gave us credibility. Other competitions had regular people reading the scripts, which is pointless. What can that person do with it? We wanted the judge to be able to change that writer's life. It still shocks me how many phenomenal writers there are out there who don't have an opportunity to break into the Hollywood machine. It's not like HBO takes unsolicited material."
Back to BWSmallBiz October/November 2008 Table of Contents
Before it's here, it's on the Bloomberg Terminal.
LEARN MORE