Making Telecommuting Work
'Teleworking' can lower overhead, raise productivity, and make employees happy. Here's how to put the home office in business
Amy Barrett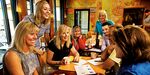 Kathy Durfee, founder and CEO of nine-person TechHouse, a Bradenton (Fla.) consulting company, admits that her management style was shaped by stints at big companies such as PepsiCo (PEP) and Accenture (ACN). "I had it in my mind that an office should be very structured," she says. That meant no jeans in the office, fixed work schedules, and no telecommuting. Four years ago, when several of her employees asked if they could work from home occasionally, Durfee said no. "I didn't think we could function," she says. "I was worried things would be dropped."
But in 2005, a star employee went out on short-term disability. The only way he could stay with TechHouse was to work from home part-time. The arrangement was a bust, and he left. "The fact it didn't work with him set off alarm bells," Durfee says. "I don't want to be in a position where I can't keep a good employee." Durfee realized she needed to make telecommuting work. She has since hired two consultants who work from Orlando and Clear- water. Three of the Bradenton staff telecommute, including the chief technology officer. Durfee now thinks her early misfire with telecommuting was due in part to poor communication, so she holds mandatory office meetings and enforces protocols about when employees should use telephone, e-mail, or instant messaging to contact one another.
Telecommuting, or "teleworking" in consultantspeak, is growing among small businesses. "We are seeing more small companies than ever before embrace this," says Mike Williams, director of programs and employer services at the Atlanta-based nonprofit Clean Air Campaign, which helps companies set up telecommuting programs. The number of people working away from the office at least once a month has been growing at about 10% annually for several years, hitting 35 million this year, according to WorldatWork, an association for human resource professionals. About 12% of employees at companies with 21 to 100 people sometimes work remotely, according to a 2008 survey by technology company CDW.
It's easy to see why telecommuting is gaining traction. A 2008 study from staffing firm Robert Half International, though it queried only accountants, found that telecommuting and flexible schedules were the third most important incentives when attracting new hires, behind salary and benefits but ahead of signing bonuses and extra vacation days. Telecommuting can also cut overhead and provide some relief to workers struggling with commuting costs. And David Harrison, a professor of management at Pennsylvania State University's Smeal College of Business, examined 46 studies on telecommuting and found a small increase in productivity among telecommuters.
Whether you've got one employee who wants to work from home or you'd like to get several out of the office to save on real estate, first draw up a telecommuting policy. Otherwise, those who are office-bound may suspect favoritism or discrimination. You'll need to figure out what technology the staff will need, and maybe think about new ways to measure productivity. As Durfee found, it's important to build safeguards so that communication doesn't suffer.
ESTABLISH GUIDELINES
Your policy should state which jobs can be done remotely and how often. Jobs that don't require face time, or that involve longer periods of concentration, are good candidates. Even managers may have duties, such as writing reports, that ideally are completed in splendid isolation.
It's not just the job that determines who can telecommute. Someone who needs lots of direction or prodding may not be a good candidate. And employees should spend enough time in the office to learn the ropes before they're on their own. To head off resentment among those who need to stay on site, you might offer a benefit such as a subsidy for public transportation.
You should also spell out what sort of home office employees need and who will pay for the requisite technology.
Most businesses outfit employees with a laptop they can schlep between home and work. The telecommuter provides a separate space for work and avoids distractions—such as child care—while on the clock. If someone is working four or more days a week from home, most companies pick up the cost of Internet access, a phone line, and, if necessary, equipment for teleconferencing.
You may also want to rethink guidelines for productivity. For customer service jobs, it might be relatively straightforward: How many complaints got resolved that day? For others, some managers may want an e-mail outlining what the staffer will do each day. Then there's Durfee's approach: "A great employee wants to work," she says. "And if someone doesn't want to work, they can avoid working in the office, too." The important thing is to lay out how expectations will be set and communicated. Remember that some people work better in an office environment and should stay there. So don't pressure people to telecommute. "Not everybody wants to do this," says Gil Gordon, a consultant based in Monmouth Junction, N.J. "Some people don't want their work to come home with them."
Rick Blythe knew he could cut the rent for his 11-person marketing company, Seattle-based Prospect Pipeline, if employees worked at home for part of the week and shared desks in the office. Some employees had already asked if they could work remotely. So in December, Blythe decided that he would let people telecommute, as long as they had at least two months' tenure and a quiet workspace at home. Employees pay for their own broadband. Everyone must come into the office for Friday meetings to kick off new projects and share strategies and tips. To make sure everyone stays on track, Blythe follows the number of calls each agent makes per hour and the number of good leads they generate. Managers get evaluated on factors such as the profitability of their contracts and the customer service ratings they get from clients.
Two of Blythe's employees are telecommuting: an account manager and a call center agent. Blythe expects others will start soon. "I've had nothing but positive feedback," Blythe says. He plans to provide desks for only 15 people even as his company grows to 19 employees, saving about $500 a month in rent.
TECH SUPPORT
Before you send everyone home, ask about their technology needs. If they're going to be taking phone calls from clients, a voice-over-IP system will provide a single phone number that "finds" them anywhere. If they need access to shared files, then there has to be a secure system in place.
At Austin (Tex.) market researchers MindWave Research, telecommuters get routers installed in their homes. That provides a reliable high-speed connection to the Austin office and the files located there. To receive calls at their work number while at home, employees plug their phones into the router. Telecommuters also have high-quality desktop video cameras for teleconferencing. Total cost: about $30,000. Fourteen of the 23 employees at the $5 million company have chosen to work from home all or most of the time.
That let MindWave CEO and co-founder Jonathan Hilland move the company out of its downtown office facility and into a smaller space in northwest Austin, cutting the monthly rent to $3,000 from $10,000. Without those savings, Hilland says, "We might have had to make some hard decisions by the end of the year, whether that was cutting heads or cutting benefits."
TRIAL RUN
Of course, neither technology nor employees always perform perfectly the first time out. For Edward A. Cave, president of Atlanta-based commercial interior design firm VeenendaalCave, a trial run was in order. The 62 employees of his $7 million company need to collaborate frequently, and his designers rely heavily on the company's library of books and materials samples. "It's scary for an employer," says Cave. "You have images of people working in their pajamas watching Oprah."
In March, Cave and partner Christine Veenendaal decided to allow employees six telework days a year. Only the receptionist and two IT managers are ineligible. Would-be telecommuters must notify a manager 48 hours in advance that they plan to work from home, to make sure they've thought about which materials they need to have with them. Employees must have high-speed Internet access at home, a landline phone, and a home computer and printer. Modest as the program is, Cave says it's been a big hit, and he's considering expanding it.
Once employees start working remotely, good communication becomes critical. "There are some people who can be on the other side of the world, never see anyone, and function perfectly well," says telecommuting consultant Gordon. "But they are the exception." Don't let in-office colleagues fall into the trap of not calling telecommuters at home when they need them, instead waiting until they are back in the office. That will gum up the works and cause resentment among those who are in the office every day.
"KICKING AND SCREAMING
In June, as the real estate market was collapsing, Commmunique Group CEO Micki Clark reluctantly shut the Denver office of her resort real estate marketing firm, asking the nine U.S. employees to telecommute. She says her daughter Jessica, who also works in the business, had to drag her "kicking and screaming" to the idea. "I'm an old broad," Clark says. "I've done this for 20 years and I like to keep an eye on people." But now the $4.3 million company is saving about $16,000 a month in rent. With her industry in meltdown, "We are doing this to live to fight another day," says Clark.
Micki holds staff meetings every Monday at a local Panera restaurant. Employees give Jessica their to-do lists for the week and ask for any help they need. Those who are working together often retreat to a nearby atrium that has wireless Internet access.
Now Clark, who rides horses at her 40-acre ranch during what used to be her morning commute, is a convert. "Nobody wants to go back to an office," she says. Including her.
Back to BWSmallBiz October/November 2008 Table of Contents
Before it's here, it's on the Bloomberg Terminal.
LEARN MORE