Family Business Succession Issues
The right ownership structure and strategy can help your business pass smoothly from generation to generation
Ernesto Poza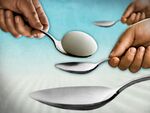 When it comes to business ownership, simpler is often better. That can leave family businesses in a bit of a pinch, as an ownership structure that worked well for one generation can quickly turn dysfunctional in the next. A company owned by three siblings may operate effectively, but if all three siblings have children working in the business, the next generation may find that joint ownership by seven cousins doesn't work too well. Successful family businesses often compete on speed and agility, so finding a suitable corporate structure—one that gives the heirs ample capacity to actually lead—is of paramount importance.
A simple approach used by many family businesses is to separate the business from the family assets. Family members who are not active in the business get family assets, while those who work in the company get shares. But this can create trouble when one part of the family ends up owning real estate crucial to the company while another group owns the company itself. The business owners end up negotiating for leases on land, buildings, and sometimes even equipment with family members who understandably want to maximize their returns from these assets.
A more useful approach for most family businesses is to redesign the capital or ownership structure of the company. Ray Koenig, president of Anna (Ohio) multigenerational farm machinery distributor Koenig Equipment, did this by changing his company's incorporation documents. Now, only those who are active in the company can own shares in it. So third-generation family members who are retiring will have to sell their shares to members of the next generation. That will help ensure an orderly transfer of control to the fourth generation while also providing funds for the older generation's retirement. Other companies may get similar results by creating two classes of stock—voting and nonvoting.
A buy-sell agreement can be another useful tool for streamlining ownership and, when properly written, a very flexible one. While buy-sell agreements typically are triggered only by death or discord, they can also be written to allow certain family members to cash out some of their shares without too much disruption. The easiest way to do this is to use the buy-sell to set up an annual share redemption program, with a cap on the amount the company can spend on shares in any one year. That way, family members who choose to do so can remain patient shareholders while providing liquidity to the company. Other family members, with only a minority interest and no day-to-day involvement in the company, may elect to sell their shares. Over time, that will have the happy effect of pruning the corporate family tree.
Even if some family members don't take advantage of the program, the mere ability to sell their stock and get some liquidity often leads previously dissatisfied shareholders to a happier place. Most retain their shares, recommit, and engage in a revitalized spirit of enterprise ownership with the rest of the family.
Back to BWSmallBiz October/November 2008 Table of Contents
Before it's here, it's on the Bloomberg Terminal.
LEARN MORE