Entrepreneurs and Green Energy Policy
How would a national energy policy encouraging development of alternative energy affect small businesses? Karen Kerrigan, president of the Small Business & Entrepreneurship Council, and Jason Grumet, executive director for the National Commission on Energy Policy, a bipartisan think tank, weigh in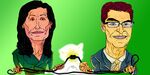 KAREN KERRIGAN
• It depends on how that policy or plan is structured, but anything that helps to increase supplies from sources that are homegrown, that makes energy more affordable, and that gives small business more choices is a terrific idea.
• The policy infrastructure has to be right so that we have certainty with respect to investment, long-term research and development, and regulations. What we have now is a very chaotic and piecemeal approach to breakthrough technologies and capital investment.
• The reality is that wind and solar are not ready for mass-market use. We need more transmission capacity. How do you get [energy] from Point A to Point B, so consumers and small businesses can use it?
JASON GRUMET
• The lack of a coherent energy policy has been the source of so much of the misfortune that consumers and small business have been suffering not just recently, but for decades. A national energy policy of any regard would benefit businesses both large and small.
• You will see major energy producers continuing to invest in smaller companies and acquire their patents and intellectual property. That investment will provide a real opportunity for entrepreneurial creativity and for small businesses to seize new markets.
• A move toward renewable energy will spark creativity and innovation. A lot of the intellectual capital will originate in smaller companies.
Back to BWSmallBiz October/November 2008 Table of Contents
Before it's here, it's on the Bloomberg Terminal.
LEARN MORE