Chicago, She Wrote
Lake Claremont Press specializes in all things Windy Cityand makes money on 9 out of 10 books it publishes
Tom Mullaney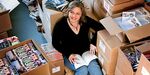 The summer before their freshman year in high school, Sharon Woodhouse and Ursula Bielski published a teen 'zine with stories on video games and fashion tips. Twenty-five years later, they're still in the publishing business, but they've moved on to books. Woodhouse is the founder and publisher of Lake Claremont Press, specializing in small-batch titles on Chicago history. (The name comes from the tongue-in-cheek way her dad referred to the kiddie pool in the family's backyard.) Bielski, meantime, has written the biggest seller among Lake Claremont's 45 books to date, Chicago Haunts: Ghostlore of the Windy City. Sales have topped 50,000 copies; two sequels together have added 30,000. Sales through June have run at double 2007's rate, and Woodhouse expects to hit $1 million in revenue for the first time in 2009.
Woodhouse has dealt with setbacks in recent years, including losing half her revenue stream when one of her distributors abandoned her market and landing in debt after two failed attempts to expand into Costco.
She's recovered, in part by hiring an industry veteran to clean up a production backlog. Woodhouse also renegotiated fees with printers. She's exploring the sale of single chapters in PDF format, and she sees e-books for Amazon.com's Kindle as a lucrative new market.
Woodhouse backed into publishing as a way to pay off her student loans. In 1994, cushioned with $3,000 from her parents and blissfully ignorant about business, she wrote A Native's Guide to Chicago, and, at age 24, published 3,000 copies. Within the next three years she put out four more titles. Today Woodhouse oversees a full-time staff of three, plus 15 freelancers.
Lake Claremont receives 500 book proposals a year, and two to three dozen usually show merit. Woodhouse publishes 10 titles a year, choosing and editing them herself. Readers snap up gory tales like Graveyards of Chicago. Food and drink titles do well, too, such as A Chicago Tavern, about the city's legendary Billy Goat bar. Nearly 4,000 readers turned The Politics of Place, a book about zoning, into a surprise hit.
Unlike big publishing houses, Lake Claremont doesn't rely on bookstores. Instead, Woodhouse prefers museum gift stores, souvenir shops, and special events, such as fundraisers. Print runs average 5,000 copies, keeping expenses low. Woodhouse reprints and updates successful titles, providing a constant sales stream.
While major publishers typically hit the jackpot once every 10 tries, Woodhouse says she makes money on 9 out of 10 books, and she raised more than $100,000 by selling the rights to Bielski's books. Nine of her 45 titles have won literary awards. Despite the accolades, "The way I'm different from other publishers is that editorial is not the main thing that excites me," Woodhouse says. "Building the business is."
Back to BWSmallBiz October/November 2008 Table of Contents
Before it's here, it's on the Bloomberg Terminal.
LEARN MORE