TJX Advantage: T.J. Maxx Pays Its Suppliers Fast
Timely payments to vendors give TJX Maxx's owner a big edge in loading up on fashionable brands as the holiday shopping season looms
Jena Mcgregor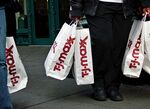 T.J. Maxx has distinguished itself in past downturns as a place for high-fashion brands to unload extra inventory that other retailers can't sell. Recently brands ranging from Valentino to Calvin Klein have shown up in its stores.
But in the current credit-strained environment, there's another reason the off-price retailer and its parent TJX (TJX) could stand to benefit: liquidity. TJX pays its vendors promptly and doesn't try to negotiate for additional deals if items don't sell, as department stores often do. Industry observers say that while those retailers can take 60 to 90 days or more to settle up, TJX typically pays within 30. These days, that's a critical selling point both to vendors, who are more concerned about finding funds to buy raw materials and pay expenses, and to the financers who act as middlemen in many of the deals. It could give TJX—which also owns discounters Marshalls and HomeGoods—an added advantage in getting a wider selection of items. As lending terms tighten up, says Burt P. Flickinger III, a retail consultant with Strategic Resource Group, TJX is like "a cash machine for the big fashion brands."
While TJX is reluctant to provide details about the terms it strikes with the 10,000-plus vendors on its roster, spokesperson Sherry Lang does say "we are religious" about paying promptly. The retailer can afford it. The Framingham (Mass.) company is seeing relatively healthy demand, having reported a mere 1% drop in September sales at stores open at least a year. That performance was poorer than expected, but still far ahead of such retailers as Gap (GPS), Chico's FAS (CHS), and Abercrombie & Fitch (ANF), which all turned in double-digit September sales declines.
Apparel makers, particularly smaller and midsize brands, are being hit on two sides. They frequently rely on a form of financing known as "factoring," in which brands sell their receivables to a third party, or "factor," for immediate cash in exchange for a fee. The factor then collects the payment from the retailer. With stores struggling, intermediaries are starting to demand better terms on those payments. New York-based Rosenthal & Rosenthal, which offers factoring to the apparel industry, says it's taking a closer look at retailers' creditworthiness, and says TJX's prompt payments make it an excellent company with which to work. Says veteran retail consultant Howard Davidowitz: "The factors are tougher than ever before."
Meanwhile, department stores are cutting back on how much they buy. Orders placed much earlier this year for the holiday season are suddenly being slashed, leaving fashion brands with excess inventory that's harder to unload in this environment. Because TJX buys later in the season, it's able to step in and stock up now.
The results are evident in the broader range of goods streaming into T.J. Maxx. A recent visit to the Oak Creek Village Shopping Center in Durham, N.C., revealed a T.J. Maxx outlet stuffed with everything from $99 True Religion jeans (regularly $160) to $149 Bottega Veneta sweaters (ordinarily $750). "The merchandise availability right now is just tremendous," says Patrick McKeever, an analyst who covers TJX for MKM Partners, an equity trading and research firm. Despite the inventory glut, TJX's Lang says the company has to be careful to choose the right garments, as department stores are cutting their prices right now, too.
Carol M. Meyrowitz, TJX's chief executive officer, is feeling confident. "Customer transactions were up across virtually all divisions," she told investors in the Oct. 9 sales announcement, calling the company's position going into the holidays "excellent." While others are eyeing what may be the worst holiday season in decades, Meyrowitz' cash-friendly formula might just make for a happy holiday.
Before it's here, it's on the Bloomberg Terminal.
LEARN MORE