Some Companies' Credit Arms Are Thriving
Unlike GE Capital, the financing divisions of Boeing and Caterpillar look solid
By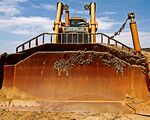 GE Capital, once the golden child in its parent's portfolio, has been a drag in recent weeks as investors battered General Electric (GE) stock on fears the financing arm was vulnerable. But what about similar units of other companies? Whether a finance division is a plus or a peril depends largely on how the company uses it.
Take Caterpillar's (CAT) financing operation, which makes loans to buyers of its heavy machinery. Cat Financial accounted for just 15% of the company's total pretax profit of nearly $5 billion in 2007. By contrast, GE Capital's contribution to its parent is about three times that. While Cat's bad-debt write-offs increased to $39 million in the first six months of 2008, up from $27 million in the same period last year, experts say Cat is well positioned to weather the crisis. "These guys are [financing] stuff they make and could sell" in the used-equipment market, points out Morningstar (MORN) senior analyst John Kearney. "And they're not just financing to your average guy in the street." As Caterpillar CEO James W. Owens likes to tell investors: "We know the customers, and we know the product."
Then there's cheap-chic retailer Target (TGT) and its credit-card unit. Earnings from the company's $8.7 billion credit-card portfolio more than doubled from 2005 to 2007. But that income stream is turning sour as many cardholders neglect to pay their bills. The unit's charge-off rate—those debts deemed unrecoverable—has soared to almost 10% of the total portfolio, up from 5.66% about a year ago. One problem, notes Christopher Garman, publisher of Leverage World, which follows the debt markets, is that as "companies chased this profitability, they took on too much risk."
Those who didn't—or couldn't—pursue easy profits might find opportunities amid the credit freeze. Boeing Capital (BA) hasn't made a loan in more than two years because airlines could get cheaper rates at European banks. With banks hoarding cash, Goldman Sachs (GS) estimates that Boeing could lend as much as $3 billion next year to hard-pressed buyers. While Kostya Zolotusky, Boeing Capital's managing director, says the unit hasn't made any loans yet, he notes "it is possible that customers could turn to us now."
Before it's here, it's on the Bloomberg Terminal.
LEARN MORE