Harley-Davidson Slips on Subprime Consumers
After going whole hog on credit, the motorcycle maker has tightened credit and begun pursuing some of its buyers
By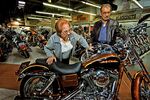 Not long ago, a national marketing campaign from motorcycle maker Harley-Davidson (HOG) addressed the sputtering economy with a heavy dollop of devil-may-care attitude. The tag line: "Screw It. Let's Ride.
Harley seems to have applied the same logic to its loan portfolio. In a pattern eerily similar to the housing bust, the $5.7 billion Milwaukee company used its in-house finance unit to chase after subprime borrowers, making it easy for them to buy $20,000 hogs with no money down. The risky lending—which forced Harley to take a $6.3 million write-down amid rising default rates and decreasing interest among buyers for its securitized loans—could foreshadow problems in other industries. Companies from retailers to blue-chip manufacturers such as Caterpillar (CAT), Deere (DE), and Boeing (BA) used finance arms to pump up sales and maintain an additional profit stream.
Harley-Davidson Fin-ancial Services (HDFS) has for years aggressively pitched retail bike loans to subprime borrowers, who now hold nearly a third of them. Now there's concern that the problems at HDFS could jeopardize the parent company's pristine credit rating. (BusinessWeek went to press before the company reported third-quarter results on Oct. 16, in which analysts expected earnings per share to decline 26%.) While acknowledging the "difficult environment," Harley spokesman Bob Klein says the subprime portion of the HDFS loan portfolio has remained between 25% and 30% since 2004. "Overall, the portfolio is very high quality," he says.
HDFS offers loans both to retail customers and Harley dealers, who finance the bikes that sit in their showrooms. Dealers can also earn incentives in the form of lower interest rates if they push a certain percentage of customers' loans and motorcycle insurance to HDFS. "We'd be crazy not to use [HDFS]," says Mark Barnett, a high-volume Harley dealer in El Paso, Tex., who says 83% of the new bikes he sells are financed through the unit. While HDFS made 38% of all retail loans for Harleys five years ago, that proportion now exceeds half.
ROARING GROWTH FOR HDFS
With credit markets frozen, Chief Executive James Ziemer faces some tough decisions. RBC Capital Markets analyst Edward Aaron argues that investors "need to know how [Harley] will raise capital to fund this business." BMO Capital Markets analyst Edward Williams says Harley is more vulnerable to a downturn because it "aggressively went after a lower-quality borrower" to gain market share against other lenders.
Indeed, between 2003 and 2006, the percentage of HDFS borrowers paying 15% or more in interest—an indicator of credit risk—increased from 8% to 19%, according to company reports. HDFS' share of Harley's operating income also grew to more than $200 million, about 15% of the company total, up from 7% in 2000.
The first sign of danger came early last year, when RBC's Aaron warned investors that loan delinquency rates were rising faster than normal, to more than 4%. While Harley trimmed production in response to slowing sales, it continued to go after marginal borrowers with promotions like 2007's "Stick it to the Man" campaign, which offered zero money down and teaser interest rates as low as 2.9%.
As long as HDFS could package loans and sell them as securities to investors, the strategy worked. In the first quarter of 2008, though, HDFS was forced to retain $54 million in loans no investor would touch. Even fewer buyers stepped forward in the second quarter as loan delinquencies kept rising.
SALES DOWN, JOBS CUT
Harley's finance arm has taken some steps to tighten lending to subprime customers. And its beefed-up loan collection staff is making more calls on weekends and evenings to chase down deadbeats. Klein says credit "may be less accessible" to customers with low credit scores and that HDFS has reduced its no-money-down financing offers, reserving them for the most creditworthy customers.
Softening demand for discretionary items such as motorcycles has exacerbated the woes at Harley's credit arm. Harley's U.S. retail sales were down 8.7% in the second quarter, and the company axed 730 workers earlier this year, its deepest workforce cut since the 1980s. Robust international growth rates are expected to weaken as the economic crisis spreads abroad.
Harley told investors last quarter that it remains committed to lending "across a broad credit spectrum," but analysts wonder how much longer the commitment to risky borrowers will last. "On one hand, you don't want to lose too much market share," says a buy side analyst. "But on the other hand, quite simply, you don't want to keep up your sales by extending credit to people who might default on payments."
A bright spot for HDFS is the particularly strong resale market for used Harleys just now, according to recent data from the National Automobile Dealers Assn. That reduces the severity of loan losses if HDFS is forced to repossess motorcycles. "The good thing about Harleys is they don't decline wildly in value," says Barnett, the Texas dealer.
Unfortunately, that can't be said of Harley-Davidson stock. The shares have lost half their value over the past two years.
Before it's here, it's on the Bloomberg Terminal.
LEARN MORE