Disney Emerges a Winner
As Murdoch's Dow deal hobbles News Corp., Disney's sales pitch to media stock investors remains the most plausiblefor now
Jon Fine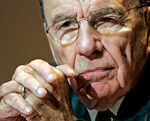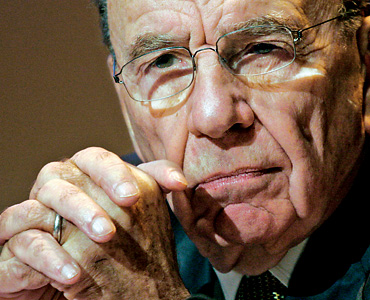 It hasn't been fashionable to be a big, groaning media conglomerate for a long time. So the remaining giants ardently woo investors, trying all manner of story and seduction to win a little bit of love, to be seen as not just like all the other guys.
But in this era, it's no easy task for media megaliths to find a pretty come-on to convince Wall Street of their brilliance. Sumner Redstone finally gave up and in 2005 decided to slice his Viacom (VIA) in half. Time Warner (TWX) execs boast about a portfolio composed more or less entirely of top brands, but that pitch will go unheeded as long as it owns AOL (TWX), still the corporate equivalent of cement shoes.
The two best claims for company exceptionalism are those presented by News Corp. (NWS) and Walt Disney (DIS). If I may grossly oversimplify, the stories go something like this: News Corp.'s Rupert Murdoch has employed his strategic brilliance to painstakingly assemble a machine that will outsmart all players on the global media chessboard. Disney deserves a premium stock valuation from its powerful brands and its unparalleled variety of ways to make money from them. (It's been selling this notion to investors lately, under the alliterative tag "the Disney Difference.") Both have been knocked around by the stock market in the past year. Disney's 27% drop over the twelve months ending Oct. 14 sounds grim, but such a showing outperforms its peers and market indexes. Just compare it with News Corp.'s 57% decline. Apparently, not all exceptions are created equal.
To mangle a metaphor, Murdoch's problem is that his papers have come home to roost. His newspaper division accounted for around 19% of News Corp.'s revenue in its last fiscal year, which ended June 30, making it the company's second-largest unit. Though there's more to Dow Jones (NWS) than The Wall Street Journal, investors perceived that deal as a very expensive way to buy more newspaper assets, and time has not improved the aftertaste. (A company spokesman says the company is pleased with the Journal's and Dow Jones' overall performance.) And, analysts say, its TV station holdings leave News Corp. further exposed to local ad trends, which have not been encouraging. And the digital pixie dust that the 2005 MySpace (NWS) purchase sprinkled over the company lost some of its power in April, when the company admitted that the Fox Interactive Media (NWS) unit (which houses MySpace) would miss its $1 billion revenue target. News Corp. hasn't provided one for fiscal 2009.
Murdoch is "still the smartest guy in the room," says one analyst. "But so what? People are still selling the [expletive] out of his stock." (Murdoch, who's sitting on $4.7 billion in cash, recently said he will only buy properties with two revenue sources--that is, nothing supported only by ads.)
The explanation of Disney's performance begins with one simple fact: Among its peers, the entertainment giant derives the smallest percentage of revenues from advertising. This is a good data point to have on your side when ad spending is tanking. Disney's stated selling point--that only it can take, say, High School Musical and extrapolate a gazillion revenue streams by leveraging everything from merchandising to movies to theme parks--has won traction with at least some investors. The mercurial reign of Michael Eisner is now in the rearview, and CEO Bob Iger wins plaudits for steadiness. The big question is what a recession--and a presumed travel slowdown--will do to Disney's theme parks business, which accounted for around a third of its revenue last quarter. (Company reps, citing a quiet period before reporting earnings, declined to make executives available for comment.)
While this slow media environment is likely mere rehearsal for what looms, Disney appears to be a better bet for stability. Ultimately, its trump cards are pretty prosaic: The company is less dependent on advertising, and it sold off a newspaper division in 1997. The media moguls perched in massive offices brooding over bold moves may not want to hear it, but in times like these, strategic brilliance doesn't drive their stocks. Avoiding anything radioactive does.
Before it's here, it's on the Bloomberg Terminal.
LEARN MORE