Enter Google's Android Software, on a Flawed Phone
T-Mobile's new iPhone challenger, the G1, has some intriguing features, but both the software and the handset need work
By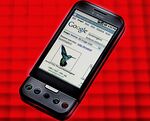 In the software world, a "developers' release" is a preliminary, unfinished version of a program that lets engineers kick the tires and gauge its potential. Think of T-Mobile's new G1 phone as a kind of developers' release, a chance for ordinary customers to test Google's (GOOG) much trumpeted Android software for smartphones.
This iPhone (AAPL) wannabe is an intriguing but flawed effort—worth a look for early adopters but probably not what you want to carry as your everyday phone. The G1 will be available on Oct. 22 for $180 with a two-year contract; data plans start at $25 a month.
The design of the Wi-Fi-ready G1 handset from HTC makes assessing Android harder than it should be. With its awkward slide-out keyboard, the phone is difficult to type on. It also lacks features we are coming to regard as standard on contemporary smartphones. Unlike other big-display, touchscreen phones, the screen orientation does not change when you rotate the handset, and the display can only be used horizontally when the keyboard has been slid out. You can use a BlackBerry-like trackball instead of touch to navigate the screen, but I found this hard to use with precision. There's no stereo Bluetooth, and using a wired headset requires an adapter.
Then there's the network. As befits its Google heritage, Android is centered on Web browsing and needs a fast connection. T-Mobile's speedy new 3G network is available in only 21 cities and—based on my experience in Baltimore—3G coverage in those areas is spotty. I ended up doing nearly all of my testing of everything but voice on Wi-Fi.
Of course, there will be other and better Android phones next year, and 3G networks are improving. What about the software? The most promising thing about Android is the way Web services and search are integrated across applications. In many programs, anything you type into an open window is interpreted as a search request, tailored to whatever you are doing at that moment. For example, if you are in phone mode—the default state if no program is running—then typing initiates a search of contacts. A list of matches comes up as soon as you start to type and is refined as you add letters. Typing in the browser window opens a Google Web search; in Google Maps, it starts a location search; and in the Amazon.com (AMZN) MP3 store, you get a music search. If Android sees what looks like an address in a Web page or mail message, tapping it will bring up a Google map. All of this is clever and often useful. But typical of Android's many inconsistencies, when you start typing in any Gmail folder, nothing at all happens. If you want to search messages, you must hit the Menu button and choose search.
There's also a lot missing. You can sync contacts and appointments only through Gmail and Google Calendar. If you want to sync with Outlook or iCal on a computer, you first must get the data into the Google applications. There's no built-in video player other than a YouTube application, and the music player is miles short of iTunes.
Android's ultimate success will depend on third-party software efforts. Unlike the tightly controlled iPhone store, there are no limits on what Android programmers can do, which means we are likely to see lots of applications of decidedly mixed quality. For the moment, the Android Market offers only free programs. Since developers want to make money, the market lacks the polished applications, especially games, that make the iPhone so appealing—though I did have some retro fun with Namco's Pac-Man.
The iPhone has flaws, too, but Apple had all the important pieces in place from Day One. Android is a work in progress. I suspect it could be a formidable competitor in six months or a year, but it has a long way to go.
Before it's here, it's on the Bloomberg Terminal.
LEARN MORE