The Sky Falls on Wall Street
The week started with hope for a U.S. plan to calm world stock markets. By Friday, investors wondered if anything could stop the slide
By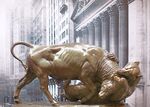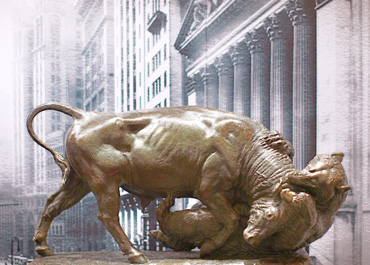 Stupefying. Dizzying. Deeply unsettling. The panic that swept the global financial markets in the past five business days, Oct. 6-10, will go down in history—either in its own right or possibly as a prelude to something worse.
The Standard & Poor's 500-stock index suffered its biggest weekly decline since 1933, and markets from Japan to Brazil to Russia tumbled as well (BusinessWeek, 10/9/08). What exactly happened, and what does it mean? It's worth taking a look back at the tumultuous five days to see what lessons can be drawn and perhaps get a hint of what might come next.
MONDAY, OCT. 6: No Bailout Bonus
President Bush's signature on a $700 billion plan to buy unwanted assets (BusinessWeek.com, 10/4/08) from banks was supposed to restore confidence to the markets. But emergency weekend bailouts of European banks caused investors to realize that the credit freeze had gone global. The Dow Jones industrial average fell below 10,000 for the first time (BusinessWeek.com, 10/6/08) in four years, dropping 370 points, or 3.6%. After the market closed, Bank of America (BAC) said it would cut its dividend in half and raise $10 billion by selling shares. BofA CEO Kenneth Lewis said, "These are the most difficult times for financial institutions that I have experienced in my 39 years in banking."
The only good news: Speculators who were reviled during oil's runup got busy driving oil back down, on expectations of slowing global demand. A barrel of crude traded below $90. By the end of the week, it would be trading under $78.
TUESDAY, OCT. 7: The Fed's Paper Chase
This time it was the turn of the S&P 500 to crash through an historic barrier. It dropped 5.7% to go below 1,000 for the first time since 2003. Federal Reserve Chairman Ben Bernanke said the economy was under "extraordinary stress" and hinted an interest rate cut was likely soon.
The Fed took another step toward broadening its role as a lender of last resort by offering to buy commercial paper (BusinessWeek.com, 10/7/08) directly from issuers. Companies and banks that use commercial paper to finance their short-term operations have been starved for cash since money-market mutual funds that usually buy their paper fled to the safety of Treasury bills.
WEDNESDAY, OCT. 8: Central Banks United, to No Avail
In a bid to demonstrate their united resolve, the Federal Reserve, the European Central Bank, and four other central banks announced coordinated half-percentage-point cuts in their key short-term interest rates (BusinessWeek.com, 10/8/08). Ordinarily such a power move would send markets soaring. Not in this crisis. U.S. stocks fell for a sixth day, albeit less than on Monday and Tuesday.
Confronted with skepticism about his $700 billion bailout plan, Treasury Secretary Henry Paulson hinted at a change in strategy. He indicated that at least some of the money could be used to invest taxpayers' money directly in banks—as opposed to sopping up some of their worst assets. Still, the S&P 500 fell about 1% and the Dow about 2%.
THURSDAY, OCT. 9: We've Lost Iceland
Iceland's financial system collapsed (BusinessWeek.com, 10/9/08), and analysts said the national government might have to turn to the International Monetary Fund for assistance.
Iceland had blossomed into a center of international banking after that sector was privatized in 2000. By the end of 2006, total assets of the three main Icelandic banks were $150 billion, eight times the country's GDP. But the banks were heavily reliant on external financing, and when the credit market seized up, they were crushed under a mountain of foreign debt.
Meanwhile, back in New York, the stock market's decline was picking up speed. Just three days after busting through 10,000, the Dow industrials fell below 9,000 for the first time since 2003. General Motors' (GM) shares fell a breathtaking 31%, to their lowest point since 1950, on fears the credit crisis would kill auto sales. The Dow's 679-point decline on Thursday (BusinessWeek.com, 10/9/08) amounted to a drop of more than 7%. The credit crisis continued to worsen as banks hoarded cash and refused to lend to each other except at exorbitant rates. The rate charged by banks on unsecured three-month dollar loans to each other—LIBOR—rose to 4.75% in London.
FRIDAY, OCT. 10: A Truly Global Disaster
Stocks fell nearly 10% in Japan and almost as much in Europe, setting the stage for a wild day on Wall Street. The Dow opened with a breathtaking drop of nearly 700 points (BusinessWeek.com, 10/10/08) and swung 1,000 points from its low to its high before finishing 128 points down, at 8,451. The week's decline for the S&P 500—18.2%—only just missed the all-time record 18.6% drop recorded amid the Great Depression, in 1933.
Whereas the week started with a U.S. bailout, it ended with talk of a global fix. Ministers of the G-7 industrialized countries met in Washington to discuss a plan to curb the panic. The credit squeeze caught billionaire Sumner Redstone, who said he would sell about one-fifth of CBS (CBS) and Viacom (VIA) to raise money for loan payments. At the White House, President George W. Bush said the crisis has been "deeply unsettling" but added, "The United States government is acting; we will continue to act to resolve this crisis and restore stability to our markets."
One lesson of the crisis (BusinessWeek, 10/8/08) is that nothing matters more to the global financial system than trust—and it is a fragile commodity. With little good to say about the short-term situation, optimists are resorting to playing up long-term strengths. In an Oct. 10 interview, Massachusetts investor Richard Babson said that while the five-year outlook may be bad, the 30-year outlook remains good.
"Nobody's erased the education, the intellectual capital people have, their skills and talents," said Babson, chairman of Babson-United, a private investment firm in Boston.
True enough. But a global economy needs more than good raw materials, whether physical or intellectual. It needs healthy companies and financial institutions that can harness those resources. It's those organizations that have been wounded by the credit crisis—and that policymakers are now desperately working to protect.