Panic Resets Oil Prices
As the cost of a barrel sinks below $78, demand forecasts are down and investors are fleeing the market. That's bad news for Big Oil
Moira Herbst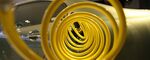 The era of sky-high oil prices and record oil company profits could be over—for now.
That's because stock market panic is spreading to the oil market. Oil prices sank to their lowest level in 13 months on Oct. 10 as worldwide investor uncertainty grew. Light, sweet crude for November delivery fell $8.89 per barrel, or 10%, to settle at $77.70 a barrel on the New York Mercantile Exchange, or Nymex (CME). Oil has lost 47% since hitting a record $147.27 on July 11.
Gasoline prices are sliding (BusinessWeek.com, 10/8/08) alongside crude prices. A gallon of regular gasoline dropped 5.3¢ overnight from Oct. 9 to Oct. 10, reaching a national average of $3.35 a gallon, according to auto club AAA. Prices reached an all-time high of $4.11 on July 17.
As the credit crisis deepens, investors are fleeing a market that was bursting with trading activity just months ago. One reason is that banks like Goldman Sachs (GS) and Morgan Stanley (MS) are brokering fewer oil trades as their institutional investor clients resist further investments in crude. The darkening economic climate is also slowing demand and cutting forecasts for future demand, adding to downward price momentum.
Number of Futures Contracts Falls
"A lot of investors are getting out," says Peter Beutel, president of the energy risk management firm Cameron Hanover in New Canaan, Conn. "Pensions, sovereign wealth funds, and the like don't want to be in commodities anymore. Commodities are a sinking ship."
As credit lines tighten and finance companies restructure or leave the market, trading activity in the Nymex's energy derivatives market is shrinking. Open interest in crude oil futures contracts on Nymex fell by nearly 21,000 contracts to a two-year low for the week ended Sept. 30, according to a report issued by the Commodity Futures Trading Commission (CFTC). Open interest, an important measure of market liquidity, has declined 19% since July, when oil rose to its record highs.
Volume in Nymex crude futures was 11.5 million contracts for September, up from August but below the monthly average of 12.4 million contracts traded through May, June, and July.
Banks like Goldman and Morgan Stanley aren't the only ones restructuring to scale back energy trading. Firms such as Oklahoma-based Semgroup have pulled out of the market entirely. UBS (UBS) has recently closed its over-the-counter commodities trading operation, and Bank of America (BAC) stopped its London-based energy and commodities trading earlier this year.
Oil Company Shares Take a Hit
The International Energy Agency (IEA) on Oct. 10 cut its global oil demand forecasts for this year and 2009, pointing to the worsening economic conditions and the tight credit supply. The Paris-based agency cut its estimate for oil demand this year by 240,000 barrels per day, and reduced its 2009 forecast by 440,000 barrels per day. The IEA now expects global oil demand to total 86.5 million barrels per day this year and 87.2 million barrels per day next year.
OPEC officials are planning to meet (BusinessWeek.com, 10/9/08) on Nov. 18 to discuss potential output cuts, but analysts doubt an OPEC cut would reverse the downward momentum on oil. OPEC's decision last month to cut production by 520,000 barrels a day failed to halt the losses.
The free fall in oil prices is finally putting a dent in the oil giants. On Oct. 10 shares of ExxonMobil (XOM) dropped nearly 13%, or 8.60, to 59.40. Shares of Hess (HES) slid 7.18, or 13.4%, to 46.32; ConocoPhillips (COP) lost 6.30, or 11.7%, to close at 47.53; and Chevron (CVX) fell 5.29, or 8.3%, to 58.71.
Shares of major refiners were also down Oct. 10. Shares of Tesoro (TSO) fell 1.15, or 12.5%, to 8.05, and Marathon Oil (MRO) dropped 3.19, or 11.6%, to 23.76. Oil-field services companies also took a hit. Halliburton (HAL) was down 1.53, or 8.1%, to 17.41.
Run of Record Profits Ends
Wall Street analysts anticipate a reversal of earnings fortune for integrated oil companies, which had been on a roll. In July, Exxon reported the largest-ever quarterly operating profit for a U.S. company—$11.7 billion—as oil prices soared. Oppenheimer (OPY) senior oil analyst Fadel Gheit says he thinks oil industry earnings have peaked in the third quarter of 2008.
"It's the end of the run of record profits for four consecutive years," says Gheit. "The surge in oil prices resulted in underserved record profits for OPEC, the oil industry, and the financial speculators, but fleeced consumers around the globe."
Gheit calculates that a $10-per-barrel drop in the average oil price reduces annual profits by $5.6 billion for BP (BP), $4.8 billion for ExxonMobil, $3.3 billion for Shell (RDSA), $3.1 billion for Chevron, and $3.0 billion for Total (TOT).
However, Beutel says that oil companies will still thrive in an environment of $80 oil. That level represents the upper 95th percentile of oil trading prices since 1983. "Oil companies will still make money," says Beutel. "I'm not losing any sleep for Exxon."