Winmark: A Bright Spot in Dark Times
The used-goods retailer is booming as strapped consumers look to make, and save, a buck
Jane Porter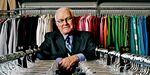 Hard times have been pretty good to Rita Cortese. Since 2006, she has owned a Plato's Closet used clothing store in Deptford, N.J. In recent months, Cortese says, business has exploded as people descend on her store to buy or sell castoff shirts, dresses, and jeans. Cortese is so busy she recently built a shed out back to contain her overflowing inventory.
Winmark (WINA), the Nasdaq-listed company that sold Cortese her Plato's Closet franchise, is a rarity in a scorched retail landscape: It's growing rapidly and making money. Sales at Plato's Closet outlets open more than a year were up 19.6% in August, vs. 1.7% for the industry as a whole. "I don't wish this economy on anyone," says John Morgan, Winmark's chief executive. "But we're going to make hay while the sun shines."
The company that would become Winmark was born 25 years ago as Play It Again Sports, which sold used hockey sticks, baseball mitts, and so forth. Ten years later the company went public as Grow Biz. But by 2000, it was suffering the usual ills of overexpansion. Enter Morgan, who renamed it Winmark and focused on four franchises: Play It Again Sports, Once Upon A Child (kids' apparel), Music Go Round (used musical instruments), and Plato's Closet (which, like the other franchises, also sells some new items). Today, Winmark has 861 stores nationwide.
Franchisees pay a $20,000 one-time fee, plus 3% to 5% of weekly sales. In return, Winmark provides the business model, training, and marketing. "All the risk falls on the franchisee," says Graeme Rein, research analyst for Bares Capital Management, which owns 14% of the company. "It's on their shoulders to create a profit." Because franchisees pay cash on the spot, they have powerful bargaining leverage. For example, Cortese pays $6.80 for a pair of Hollister jeans and resells them for $18.
Since consumers are going to be hurting for a while, it's a fair bet that Winmark, whose stock has suffered this year along with the rest of the market, will continue to outperform the retail sector. Not that Morgan, who owns a quarter of the company, is standing pat. He's plowing Winmark profits into another franchise operation he expects to do well in hard times—leasing office equipment to credit-parched small businesses. And guess who he's recruiting to run the franchises: managers who've lost their jobs.
Before it's here, it's on the Bloomberg Terminal.
LEARN MORE