Oppenheimer's Contrarian in Municipal Bonds
Oppenheimer Funds' Ron Fielding likes to find gems among tax-exempt bonds that others dumpand often winds up scoring big
Aaron Pressman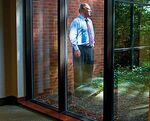 Ronald Fielding prospers by buying tax-exempt bonds that others hate. While the typical municipal bond mutual fund is packed with plain vanilla, low-risk bonds backed by the general taxing power of states and cities, Fielding, who runs the Oppenheimer Rochester family of 18 muni funds, specializes in the most unloved, lowest-rated, and seemingly riskiest tax-exempt bonds in the market. Whether by loading up on munis supported by payments from airlines or by buying the bonds of obscure public financing
agencies, he has succeeded at finding gems in what everyone else considers trash. "Show me the stuff that's ugly, and let me decide if there's a valid reason for why everyone finds it disgusting," he explains from his corner office a few miles from downtown Rochester, N.Y. "Then I'll find out what's disgusting, but not bad."
Fielding's contrarian style, a rarity in the world of muni bond investing, means that his fund performance is awful every few years—whenever a major sell-off hits. But those declines provide the opportunities that have helped his fund outperform over the long haul. "They do take on a lot of risk," says Morningstar (MORN) analyst Greg Carlson. "But they've got a pretty impressive research team, and they've gotten so many calls right over the long term."
One of Fielding's worst years was 2002, when a wave of bankruptcies by power providers and telecom companies spooked bond markets. Investors dumped the lower-rated muni bonds he owned. His New York muni fund (RMUNX) trailed the average return for similar funds by four percentage points for the year; it was worse than 60% of its competitors, according to Morningstar. As the market tanked, Fielding built up a 20% stake in "inverse floaters," notoriously volatile securities whose yields rise when interest rates decline. And as the post-Enron panic subsided and rates on munis fell, yields on the bonds jumped and the fund performed magnificently from 2003 through 2006, beating the average of its peers by almost four percentage points a year and outperforming at least 97% of its competitors in each of those four years.
Fielding, 59, discovered early on that many investors were confused by the very nature of nonprofit government bond issuers. In 1978, at his first portfolio management job, he was surprised to learn that analysts at his firm, a bank now known as Chase Lincoln First, considered the New York Power Authority too risky. The analysts saw that its revenue barely covered interest payments owed. What they missed was that the Authority, a nonprofit, was selling electricity at rates far below the market and could raise rates if needed. "I said, 'Don't look at what they make now—figure out what they could make if they charged market prices,'" recalls Fielding.
In 1986 he opened his first mutual fund, which focused on New York munis. Again, Fielding found rich opportunity when other investors dumped what they considered risky debt. The State of New York Mortgage Authority had issued nine series of bonds in the mid-1980s, when rates were relatively high, to generate funds to lend to homeowners. But when rates tumbled in the second half of 1987, potential borrowers found they could get lower rates from banks. So the Authority, relying on an overlooked loophole in its bond documents, retired a large portion of the debt early. Furious investors, who had bought the bonds thinking they couldn't be retired early, began selling. Fielding scooped up the bargains and collected a yield of almost 10%. That sent the yield on his fund to the top of the charts, dramatically boosting sales. In two years, assets grew from $5 million to $50 million. Fielding sold his management firm to Oppenheimer in 1996.
Investor disgust with the airline industry has provided Fielding some of his best picks. Airline stocks have lost tens of billions over the years through dozens of bankruptcies.
Fielding looks for bonds issued by public authorities to fund airport facilities such as terminals, with interest payments coming from the leases airlines sign. Known as private activity bonds, airline-backed munis are among those most feared by conservative investors. (An airport can overbuild, leaving a terminal unused.) But many of the bonds are secured by leases on busy terminals at crowded airports. When an airline goes bankrupt, the court often allows it to continue leasing such a terminal; if not, another airline may grab the lease.
Fielding's fund still owns bonds issued in 1990 to build a terminal at LaGuardia International Airport, backed by lease payments from Eastern Airlines. Eastern went bankrupt before the project was finished, and Continental Airlines (CAL) took control of the terminal. Continental lost its lease in bankruptcy, and the terminal went to US Airways Group (LCC), which has gone bankrupt twice in recent years. In all that time, Fielding has received regular payments on the bonds, which pay a 9% tax-free rate. "The land is so valuable that even though the airlines go bankrupt like a machine gun, those bonds are terrific," he says.
PUERTO RICO'S PAPER
Fielding's most recent big score came when the auction-rate securities market froze up in February. The securities are long-term bonds with variable rates that reset as often as weekly. Until the market seized up and sent some yields soaring, they were used by muni issuers to bring down the cost of long-term borrowing. Targeting high-quality issuers like the Port Authority of New York & New Jersey, Fielding plunged in, drawing down an entire $1 billion credit line. His funds collected yields of 12% to 20% for a few months as issuers refinanced and retired the securities. "It was fun," he says with a laugh.
More recently, he's bought bonds issued by Puerto Rico and its agencies. Bond rating firms have announced that starting this month, they'll raise ratings on many general obligation munis relative to corporate bonds, since munis default less frequently than corporates. Since Puerto Rico is one of the lowest-rated investment-grade issuers, Fielding thinks its bonds will gain the most from the new approach.
So far this year, Fielding's New York fund, his largest, is down 13%, its worst nine-month total return ever. He says that's due to investor flight from the kinds of bonds he favors. Noting this is the only time in 15 years that his more-than-1,000-issue portfolio hasn't included a single defaulted bond, he says the drop is temporary. To Fielding, it means happy hunting.
Before it's here, it's on the Bloomberg Terminal.
LEARN MORE