Credit Crisis: The Risk Hits Russia
Investors are fleeing fragile financial markets, oil prices are falling, and the global credit crisis threatens the economy
Jason Bush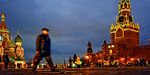 RUSSIA Take a stroll through central Moscow, and you'd be hard-pressed to find evidence of the global economic turmoil. Shiny new malls are packed with shoppers. The streets are filled with Mercedes, BMWs, and Land Rovers. On the Presnenskaya Embankment, overlooking the Moskva River, a half-dozen skyscrapers are nearing completion at the Moscow International Business Centre, a $12 billion development intended to become the city's new financial hub. The world credit crisis "doesn't affect us at all," says Tatiana Ilyinishna, a pensioner hauling bags of groceries outside a supermarket near the city's Kiev Railway Station. "Everything here is splendid."
But scratch the surface a bit, and things are less splendid than they appear. As the financial crisis spreads, Russians are suddenly discovering that their economy is shakier than many had cared to believe. Credit is increasingly tight, economic growth is slowing, and Russia's fragile financial markets have taken a beating. On Oct. 6 the benchmark RTS index plunged 19%, to its lowest level since August 2005. "The current situation is very serious," says Evgeny Nadorshin, chief economist at Trust Investment Bank in Moscow. "A few months ago we thought that we could look forward to a calm life, but now we've lost our advantage and are in the same boat as everybody else."
"ROGUE STATE" FEARS
Western investors have pulled out en masse in the past few months. Until recently foreigners accounted for up to 70% of investment in Russian equities. They started throttling back earlier this year as they began to worry about increasing risk in emerging markets. Then they got spooked by Russia's invasion of Georgia and began stampeding for the exits. With the collapse of Lehman Brothers in September, the stampede turned into a rout, forcing almost daily halts in trading. The market is down 60% since peaking in May. Falling oil prices, meanwhile, have taken some of the luster off Gazprom, Rosneft, Lukoil, and other stars of Russia's key export sector.
Nor is it just bankers and portfolio investors who are becoming stingier with their cash. Foreign direct investment, crucial to the modernization of Russia's economy, is off sharply. In the first half of this year, government statistics show, long-term investment in factories, real estate, and companies fell by 30%, to $11 billion. And things have only worsened since the war in the Caucasus and the tussle last summer over TNK-BP, a troubled joint venture between oil giant BP (BP) and Russian billionaires that led to the ouster of its CEO, Robert Dudley. "Before Russia invaded Georgia, I was getting 100 to 150 e-mails a day that required a response. I was getting five afterward," says Jamison Firestone, manager of law firm Firestone Duncan in Moscow. "When you talk to investors now there's a general sense that Russia is turning into some kind of rogue state."
WORSE TROUBLES AHEAD?
As the financial crisis intensifies, economists no longer debate whether growth will slow in the Russian economy but by how much. The International Monetary Fund, for instance, on Sept. 26 cut its Russian growth forecast for 2008 from 7.7% to 7.1%, and for next year it's now predicting 6% to 6.5%, down from 7.3%. While 6% growth may sound pretty good, last year Russia's economy expanded by 8.1%. And some are warning of far worse troubles ahead if the financial crisis persists. "I think it's a massive negative. We are going to see a sharp decline in the growth rate," says Anders Aslund, senior fellow at the Peterson Institute for International Economics in Washington. If oil prices plunge to $50 per barrel, Moscow analysts warn that growth could fall below 4%.
The crux of Russia's problem is that it depends on the outside world to provide much of the cash that keeps the financial system afloat. The implications go well beyond stock prices. Foreigners have purchased about two-thirds of the $170 billion in bonds issued by Russian companies. Foreign banks also have put up roughly half of Russia's accumulated $900 billion in bank loans, including almost all long-term debt, estimates Moscow investment bank Troika Dialog. "The flight of capital has exposed the complete dearth of domestic investment," says Joshua Tulgan, director of investor relations at Russian telecom operator Mobile TeleSystems (MTS). Without access to long-term capital, many Russian companies have been forced to resort to short-term borrowing to finance expansion, adds Johann Jonach, country manager for Austria's Raiffeisen bank, the largest foreign bank in Russia.
With global credit markets in lockdown, Russia Inc. is running short of cash. On Oct. 7 the Kremlin announced it would provide $36 billion in emergency loans to Russian banks. That followed September pledges of more than $150 billion in relief and loans for banks and for Russian companies in danger of defaulting on international debts. One worrisome fact is that about 55% of outstanding corporate loans in Russia have a maturity of one year or less. And on Sept. 17, Mirax Group, one of Russia's largest construction companies, announced it was suspending all new work because of lack of financing and wouldn't take out new loans for at least a year. Although Mirax will continue working on projects that are already started—including the 93-story Federation Tower, which will be the tallest building in Europe—it's putting some 50 other projects on ice. And it's halting construction of a 46-story tower in Kiev and a 52-story skyscraper in London's financial district. "Bank financing for developrs has practically ceased," says Dmitry Lutsenko, a Mirax board member. "Obviously everyone is concerned about the current crisis."
Mirax's problems are just the tip of the iceberg, with many smaller developers expected to go under. Construction growth, a powerful driver of economic activity, slowed to just 6.4% year-on-year in August, down from 29% in the first quarter. As dozens of new buildings hit the market, construction sites and billboards across Moscow are plastered with posters offering space in recently finished office and apartment blocks.
Even Russia's seemingly insatiable consumers are starting to feel the pinch. Inflation has jumped to 15%, about double its level a year ago, and banks are becoming stingier with consumer loans. Housing prices, which rose by 90% last year, have stagnated since August and may fall by 20% or more by the end of 2009, predicts IRN, a real estate consultancy. Sales of foreign cars plummeted by 12% after banks cut back drastically on approvals for new auto loans. Russians even seem to have gone off their beer: Production fell by 10% in August amid slumping sales. Olga Vasilevna, a sales clerk in Moscow, says she can't get a loan to repair her battered 1994 Volkswagen Golf. She wouldn't mind forking out the 25% interest that banks were charging until recently, but these days no one is prepared to front her the money even at such a high rate. "It was a lot easier before," she says. "The banks aren't lending money now."
Entrepreneurs are facing trouble, too, as many banks stop lending to small businesses. Natalia Lobinina, owner of a hair salon in Tver, about 100 miles north of Moscow, recently had to sack half her staff and move into a smaller space when her lease expired. Although she says her business is going well, the new rent was too expensive, and no bank would lend her the $300,000 she needed to buy her own shop. "Now the problems are even worse," says Lobinina, who is also an official in Opora, a small business lobbying group. Only 25% of small businesses in her region have access to bank finance, she says.
CHRONIC UNDERINVESTMENT
For economists, some comfort comes from the relative smallness of Russia's financial sector is relatively small, so the credit crunch doesn't hurt the country as much as it's harming the U.S. and Europe. Bank loans account for some 10% of corporate finance, and the bond market is only about a decade old, so roughly half of all capital investment by companies comes from retained earnings. But that has led to chronic underinvestment. Capital expenditures represent around 20% of Russia's gross domestic product, compared with about 30% in most emerging markets and 40% in China. "Russia's economy is still very detached from the stock market," says Sergei Guriev, rector of the New Economic School in Moscow.
That phenomenon is easy to see at Uralchem, a Moscow-based company that exports chemicals such as ammonium nitrate, used for fertilizer. Uralchem is raking in cash thanks to high global chemical prices and is expected to earn $450 million on sales of $1 billion this year, up from profits of $200 million on revenues of $700 million in 2007. The company had planned to float 10% of its shares in London in September but was forced to pull the offering amid the global market turmoil. However, management is pressing ahead with plans to invest in a giant phosphorous mine and to increase capacity at its three chemical plants. "We have a comfortable cash cushion," says Anton Vishanenko, Uralchem's chief financial officer.
At the heart of Russia's financial woes is a dearth of long-term private savings. In the U.S., private pension funds manage assets worth about 40% of gross domestic product. The equivalent figure in Russia is just 2.5%. Nor are Russians overly keen on putting money in the bank. Instead, they'd rather spend their cash. Household deposits are the equivalent of some 17% of GDP, compared with about 45% in the U.S. Only 4% of Russians trust commercial banks, according to a poll by the National Financial Research Agency in Moscow. "Our country is so unpredictable that you could be left with nothing," says Kira Gorodilova, 28, an oil market analyst at a Russian energy company. "People are reluctant to put money in the bank."
Unlike ordinary Russians, the Kremlin is sitting on piles of cash, owing to years of record-high oil prices. It has $560 billion in foreign exchange reserves, plus $160 billion in two sovereign wealth funds financed from oil taxes. The snag is that most of the money is in fixed income securities of governments abroad, doing nothing to feed the local financial system. The government wants to hang on to the money as a cushion in case oil prices take a serious tumble. And if Russia were to pump it into the domestic economy, inflation would rise even faster than it has been.
To jump-start savings, the government has long toyed with pension reform, an issue that has reemerged on the political agenda in the wake of recent financial turmoil. But previous attempts have met with little success. Since 2004, Russians under 30 have been able to pay part of their pension contributions into private funds. But only 5% have opted to do so, largely because no one has bothered to explain the reform to the public. "Young people don't care much about pensions—there'll be time for that later," says Andrei Volkov, 24, a management student shopping at Moscow's Evropeisky Mall, a consumer paradise crammed with stores such as Zara, Benetton, and adidas. "We love to spend more than to save."
With domestic capital in short supply, Russia can ill afford repeated blows to investor confidence. True, seasoned investors play down the legal and political risks, saying they are justified by juicy returns. "Clearly it's ridiculous to expect the same kind of law and order in Russia that you have in Switzerland. It's an emerging market," says Boris Fedorov, a former finance minister who today is senior managing partner of UFG Asset Management, a leading Russian investment company.
In fact, many foreigners already invested in Russia seem more worried about Washington's hostile reaction to the military invasion of Georgia than about the increasingly authoritarian stance of Prime Minister Vladimir Putin and President Dmitry Medvedev. In September, American investors and the U.S. envoy to Moscow met for a breakfast at the elegant Marriot Grand Hotel on Tverskaya Street, just up the road from Red Square. The assembled managers were itching to hear what Ambassador John Beyrle had to say but complained loudly about Washington's tough line on Moscow's moves. "The mood in the room was quite combative," says Sergei Riabokybylko, who heads the Russian affiliate of real estate consultant Cushman & Wakefield. "Instead of aggressive rhetoric [by the U.S.], business here would like to see a more engaged discussion with Russia."
For investors with the stomach for rough-and-tumble emerging markets, Russia is not so much a wicked wolf that needs to be taught a lesson as a lucrative golden goose that needs gentle coaxing if it is to keep laying its precious eggs. Given the country's 140 million people and its growing middle class, money is still likely to be made even if growth slows. This year, for instance, Russia overtook Germany as Europe's largest car market, and foreign automakers are slugging it out. "The Russian market is tremendously important for us," says Heidi McCormack, director for new business development in Russia at General Motors (GM), which has seen its sales in the country jump by 40% in the past year, giving it some 10% of the market.
Despite Russia's continued attractions, though, veteran investors acknowledge they are nervously watching how the credit crisis will unfold both in Russia and abroad. That, they say, is a far more serious concern than the tensions over Georgia. And if existing investors are wary, Moscow will have an even tougher job persuading skeptical newcomers more easily spooked by the political and legal risks. All of which means the country may see the breakneck pace of development over the past decade slow markedly. "It looked like Russia was not going to get hit," says Andrew Somers, president of the American Chamber of Commerce. "Well, it has been hit. Just as in the U.S., the question is: When is this over?"
Business Exchange related topics:Russian EconomyRussian BusinessCredit CrunchGlobal RecessionEastern European Investments
Before it's here, it's on the Bloomberg Terminal.
LEARN MORE