The Financial Crisis and Your Business
As banks fail, small business owners are wondering what happens to their financial agreements. Here are the basics
Amy Barrett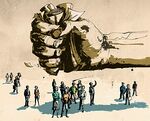 It's been described as the most dramatic financial upheaval since the Great Depression. But what does the realignment of Wall Street mean to small business owners? BusinessWeek SmallBiz explains.
What happens to my line of credit or bank loan if my bank fails?The line of credit or loan continues under the terms of your original contract, so keep paying. The money will go either to the government, if the bank has been taken over by the Federal Deposit Insurance Corp., or to the bank's new owners once the government sells it off. And if you haven't used any of that line of credit before the bank fails or is merged, you can still borrow, either from the acquiring bank or the fdic.
If I use a home equity line of credit or a business line of credit to finance my company, can my bank cut that line or pull it?That depends. If you have an uncommitted line of credit and haven't drawn on it, the bank
has a lot of leeway. Those lines are basically an agreement to provide funding under "mutually agreed upon terms and conditions." So yes, the bank can refuse you.
If you're paying a fee for a committed line of credit and you have a formal lending agreement, you have more protection. But often those deals contain provisions that can trigger a default, even if you're up to date on your payments. Those triggers can include everything from a bankruptcy filing to a change in the profitability or net worth of your business. In some cases, you have the opportunity to fix things and get the line back in good standing. In others, such as bankruptcy, it's in the lender's hands. All this is spelled out in your original bank agreement.
With a home equity line of credit, there are typically provisions written into the agreement that allow your banker to essentially change his or her mind. Those clauses often
relate to the value of your home. So if home prices in your area have plummeted, the bank may be able to freeze or cut your line. That's why it's critical to read the fine print of your banking agreement now.
What does all this mean for credit availability?In the near term, it's not good. While small businesses that have a long track record and a stellar credit history are still able to borrow, newbies or those with a blemish or two on their record are having a particularly tough time.
Compounding the problem is the prospect that more banks could stumble if the economy remains weak. Already, Washington Mutual and Wachovia are being gobbled up. Further consolidation would mean fewer banks from which to choose—and therefore fewer options for borrowers.
The recently passed $700 billion bailout is expected to help. The plan allows Treasury to buy construction loans, as well as more esoteric assets. That will help smaller banks that made a lot of those loans in recent years. As Treasury begins buying bad assets, credit should loosen up.
I was hoping to get a bank loan in the near future. What can I do now to increase my chances?Banks will look very closely at your cash flow. So if you can, accelerate the collection of your receivables and extend your own payment terms with suppliers. Think twice about taking a lot of cash out of the business with a hefty personal salary, and be ready to put up collateral.
Your cash flow might also be helped by tax breaks in the bailout legislation, such as a shortened depreciation schedule for restaurant and retail businesses.
What does all this mean for interest rates?The one piece of good news is that with a weak global economy, interest rates are likely to remain low in the near term.
What protection do I have if my bank runs into financial difficulty?If your bank fails, under the bailout legislation, the fdic will now cover your assets up to $250,000, a hike from the old $100,000 limit. If you have more cash than the fdic will insure at any one bank, it makes sense to split it up between different institutions. And if your bank merges with another at which you also have an account, the two accounts get separate insurance for six months, giving you time to get things in order.
What about my brokerage?At securities firms, client holdings are supposed to be segregated from the brokerage firms' assets. But if a brokerage fails and some of your funds have been misappropriated, the Securities Investor Protection Corp. will make sure you get back all your assets—stocks, bonds, and other holdings—and cover any shortfall of up to $500,000.
I use a money-market fund as a sweep account for my checking. Am I covered if the value of my money-market fund falls below $1?After shares in one money-market fund fell below $1, the Treasury Dept. created a new backstop system for these funds. But the guarantee is limited. Funds aren't automatically enrolled; fund companies pay a fee to participate. The program covers only the balance in your funds as of Sept. 19, or on the day your fund's share price drops below $1, whichever is lower. There isn't any coverage for money-market accounts opened after Sept. 19.
I have a policy with AIG (AIG). Should I be worried?No. The problems at aig were in the holding company, not in the subsidiaries that write insurance. Those operations are regulated at the state level, have their own capital, and are not at risk of failing.
What happens to my policy if my insurer fails?Each state has guaranty funds to pay claims if this should happen, but these funds have limits that vary by state. For property and casualty policies, claims are often capped at $300,000. So check with your agent or state insurance department to find out how much would be covered if your insurer goes under, and look at A.M. Best's ratings of insurance companies to get a sense of your insurer's financial health.
What do AIG's woes mean for the rest of us?While some buyers of insurance steered clear of aig when concerns about the company were at a fever pitch, a spokesman says renewals and new business are back to normal. However, insurance rates are likely to be less favorable going forward for other reasons. Insurers rely heavily on returns generated by their investments, and bond holdings in firms like Lehman Brothers and some commercial banks have taken hits. That will put upward pressure on rates.
Back to BWSmallBiz October/November 2008 Table of Contents
Before it's here, it's on the Bloomberg Terminal.
LEARN MORE