Stocks: Fishing for the Bottom
Bear markets and their recoveries rarely have a clear V shape, and this one is trickier than usual
Peter Carbonara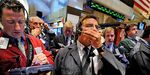 Since the stock market entered bear territory in July, market strategists have been looking for signs of "capitulation"—the cathartic sell-off, the big washout that sets the stage for a stock market recovery, however tentative. On Oct. 7, after Monday's brutal selling, economist and strategist Edward Yardeni spoke for a lot of people when he wrote in a note to clients: "I'm not sure, but that sure seemed like capitulation yesterday."
Yet clean inflection points, when stock prices make a decisive turn up, are devilishly tough to spot. In prior downturns there have been moments when prices plunged to what looked like a market bottom from which they could start climbing again, only to move sideways or falter. In the spring and summer of 2001 the Standard & Poor's 500-stock index seemed to recover from the dot-com collapse of the previous year, only to turn down in late summer, even before September 11.
Back in October 1974, prices plunged, rallied, and then fell again in December. In contrast, the crash of October 1987 was followed by a clear and quick recovery. But that abrupt drop was widely attributed to the effects of automated selling and wasn't long enough to qualify as a bear market.
As for the recent wave of panic selling, Barry Ritholtz, director of equity research at Fusion IQ, a New York financial research firm, says that while we may be at a nadir, he doubts it. "The bottom will have come when people say: 'Screw equities,'" Ritholtz says. He adds that the crisis now weighing on the market—an epic deleveraging wave, a broken financial system, and an historic housing bust—is far more complex and fast-moving than either the dot-com collapse or the oil shock recession of the early 1970s. So previous bear markets may not be of much guidance this time around.
Doing the Math
That's not to say a bounce-back of sorts isn't conceivable. Fritz Meyer, senior market strategist for mutual fund giant Invesco Aim, says a number of metrics he keeps his eye on—including the number of new lows on the New York Stock Exchange (NYX) and the Chicago Board Options Exchange's Volatility Index (the so-called fear index)—tell him that market pessimism has gone too far.
Meyer thinks U.S. equities are at or near a bottom, pointing out that most bear markets stabilize at a level roughly 30% below the market's previous high, which is about where the Dow and the S&P are now. He also notes that over 15-year periods, equities produce average annual returns in the double digits. "The stock market has this extraordinary ability to revert to a mean return of about 10%," he says.
Trouble is, the Dow Jones industrial average is now about where it was 10 years ago. So stock market returns would have to be stupendous over the next five years to produce double-digit average returns.
Before it's here, it's on the Bloomberg Terminal.
LEARN MORE