European Banks: The Bailouts Continue
A series of government interventions are in the works as investors and politicians realize Europe is facing a banking crisis of its own
Mark Scott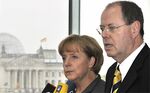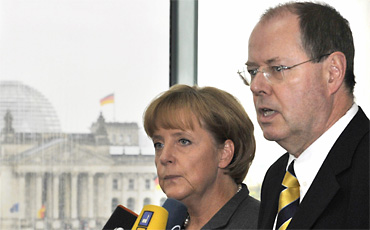 (This is an updated version of a story that first ran on Oct. 6.)
If the $700 billion mortgage bailout plan in the U.S. was supposed to calm global investors, someone forgot to tell Europe. Stock indexes from Paris to Frankfurt plunged as much as 9% on Oct. 6 over worries of a spreading crisis among European banks. A series of government interventions over the weekend and on Monday—following last week's sudden bailouts and guarantees (BusinessWeek.com, 9/29/08)—only seemed to fan the flames of anxiety.
(The volatility continued into Oct. 7 when European markets opened down on the back of continued uncertainty across the financial services sector. Shares in Royal Bank of Scotland (RBS.L) were especially hard hit, plunging nearly 52% on concerns that the bank needs a capital infusion. Chief Executive Fred Goodwin insisted in a statement early Oct. 7 that RBS has the financial strength to meet the "challenges" looming in 2009.)
(By late afternoon in Europe, after U.S. stocks opened higher, some European indices returned to positive territory, but most ended the day flat to down as the U.S. markets headed south. Overall market sentiment—especially towards financial services—remained pessimistic. On Oct. 7, Iceland nationalized the country's second-largest bank, Landsbanki, which only a week ago claimed it had sufficient funds to last into 2009. Reports also swirled that the British government would inject up to £50 billion ($88 billion) in the country's struggling banks in return for equity stakes.)
Investors and politicians are waking to the realization that Europe faces a banking and economic crisis of its own not linked solely to bad U.S. subprime debt. Since the credit crunch first hit 15 months ago, lending in the Old World has gotten tighter and tighter, and now the lack of capital flow is taking down globe-straddling European banks, threatening businesses with credit starvation, and roping in cash-strapped governments for multibillion-dollar, 11th-hour rescues.
"Banking is like religion: It's all about trust and confidence," says Bob McDowall, European research director at financial-services consultancy Tower Group in London. "Governments and regulators are trying to demonstrate firm leadership and show confidence, but banks don't trust each other."
Exposing Deep Holes
That lack of trust is a major cause of Europe's worsening bank crisis. Aside from a few exceptions such as UBS (UBS), the Old World's financial institutions weren't as exposed to toxic mortgages as their American counterparts, and they've had a year to clean up their balance sheets. But the sudden nosedive in the U.S.—especially the collapse of Lehman Brothers—has virtually frozen European lending and exposed deep holes at institutions such as Belgium's Fortis (FOR.BR) and Germany's Hypo Real Estate Group (HRXG.DE).
Complicating the picture in Europe is that no central mechanisms exist to carry out a coordinated regionwide response of the sort engineered in the U.S. The European Central Bank has a more limited mandate than the Federal Reserve, and no EU equivalents exist to the U.S. Treasury Dept. or Securities & Exchange Commission.
That has left governments to tackle the crisis on a country-by-country basis, with sometimes divergent solutions that can even make matters worse for neighboring countries. A weekend meeting in Paris of top European leaders, called by Nicolas Sarkozy, the President of France and current holder of the EU's six-month rotating presidency, made no evident progress in hammering out a framework for a regional solution.
"Europe's piecemeal approach hasn't helped build confidence," says Jeremy Batstone-Carr, director of private client research at stockbrokers Charles Stanley (CAY.L) in London. "Some form of coordinated response is necessary, but we haven't seen that yet."
Rising Anxiety
The market tailspin on Oct. 6 was linked to the sense of panic engendered by the rolling country-specific reactions. Last week, for instance, the market was shocked and surprised by an €11.2 billion ($15.3 billion) part-nationalization of Fortis bank (BusinessWeek.com, 9/30/08), which signaled that bank's balance sheet was in more trouble than previously thought. By Oct. 3, though, it became clear that more medicine was needed, and the Dutch government announced its intention to buy a 100% stake in Fortis' local operations for €16.8 billion ($22.9 billion).
More drama was to come over the weekend. The proposed €35 billion ($47.6 billion) bailout for Germany's Hypo Real Estate by a consortium of domestic banks fell apart on Oct. 4 after the lender's liabilities—tied to the deteriorating U.S. and European real estate markets—were revealed to be larger than expected. German Chancellor Angela Merkel scrambled for a new solution, and on Sunday evening, Oct. 5, she announced a new plan for the government and a group of commercial banks and insurers to inject €50 billion ($67.9 billion) into Hypo.
Merkel's counterparts in France and Belgium also were burning the midnight oil. After the Netherlands took over its chunk of Fortis, Sarkozy got behind a plan for French financial giant BNP Paribas (BNPP.PA) to buy the bank's remaining Belgian- and Luxembourg-based operations for €14.5 billion ($19.8 billion), which was sealed and announced on Oct. 6. Under the deal, BNP will acquire Fortis' branches across Europe (except in the Netherlands), as well as its Belgian-based insurance and private-banking businesses. In exchange, the Belgian and Luxembourg governments will take 11.6% and 1.1% stakes, respectively, in the French bank.
Falling Consumer Confidence
Such brokered bank rescues helped avoid collapses by specific institutions. But an even wider problem—plunging consumer confidence in retail banking—also spread over the weekend, prompting politicians to enact sweeping national guarantees that put their governments on the hook for potentially trillions of dollars.
Ireland got the ball rolling on Sept. 30 when the government moved to guarantee all debt and deposits until 2010 at six of the country's banks, at an estimated cost of $578 billion (BusinessWeek.com, 10/1/08). A decision last week in the U.S. to raise the Federal Deposit Insurance Corp. ceiling on consumer bank account protection to $250,000 fueled the trend.
The cat was out of the bag, and suddenly other countries found themselves under pressure to offer comparable protections. Germany's Merkel announced on Oct. 5 that the government would guarantee all private savings, estimated to be worth €500 billion ($679 billion). Authorities in Austria, Denmark, Sweden, and Iceland followed suit with similar plans the next day to assuage consumer fears. Unlike the other plans, Denmark will call on commercial lenders—not the government—to guarantee deposits at an estimated cost of 35 billion kroner ($6.4 billion).
Other European countries are now under pressure to take similar action or risk seeing local depositors move their savings to government-supported foreign banks. Britain alleges this unintended consequence already has distorted competition between Irish and English banks in both countries.
(On Oct. 7, European Union finance ministers meeting in Luxembourg proposed an EU-wide boost in the minimum bank deposit guarantee to €50,000 ($68,460), as well as agreeing to plans to help banks at financial risk.)
Iceland's Overexposure
Perhaps no country has been hit as hard as Iceland. The tiny island's top banks, such as Kaupthing (KAUP.ST) and Landsbanki, had used easy access to foreign capital markets to expand aggressively in recent years. But with the onset of the credit crunch, investors grew wary of Icelandic banks' market exposure, even though they have capital-borrowing ratios comparable to the European average. Only last week, Iceland's government bought a 75% stake in Glitnir, the country's third-largest bank, for $865 million to bolster shareholder confidence.
Now, Prime Minister Geir Haarde has been forced to go further. On Oct. 5 he announced the country's banks had agreed to sell foreign assets and decrease their international activity. The next day, Iceland suspended trading in its domestic banking stocks to protect them from meltdown. It's a question of holding on until the storm has died down a bit, and observers figure Iceland is in the same position as many other countries. "All banks are reliant on short-term funding, and the Icelandic banks no more so than any other," says Richard Portes, professor of economics at the London Business School.
Indeed, all these quick bailout measures and expedited government policy shifts still aren't managing to unclog Europe's frozen capital markets. According to Tower Group's Bob McDowall, uncertainty surrounding future European government action means banks remain wary of loaning cash to other institutions. The London Interbank Offered Rate (LIBOR), the rate at which banks lend to each other, is at a seven-and-a-half-year high—evidence institutions now prefer to hoard cash reserves instead of lending to the market.
Europe's central banks have also failed to reopen capital markets despite injecting billions of dollars of short-term liquidity. On Sept. 29 the European Central Bank announced plans to provide additional capital for banks until the end of the year. The Bank of England similarly said it would offer $72.4 billion in extra three-month funds to financial institutions. Yet these measures have had little effect.
EU-Wide Approach?
European governments can only hope their interventions—and a focus on more traditional retail banking—will generate the confidence needed to bolster Europe's lagging financial-services industry. But the increased state role in Europe's banking sector is also setting off some alarms. Though the underlying political philosophy and motivations are different, nationalizing banks is a throwback to the 1970s and 1980s, when governments often owned or controlled large stakes in domestic financial institutions.
With many European institutions now reverting to state hands, Batstone-Carr of brokerage Charles Stanley worries that the banking sector will become more conservative—and potentially less global. After embracing a myriad of sophisticated banking practices in recent years, banks could now realign their business models, he cautions.
Perhaps it's time, he and other analysts say, for a more EU-wide approach to solving what is quickly becoming a pan-European problem. But with no central financial regulator in Europe, and a tendency by local politicians to focus on domestic financial and economic issues, any such solution seems unlikely soon. The resulting irony could be that even though Old World institutions engaged in less of the risky lending that pulled down so many American counterparts, a European banking recovery could take longer.