Targeting Apple, Nintendo Unveils Its Latest Device
Launched in Japan, the new DSi allows users to download songs, videos, and games, as Nintendo attempts to answer the threat posed by the iPhone
Kenji Hall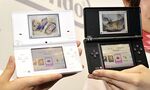 For weeks, rumors have circulated in the gamer blogosphere that Nintendo (NTDOY) would release a new version of its portable DS video game console. On Oct. 2, the Japanese game company made it official at its annual Nintendo Conference in Tokyo, saying the dual-screen DSi would be on store shelves in Japan at the beginning of next month. Consumers overseas will have to wait until sometime in 2009 to get theirs.
The new DSi is Nintendo's attempt to answer the threat the company faces from a newcomer to the gaming business: Apple (AAPL). The Cupertino (Calif.) tech company entered the market with the release of its iPhone 3G in July. While Nintendo predicts strong earnings growth for this year (BusinessWeek.com, 8/29/08), some analysts have worried that Apple will take a chunk of a market that has belonged almost entirely to the DS and Sony's (SNE) PlayStation Portable.
Radical Data Storage
At first glance, the DSi (which will sell for $180) doesn't look like a leap in hardware technology over the currently available model. Nintendo has equipped the gizmo with bigger screens, shaved a bit off its size and weight, and added an audio player and Internet browser. But look past the modest design improvements and there's something radically different: the data-storage technology.
Nintendo abandoned compatibility with old cartridges from its GameBoy Advance handheld consoles, and instead gave the DSi a slot for replaceable SD cards. So users can now download via a wireless Wi-Fi connection all kinds of digital content, including songs, podcasts, photos, videos, and games. "The download business adds a lot to the DS's prospects," says Hirokazu Hamamura, president of Tokyo market researcher Enterbrain.
The strategy marks a major shift for Nintendo. Previous versions of the DS were mainly old-fashioned consoles that required cartridges to play games. With the DSi's Wi-Fi and SD card features, Nintendo pushes further into the digital platform business. That puts it squarely in competition against Apple, which has been luring big-name studios to sell downloadable blockbuster games for the iPhone through the App Store. Studios that might have had second thoughts about manufacturing cartridges for the DS now have an online distribution channel that costs far less than if they were to sell through major retailers. "That direct link to consumers is something that Nintendo is far behind on," says Hudson Square Research analyst Daniel Ernst in New York.
Stellar Sales Record
It's hard to imagine Nintendo running scared. The DS launched four years ago but still trounces the competition. By the end of June, the company had sold more than 77 million of the devices—6.94 million in the April-June quarter alone. This fiscal year through March 2009, the company expects to sell a further 30.5 million units, up from last year's 30.3 million units. The DS has similar functions to Sony's PSP, which comes with free online voice call service Skype (EBAY). But Sony sold just 3.72 million units of its PSP in the April-June period and is forecasting annual sales of 15 million units. (Market researcher iSuppli says Nintendo's Wii living-room console has outsold Microsoft's (MSFT) Xbox 360 and Sony's PlayStation 3 more than 2 to 1.) "The difference is that Nintendo continues to explore new types of gaming with software," says Enterbrain's Hamamura. "Sony's is more of an extension of its consumer electronics hardware business."
But Nintendo President Satoru Iwata told journalists and developers that the DS's stellar sales gains "won't continue forever." Users will be able to continue select games on the DSi that they started at home on the Nintendo Wii living-room console. The virtual characters, dubbed Mii, that are a hit on the Wii will also be usable on the DSi. And to encourage more multiplayer gaming, Nintendo is extending its network of Wi-Fi spots by setting up more at McDonald's (MCD) stores in Japan's most heavily populated cities.
The DSi didn't get applause from everyone. "The timing of this announcement is aimed at the yearend sales blitz," says JPMorgan (JPM) analyst Eiji Maeda. "But the DSi could affect sales of the current generation of the DS, since there's only a 2,000-yen ($18) difference between the two. And Americans will hear of this new DS but won't see it till next year." How the new DS does will depend on Nintendo's game lineup. Iwata showed off one feature that lets users string photos or drawings together to create stop-motion comics with sound. Another lets users distort or draw over photos, or speed up songs or audio files.
Before it's here, it's on the Bloomberg Terminal.
LEARN MORE