Music Downloads: Is the Price Right?
A federal panel will decide if Apple, Amazon and the like should pay higher royalties to music publishers. But 99¢ songs likely aren't going anywhere
By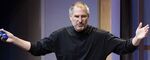 A contentious battle between Apple and part of the music industry is set be decided today (Oct. 2), when a panel of judges appointed by Congress is expected to rule whether Apple (AAPL) and other online music distributors should pay higher royalty fees to music publishers.