The Rise of Santander
The once-regional Spanish bank has shot to the front ranks of Europe's finance industry through traditional lending and savvy acquisitions
Mark Scott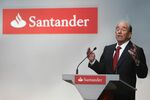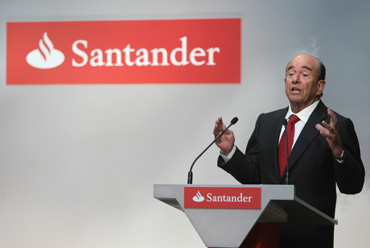 As financial institutions worldwide struggle to stay afloat, Banco Santander (STD)—now the euro zone's largest bank by market value—is emerging as one of the few winners in the global economic crisis. With no exposure to toxic U.S. subprime assets, a diversified business spread across Europe and the Americas, and an estimated $68 billion in capital reserves, the bank, founded in the port of Santander on Spain's northern coast, is sailing past troubled rivals.
Santander's strength has been evident in recent months as it gobbled up distressed assets across Europe. When Britain's government nationalized beleaguered mortgage lender Bradford & Bingley (BusinessWeek.com, 9/29/08) on Sept. 29, the Spanish bank quickly agreed to pay $1.09 billion for its retail branches and—more important—for control of its $37.4 billion of customer deposits.
The move on Bradford & Bingley came only days after Santander sealed a $2.24 billion acquisition of British lender Alliance & Leicester. Combined with its $16.4 billion purchase of Britain's Abbey National in 2004, the two latest acquisitions will give Santander roughly 13% share of Britain's home lending market. Its run of buyouts may not be over, either: The bank has made a preliminary offer for Germany's Deutsche Postbank (DBPGN.DE), though it declines to comment on the potential deal.
Keeping Out of the Mire
Ironically, Santander owes its current success in part to strict limitations the Spanish central bank put on structured credit investments. Because it couldn't wade into securitized assets, Santander has been spared the worst effects of the subprime crisis. It focused instead on traditional retail banking, which now provides 85% of earnings. And it also diversified aggressively from its Spanish home base, focusing particularly on fast-growing Latin America. According to Credit Suisse (CS) estimates, Santander branch operations from Mexico to Brazil are expected to pull in a third of the bank's projected $14.6 billion in 2008 profits.
"We are in a great position compared with our competitors," Chairman Emilio Botín told shareholders on Sept. 22 at a meeting to approve the Alliance & Leicester deal. European bank stocks overall have fallen 38% so far this year, but Santander is down a less dreadful 29%.
Santander's newfound star status is a dramatic shift for a company that until the mid-1980s was a regional player in one of Europe's then least-developed economies. Much of the bank's current success can be traced to Botín, who began making acquisitions soon after taking the reins in 1986. A merger with Banco Central Hispano in 1999 made Santander the largest player in Spain, and the Abbey National acquisition leapfrogged it to the top ranks of European banks.
"Santander always has bought assets that complement its existing businesses, and management has done a good job at not overexposing the bank's balance sheet," says analyst Antonio Ramirez at stockbroker Keefe, Bruyette, & Woods (KBW).
Smelling Like a Rose
This cautious strategy helps explain why Santander has been the main beneficiary of the $110 billion acquisition and carve-up of Dutch financial giant ABN Amro (BusinessWeek.com, 10/5/07). The bank joined forces with Royal Bank of Scotland (RBS) and Fortis (FOR.BR) last year to buy ABN, but the other two consortium partners have struggled under their highly leveraged financial positions. On Sept. 29, the Dutch, Belgian, and Luxembourg authorities were forced to rescue Fortis (BusinessWeek.com, 9/29/08), and RBS remains under a cloud, with its share price down 59% since the start of this year.
In contrast, Santander came out of the ABN deal smelling like a rose. By picking up ABN's Brazilian subsidiary Banco Real for $17.2 billion, it doubled its presence in that fast-growing market. Analysts figure Santander's expanded Brazilian business could account for a third of net profits by 2010, compared with 9.5% now, helping solidify its position as Latin America's largest bank. And as developed economies limp through a recovery during the next two years, figures Credit Suisse analyst Santiago López Díaz in Madrid, Brazil could constitute half of Santander's earnings growth.
From the beginning, Botín played the ABN deal differently. Typical of the savvy moves that have characterized his leadership, he quickly sold off ABN Italian subsidiary Banca Antonveneta to local rival Banca Monte dei Paschi di Siena (BMPS.MI) for $12.6 billion in November 2007. That let him pay for the Brazilian Banco Real without racking up too much debt or tapping shareholders for extra funds just as the credit crisis was starting to give investors the jitters.
Botín's diversification into emerging markets has been tightly coupled with a continued reliance on good old retail banking. Unlike other European firms such as Switzerland's UBS (UBS) that aggressively expanded their use of the capital markets, Santander still relies on deposits to cover almost two-thirds of its loan book. The bank's 6.3% core capital ratio is in line with the European bank average, but its rapid expansion outside of Spain holds out the promise of significant cost synergies. According to estimates, Santander could save $334 million in Britain alone by reducing overlap among its newly acquired businesses.
Not Completely Trouble-Free
After Morgan Stanley (MS) and Goldman Sachs (GS) became the last of the pure-play investment banks to give up this now-risky business model (BusinessWeek.com, 9/22/08), market-watchers figure other institutions now could try to copy Santander's retail-banking approach.
"In light of what's happened, Santander's somewhat conservative business model almost seems inspired," one London-based banking analyst said.
Of course, Santander hasn't completely dodged the problems affecting global finance. A decline in British and Spanish real estate (BusinessWeek.com, 7/21/08) has left the company particularly exposed. Three-quarters of its loan book is tied up in those two markets, and defaults as a proportion of total loans almost doubled in the first half of 2008 vs. the same period in 2007, to 1.3%. "Santander is going to suffer somewhat from the indigestion caused by these housing markets," says KBW's Ramirez.
But even if a correction is on its way, analysts don't expect Santander to face the same problems that have crippled other European and U.S. institutions. Thanks to tradition—and still-growing emerging markets—it's set to reap rewards just as other firms are trying to keep their heads above water.
Before it's here, it's on the Bloomberg Terminal.
LEARN MORE