Lesa Kennedy: Knowing What Makes Nascar Fans Tick
International Speedway's president is putting her lifetime of wisdom to use in revving up revenues
Dean Foust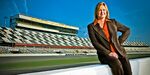 Although she hails from the "First Family of Nascar," Lesa France Kennedy isn't one to regale you with accounts of racing's greatest flameouts, photo finishes, and fistfights. That's because she didn't witness many of the legendary moments of the 1970s and '80s. From age 14, Lesa spent most race weeks in the ticket office, collecting gate fees and getting her ear bent by disgruntled customers. "I heard it all," she recalls. Now 47, Kennedy is vice-chairman and president of Daytona Beach (Fla.)-based International Speedway (ISCA), which owns stock-car tracks and, like Nascar, the sport's governing body, is controlled by the France family. Brother Brian succeeded Lesa's late father, Bill France Jr., as CEO of Nascar in 2003.
Complaint-window harangues don't provide good cocktail chatter like, say, giving a blow-by-blow of the brawl between Cale Yarborough and Donnie Allison on the infield grass after the pair collided down the homestretch of the 1979 Daytona 500. But the ticket office experience gave Kennedy a deep understanding of what makes Nascar fans tick—which, in turn, helps explain why she's regarded by racing insiders as the real brains behind the car-racing empire.
Kennedy needs all her expertise now. Nascar's easy growth is behind it, and economic woes are hitting the sport's blue-collar base hard. Since Kennedy was named president of International Speedway in 2003, profit has fallen 18%, to $86.2 million, even as revenue has zoomed 49%, to $816.6 million. "I think a lot of investors right now feel there's better opportunities elsewhere than motor sports," says analyst Timothy Conder of Wachovia Capital Markets (WB) in St. Louis.
Kennedy has plans to rev up income. In the mid-1990s she conceived what is now the "Daytona 500 Experience," a 50,000-square-foot Walt Disney-style entertainment complex designed to attract casual racing fans with an IMAX theater, racing simulators, and the chance to ride shotgun around the track with a pro driver. "I still think there's more room for us to create new fans, but we'll need to reach a more diverse fan base," she says. This past May she broke ground on a $437 million hotel-and-retail complex that, coupled with the "Experience," is intended to attract folks in the 50 weeks when the track isn't in use.
Meantime in Kansas City, Kan., Kennedy is dangling the prospect of a second Nascar event at the Kansas Speedway if the state approves plans to add a $700 million hotel-casino adjacent to the track. After that, she might build similar complexes at many of International Speedway's 11 other racetracks, though she concedes she might have to wait until the economy regains its footing. "We've been through these cycles before," she says, "but we've always rebounded."
These days, Kennedy—whose husband, Bruce Kennedy, was killed in a plane crash last year—does spend more time in the grandstands, but mostly to watch her son Ben race on Saturday nights in Nascar's truck series. "I'm nervous watching him race because I'm his mom," she says. "But I'm also a competitive mom."
Return to the The Power 100 Table of Contents
Before it's here, it's on the Bloomberg Terminal.
LEARN MORE