Joseph Blatter: Emperor of the World Cup
The affable boss of soccer's FIFA is so secure in his post he may run for reelection in 2011when he'll be 75
Jack Ewing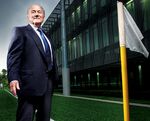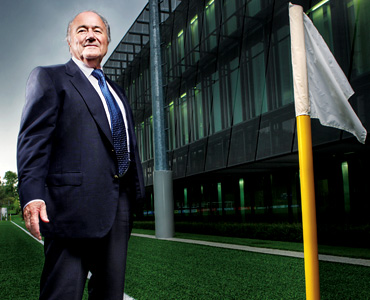 John McBeth, former president of the Scottish Football Assn., knows what happens when you tick off Joseph S. Blatter, the majordomo of soccer. McBeth's troubles started last year when a Scottish newspaper quoted him calling the FIFA president a "tricky customer." Before McBeth knew it, Blatter aides hauled him before FIFA's ethics committee for alleged racism for implying, in the same interview, that some African and Caribbean soccer officials were less than honest. McBeth protested that his comments had been taken out of context. But with no one coming to his defense, he was forced to give up a seat on FIFA's powerful executive committee.
Ever since Blatter was elected president of the Fédération Internationale de Football Assn. in 1998, after 23 years in lower-level jobs, he has been accused of mismanagement and corruption. Hitting back and adroitly doling out cash, he has defeated every challenger. Today the 72-year-old Swiss native is firmly in charge of the world's biggest sports league—FIFA boasts 208 member countries, 16 more than the U.N.—and the World Cup, the only event as popular as the Olympics.
That makes Blatter a man to be flattered. Known as Sepp, Blatter has a wall full of awards and honorary degrees in his office at FIFA's palatial headquarters outside Zurich. When he travels, he boasts, "they receive me like a head of state."
Blatter's disarming affability is one reason for his survival. Speaking English with a lilting Swiss-German accent, he displays an almost childlike delight in the memorabilia that adorn his office, such as his granddaughter's baby soccer shoes.
Without admitting wrongdoing, Blatter seems to have learned from mistakes. FIFA lost out on an estimated $40 million in 2001, when ISL, a Swiss agency that marketed World Cup TV rights, declared bankruptcy before forwarding money it had collected from broadcasters. "This was a revealing moment that made him change and bring in new people," says former adidas Chief Executive Robert L. Louis-Dreyfus, whose holdings include a firm that provides marketing services to FIFA. Now, says Louis-Dreyfus, who also owns French soccer club Olympique Marseilles, "FIFA is run quite professionally."
Money may be the key to Blatter's power. Last year, FIFA raked in $882 million by selling TV rights and sponsorships to the likes of Coca-Cola (KO), Sony (SNE), and adidas. Blatter then parceled out $154 million to member countries for such projects as a new soccer field in Uzbekistan and artificial turf for a Rwanda stadium. The outlays appear to ensure Blatter a loyal majority in FIFA's one-country, one-vote governance system.
Except for a few critical news stories, there was barely a murmur in 2006 when a federal judge in New York found that Blatter subordinates secretly tried to strike a sponsorship deal with Visa (V) in violation of a contract with longtime sponsor MasterCard (MA). FIFA paid MasterCard $90 million to settle the case. "He's got the most quiescent constituency any politician could hope for," says Andrew Jennings, a British journalist and author of Foul! The Secret World of FIFA: Bribes, Vote Rigging and Ticket Scandals.
These days, Blatter leaves most day-to-day work to his staff so he can focus on the 2010 World Cup, to be held in South Africa, the first time on that continent. He also is toying with running for reelection in 2011, when his five-year term ends. Even critics say he could win, as long as soccer keeps drawing huge crowds and big-spending advertisers. "Most people just want to see a game," says McBeth. "The power plays by the fat cats in the background—the fans don't want to know about that."
Return to the The Power 100 Table of Contents
Before it's here, it's on the Bloomberg Terminal.
LEARN MORE