business
India Banks Capitalize on Wall Street Crisis
A sign of the times: Mumbai-based banks have recently poached top talent from such firms as Bear Stearns, HSBC, and Merrill Lynch
Nandini Lakshman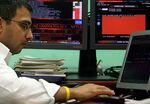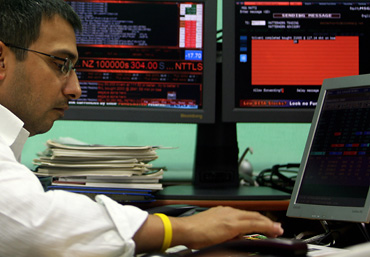 Compared with its Wall Street rivals, India's Ambit Holdings has long been considered small fry. Launched in 1988, the Mumbai-based investment bank has just 180 employees. With the financial crisis engulfing the big Wall Street firms, though, Ambit executives want to grab the opportunity to gain ground on their better-known competitors. Over the past year and a half, Ambit has expanded into wealth management, private equity, and insurance brokerage. The expansion has helped it emerge as one of the top five banks in the Indian league table.
Ambit's biggest coup came on Sept. 15. That's when it announced it had poached Andrew Holland, head of the strategic risk group at DSP Merrill Lynch, the Indian joint venture that Merrill (MER) operates. Holland brings with him a four-member proprietary trading team. Ashok Wadhwa, chief executive of Ambit, claims he had been negotiating with Holland for the past three months, and the news surrounding Merrill's shotgun acquisition by Bank of America (BAC) did not force anyone's hand. However, the bad news didn't hurt, either. "The financial crisis couldn't have come at a better time," he says.
Other Wall Street refugees are finding their way to Ambit. In August, Wadhwa appointed Nikhil Puri, from Bear Stearns' New York office, as managing director of Ambit's corporate finance business. Now, Wadhwa says, Ambit is in final talks with a handful of Lehman employees.
A Boost for India Brokers
Wadhwa isn't the only one hiring. Over the last year, the subprime crisis in the U.S. has provided a major boost to Indian brokerage houses. With employees worried about the stability of U.S. and European banking giants, local rivals have been poaching talent from their big Western peers. Homegrown Indian banks have been luring institutional brokers, wealth managers, and asset management professionals at foreign banks, with employee stock options and a share of profits. What made it easy was the booming stock market, which yielded returns of more than 40%, a growing group of wealthy Indians, and high consumer spending.
Executives from some of the biggest names in banking have been making the switch. For instance, HSBC (HBC) saw its five-member India equity sales team defect to Mumbai-based brokerage firm Antique Stock Broking in December. More than five Citi (C) bankers moved to local financial-services firm Anand Rathi Securities in February of this year. Now, Reliance Capital (the financial-services arm of the Reliance ADA Group), JM Financial (one of the oldest investment banks with the Tata Group as one of its major clients), and local financial-services shops like Kotak Securities, Enam Securities, and IDFC SSSKI Securities are waiting to scoop up talent in institutional brokerage, wealth management, and mergers and acquisitions. "There's a great deal of talent available, and a ready-made setup for any startup," says Narayan SA, managing director of Kotak Securities.
In a way, the Indian banks have come full circle. Over the years, as part of the constant employee churn, they've watched their staff desert them for foreign banks, attracted by better paychecks and a global environment in which to operate. "It's a great learning experience and puts you on a different level altogether," says a banker who returned to an Indian firm. Just last year, Kotak lost people to Credit Suisse (CS). JM Financial saw its business split and people move when it parted ways with former partner Morgan Stanley (MS) in early 2007. The defectors are now returning, as the Wall Street crisis is drawing Indian bankers to safer havens in local firms.
Long-Term Strategy
Even today, India is still a great investment destination, say bankers, despite its slowing economy (which has skidded from 9% growth last year to 7.5% currently). The 30% drop in the Bombay Stock Exchange Sensex since January this year, and a slowdown in M&A activity that followed, may be dampening enthusiasm in India's financial sector, but other services such as wealth management, advisory, and private equity continue to do well. "The current expansion is only an indication of our long-term strategy," claims Anand Rathi, who heads a firm of the same name. He says he is now negotiating with bankers from Lehman, Merrill, and Goldman Sachs (GS).
Also getting ready for market conditions to perk up is Reliance Capital, with a business portfolio that includes asset management, insurance, private equity, proprietary investments, brokerage, and consumer finance. It plans to enter investment banking, which its CEO Sam Ghosh says "was the missing link in the chain" to become a full-fledged financial-services provider. Some key Lehman India bankers claim that they received calls and offer letters from Reliance early this month. Keshav Sanghi, a former head of equities at Deutsche Bank (DB) who is now CEO at Reliance Equities International, won't comment regarding possible hiring but adds "we are always on the lookout for people."
A big clincher is the global experience of those at the Wall Street banks. Indian brokerages can draw on their own India know-how but are weak in institutional equity sales, since Western banks dominate most of the foreign institutional investor business. "People in global firms have the ability to engage with clients, have global experience in running a shop better, and are well versed on products like derivatives," says Vallabh Bhanshali, chairman at Enam Securities. That's why there's a scramble to hire them. With Wall Street collapsing, there are so many of them, Kotak's Narayan says, "We are spoiled for choice."
Before it's here, it's on the Bloomberg Terminal.
LEARN MORE