How Bloomberg Will Fare in the Financial Crisis
Wall Street's contraction may end the market-data giant's two decades of nonstop growth
Jon Fine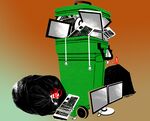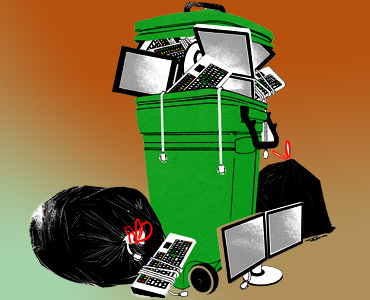 If one player has found a way to make a buck no matter which way the market is gyrating, it's Bloomberg LP, purveyor of the indispensable market reckoner/trader accessory terminals. Stock indexes fluttered, downturns came and went, but the engine behind Bloomberg—its terminal subscriptions—grew each year.
It is testimony to the grandness of Bloomberg's machine that it will take more than the financial crisis that has crushed some of its biggest customers to truly hurt it. It's also testimony to current realities that Bloomberg's two decades of go-go growth may be stilled. A coterie of analysts and former executives expect that its streak of ever-increasing terminal sales will end this year or next.
For a certain kind of media business geek, Bloomberg's terminal is something out of magical realism: Here is a portal to customized information for which people will pay truly stupid sums. (You can also pay to access Bloomberg's data by other means, like your BlackBerry.) A single Bloomberg subscription costs $1,800 per month. Even with volume discounts (as in two or more) that drop the price to $1,500 a month, you're talking $18,000 per year, and certain features cost more. At the end of 2007, Bloomberg had just under 274,000 subscribers.
The revenue those machines generate allows for many interesting side ventures. One is the mayoralty of New York City. (Michael Bloomberg spent about $160 million of his own money on his first two campaigns.) Another is Bloomberg's journalistic staff of 2,350-plus. To put this figure in context, it's 15% larger than the combined staffs of The New York Times and The Wall Street Journal. Such are the fruits of a wildly profitable $5.4 billion private company that derives most of its revenue from a pricey device that investment banks order by the thousand.
You can probably see where this is heading. Bloomberg's stack is bet on institutions that are in sudden and serious decline. Former executives reckon that Lehman Brothers had around 4,000 Bloomberg subscriptions, Merrill Lynch (MER) had about 7,000, and Bear Stearns had around 1,000. They are just the first casualties of this crisis. Massive layoffs loom at other Wall Street and London firms. Hedge fund closures are rising. (Hedge funds don't rent Bloombergs by the metric ton like investment banks. But they vanish when they shutter; unlike Lehman or Merrill, no key units stay more or less intact under a new owner's name.)
This doesn't mean unplugged Bloombergs will litter the gutters of certain precincts in Manhattan, London, and Greenwich anytime soon. Some Bloomberg subscribers at Lehman, et al, will stay on with their new firms. Bloombergs are leased on two-year contracts, so subscriptions don't all expire at once. There are also the vagaries of individual situations. An insider says Merrill Lynch's deal with Bloomberg contains a "most favored nation" clause ensuring no one gets a better deal than the onetime Bloomberg minority stakeholder. (So losing those terminals might not hurt the bottom line as much as others would.) And in early September, Bloomberg Chairman Peter Grauer told employees that any buyer of Merrill was contractually obligated to increase terminal subscriptions.
A Bloomberg rep refused interview requests. (Perhaps the firm recognizes that there's little upside in bragging while your biggest customers are drenched in flop sweat.) An insider insists that growth might slow, at worst, and that indicators thus far this year point to increasing sales, a notion that one former executive finds plausible.
Others are unconvinced. "If you are the premier and premium provider in a shrinking industry, you've got a problem," says Jack McConville, a consultant to the financial services industry who has long tracked the company. "Growth is going to be challenged for virtually everyone in financial markets," agrees Larry Tabb, CEO of research firm Tabb Group, and Bloomberg is "not going to get away unscathed." It's a measure of Bloomberg's primacy that disastrous times for everyone else leave it with only a slight case of stagnation. But its outright immunity to the markets' ups and downs may nonetheless be ending.
Before it's here, it's on the Bloomberg Terminal.
LEARN MORE