First Eagle Alums Take Flight with IVA
Charles de Vaulx and Charles de Lardemelle will stick with Jean-Marie Eveillard's style as they launch International Value Advisers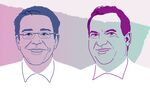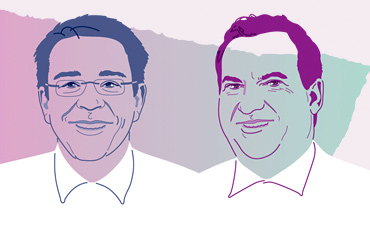 Renowned First Eagle Funds manager Jean-Marie Eveillard is nearing retirement, but his disciples remain spread across the mutual fund world. Charles de Vaulx and Charles de Lardemelle, former senior colleagues of Eveillard's at First Eagle, have joined with other First Eagle alums to start their own firm, International Value Advisers. The New York group is sticking with Eveillard's deep value-investing style. International Value Advisers opens two mutual funds this month, one that will invest around the world, including the U.S., and one that will exclude U.S. companies. The two French ex-pats spoke with BusinessWeek's Aaron Pressman.
The U.S. market has been terrible this year. Are there lots of opportunities?
De Vaulx: We're starting to see more bargains around the world. As usual, this happens when the outlook is at its bleakest. We're happy having 5.5% in gold as insurance if things get out of control and the U.S. dollar were to get shunned.
De Lardemelle: We'd like to see depressed multiples of depressed earnings in the U.S. to commit more capital globally. On the Standard & Poor's 500-stock index, 900 would reflect reasonable multiples of depressed earnings. [On Sept. 29 the S&P closed at 1106.] This type of drawdown over the next year or two would not leave foreign markets unscathed, so we're holding a sizable amount of cash.
The financial sector has been hit harder than the market overall. Time to buy?
De Vaulx: We don't think so. In the last few banking crises, bank stocks dropped to 60% of their book value. We're probably at 90% now. In terms of nonperforming loans, I think we're just at the beginning of the process. There's a lot of bad stuff yet to come in the next 18 months, and not only real estate—also auto loans, consumer debt, leveraged buyouts, credit-card receivables. Many banks will have to raise money to maintain capital ratios, so there will be a lot of dilution for shareholders.
One of our worries is that the business model of banking will go back to what it was 30 years ago, like the joke about three-six-three: Borrow at 3%, lend at 6%, and go to the golf course by 3 o'clock. That's a much more capital-intensive model, with no securitization of debt. Return on equity won't be the 20% to 25% we've seen but 12% or 15% at best.
So no U.S. stocks. What do you like?
De Vaulx: We find wonderful bargains in Japan, where there has been an irrational lack of exuberance, to use Greenspan lingo. We're finding good businesses whose only crime is to have loads of cash. If you strip out cash, those businesses are trading at only two or three times the value of their operating incomes.
De Lardemelle: Take Tempstaff, a temporary staffing firm. It's around 72,000 yen a share and 40,000 yen a share in net cash. Strip out cash and you're paying only two times EBIT [earnings before interest and taxes]. Margins may be cut in half—it's very possible—and you're still paying just four times EBIT.
At First Eagle, people were surprised when the fund bought beaten-down tech stocks. Any surprises in your portfolio yet?
De Lardemelle: I'd like to spend some time and look at eBay (EBAY). It's intriguing at these levels. At First Eagle, at some point we owned Microsoft (MSFT), Intel (INTC), and Dell (DELL). I think we made money on all three.
Before it's here, it's on the Bloomberg Terminal.
LEARN MORE