Europe's Economies Head into a Downturn
From Dublin to Düsseldorf, signs of recession are mounting as inflation pushes up labor costsa bad combination
By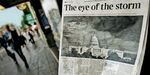 PARIS—Roller-coaster stocks. A collapsing financial sector. Central bankers scrambling to contain the damage. European headlines are every bit as scary as those in the U.S. But the bad news doesn't stop there. Key economic indicators suggest Europe has slid into recession.
From the City of London to Germany's Ruhr Valley, the pillars of the Old World's economy all seem to be wobbling at once. Housing prices are falling. Britain's financial-services industry, which accounts for one in five jobs in the country, is bracing for layoffs of as many as 40,000 workers. And export-dependent German manufacturers have seen foreign orders shrink 3.4% this year. "We're feeling the insecurity of the U.S. consumer," says Friedrich Eichiner, chief of brand development at automaker BMW.
The euro zone economy shrank 0.2% from April to June, while Britain's posted zero growth. Although third-quarter figures haven't yet been released, "it's likely that the euro area has already gone into recession," says Robert Barrie, chief European economist at Credit Suisse Group (CS) in London. In Britain it is much the same, with economists mostly arguing over how bad things will get.
A Loan? Forget It
The situation won't be helped by the spreading crisis in Europe's banking sector. In late September, European governments bailed out or took over Belgium's Fortis (FOR.BR) and Dexia (DEXI.BR) and three other banks in the region. And on Sept. 30, Dublin stepped in to guarantee deposits and debt for two years at a half-dozen banks that have been hit hard by Ireland's real estate bust.
Continuing turmoil in credit markets will only make things worse. While most European banks stopped lending to one another months ago, they continued offering credit to customers. Now they're tightening the screws. "Twelve months ago banks were calling us and offering us money," says Cian O'Carroll, business director for IQ Technologies, an Irish company that designs lighting and audiovisual control systems. Now, he says, it would be tough to get any kind of loan.
Rising prices have boosted business costs because European labor contracts often link pay to inflation. In Italy, wages are up more than 4% this year—the highest rate in more than a decade—though the economy is shrinking. The food-loving French are even trimming their meal budgets, causing a 20% increase in restaurant bankruptcies in the first half of this year. "This summer I saw families who used to be customers eating sandwiches outdoors," says Pierre-Yves Le Moal, who runs a seafood restaurant in the town of Paimpol on the Brittany coast. "People simply have less purchasing power."
Before it's here, it's on the Bloomberg Terminal.
LEARN MORE