As Tech Slips, Sun Could Stumble
Because nearly 20% of its sales come from financial companies, Sun may be especially vulnerable
By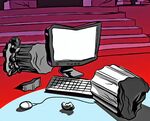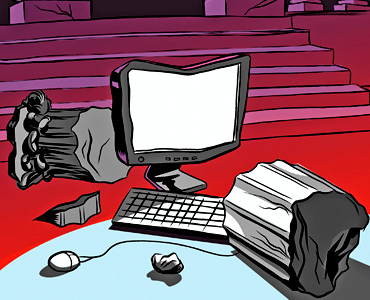 As the U.S. economy began to wobble earlier this year, it seemed the technology sector would hold up better than most. Major tech companies tend to have plenty of cash and minimal debt—and most make products that help companies save money or boost productivity. But recently, the optimism has evaporated. Since the financial crisis worsened a month ago, the tech-heavy Nasdaq has dropped 12%, twice as much as the Dow Jones industrial average. "The mood has definitely deteriorated in the last few weeks," says Daniel J. Warmenhoven, chief executive of storage company NetApp. (NTAP)
Few have felt the change as much as Sun Microsystems (JAVA). The company's stock has dropped 15% over the last month, and 56% for the year. The hit at Sun reflects the concern over the prospects for tech players that rely heavily on the troubled finance sector. Analysts estimate Sun, which makes high-powered servers that help run corporate tech networks, gets nearly 20% of its sales from financial companies.
Sun may be particularly vulnerable. Consolidation on Wall Street means fewer customers to go around, and the company is at a disadvantage if it has to compete in a price war against rivals like Hewlett-Packard (HPQ) and IBM (IBM). Although Sun has laid off 6,500 workers since Jonathan I. Schwartz became CEO two years ago, the computer maker still spends far more on research, development, and administrative costs as a percentage of sales than does HP or IBM. Schwartz has made bold moves, including giving away the company's software to spur server sales, but growth is sluggish. Sales fell last quarter and are expected to rise less than 2% through mid-2010. "Sun has excellent technology, but do they last as a stand-alone company?" asks analyst Sushil Wagle at J. & W. Seligman. "My gut tells me that at some point, they'll be part of something else."
Schwartz argues that Sun has nothing to fear from the finance sector's consolidation. Among its customers are JPMorgan Chase (JPM) and Bank of America (BAC), two big winners in the current shakeout. "Although the number of banks may decline, the market opportunity certainly won't," says Schwartz in an e-mail. "We feel well positioned to capture share among the fittest that survive."
Sun's largest shareholder is also optimistic. Southeastern Asset Management boosted its stake to 17% of the shares outstanding, because of Sun's rising cash flow and promising new product. "This is such a deeply misunderstood story," says Jason E. Dunn, one of the firm's managers.
Investors' sudden skittishness about tech goes well beyond the exposure to finance customers. Apple's (AAPL) stock has plunged over fears that strapped consumers will cut back. Yahoo! shares have been battered due to concerns that advertisers will trim spending online as well as off. Michael S. Dell, chief executive of computer-maker Dell (DELL), says his company is sound, with plenty of cash and little debt. But he's grown even more concerned about the economic outlook since his company announced disappointing earnings a month ago. But, Dell says, "No business should consider itself immune."
Sun, despite the current pressure, does have substantial assets. Its $3 billion in cash will help it weather the downturn. And if that's not enough, sources say Sun could sell off parts of its business, such as its lucrative services division, to raise more cash.
Roger McNamee, a partner with the Silicon Valley private equity firm Elevation Partners, says the current market turmoil calls for unconventional thinking. Among other things, he says tech executives should ignore the wild swings of their company's stock prices and focus on their businesses: "Placating your shareholders for the next 90 days is a losers' game."
Before it's here, it's on the Bloomberg Terminal.
LEARN MORE