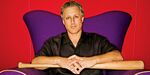 Even with no rights to show video from this summer's Olympics competition, Yahoo! (YHOO) pulled off a medal-worthy stunner in Beijing. Thanks to staff-produced stories and commentary from 15 people on-site, including former Olympians Dominique Dawes and Janet Evans, Yahoo Sports' Olympics Web site upset official broadcaster NBC (GE) on the Internet. The upstart drew 31.8 million unique visitors over the three weeks of the Games, vs. NBCOlympics.com's 22.9 million, according to comScore (SCOR) Media Metrix.
The big numbers provided the latest excuse for Yahoo Sports Executive Editor Dave Morgan to fire up one of his trademark stogies. Just two years ago the former longtime Los Angeles Times writer and editor had trouble even getting credentials for his lone writer at the Winter Olympics in Turin, Italy. Since then, Morgan has built the unit into a 50-person operation that's one of the struggling Internet portal's few bright spots. "Nobody took Yahoo Sports seriously until Dave got there," says Rick Jaffe, Morgan's former boss at the Times and now senior vice-president at sometime rival Fox Sports Net (NWS).
It didn't take the Olympics to put the site on top. Yahoo Sports was No. 1 in July with a unique audience of 21.9 million people, topping second-place ESPN (DIS)'s 19 million. Yahoo won't release data on its sports unit, but it's angling for a bigger piece of an estimated $1.7 billion in revenues for U.S. sports sites this year. With its audience up 35% from mid-2007, Yahoo Sports' growth has attracted a deal with Major League Baseball to show games and an exclusive linkup with Turner Broadcasting, which supplies Yahoo with NBA and Nascar content and sells ads on those pages.
Joining Yahoo was a sharp left turn for Morgan, 44, a high school basketball player who began his journalism career covering school sports for a local paper in the San Francisco Bay Area. But after a 21-year career with the Times, Morgan says, the time seemed right for a move online in early 2006. "I never had the feeling that traditional [media] institutions owned their place," he says. "At Yahoo, we're becoming more established as a destination media site."
Working from an office in Santa Monica, Morgan isn't a familiar face in the sports industry. Indeed, one person at the Olympics mistook Morgan, who sports slicked-back silver hair, for The Daily Show host Jon Stewart. A self-described workaholic, he nonetheless has earned the nickname "WFH" for his penchant for working from home. He also takes time to coach the baseball and softball teams of his son, 12, and daughter, 10.
Morgan still has one arm tied behind his back: Unlike ESPN, NBC, Fox, and other sites, Yahoo Sports has no other media properties to leverage. "It's a huge disadvantage," concedes Jimmy Pitaro, vice-president and general manager of Yahoo Sports & Entertainment. That's why Yahoo has emphasized its community of fans who essentially create their own material, at no cost to Yahoo, through fantasy sports league participation and online forums. Brand-name commentators and streaming video of live games boost site traffic, but it's Yahoo's army of enthusiasts who will keep the ball moving.
For more on this year's Power 100 sports rankings, go to a video commentary at www.businessweek.com/go/tv/power100.
Return to the The Power 100 Table of Contents
Before it's here, it's on the Bloomberg Terminal.
LEARN MORE