Britain: The Economic Fallout
The economic crisis is rippling out to the sectors that service the financial elitefrom child care to restaurants to travel agencies
Kerry Capell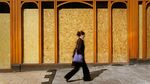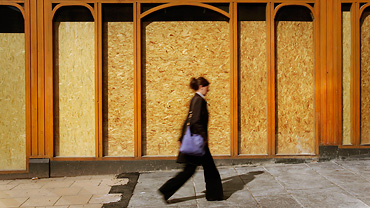 With unemployment rising and investment banks likely to lay off thousands more in the coming months, Britain is in the midst of a major slowdown. Although the situation isn't as dire as in the U.S., ripple effects from the financial crisis are starting to spread through the British economy. From restaurants to real estate agents to domestic staff agencies, myriad businesses that service Britain's financial sector are feeling the pinch. "Cafés, restaurants, and other services linked to the City and financial markets are going to be reamed," says Jamie Dannhauser, an economist at Lombard Street Research in London.
Consider Abbeville Nannies, a child-care placement agency that operates in the affluent London neighborhoods of Battersea and Wandsworth, known as "Nappy Valley." Director Kate Barker says the credit crunch has led to a drop in demand for maternity nurses, who provide 24-hour care for newborns at a cost of up to $2,000 a week. At the same time, Barker is fielding calls from worried nannies who say the parents they work for are getting laid off and can no longer afford their services. "It has really affected us over the last year, and now it is accelerating," Barker says.
Nannies may be a luxury, but worsening economic trends suggest the pain could spread to all manner of services. In August, British unemployment, rose to 5.5%, the biggest jump in 16 years. Professor David Blanchflower, a U.S.-based economist on the Bank of England's interest-rate-setting committee, told Parliament that 2 million Britons could be out of work by the end of this year. Meanwhile, the Organization for Economic Cooperation & Development (OECD) recently slashed its forecast for British economic growth to just 1.2% for 2008, predicting that the country will face its first recession since 1991 by yearend.
Just the beginning?
The dramatic slowing of the financial sector—which accounts for one-fifth of British jobs and has been the second-fastest-growing part of the economy for the past 15 years, after oil and gas—is expected to lead to major job cuts. In May the Centre for Economic & Business Research (CEBR), a London consultancy, forecast job losses of 20,000 in Britain's financial sector in 2008. Now, says Richard Snook, an economist at CEBR, those estimates look overly optimistic. "We expect the number of layoffs to be substantially more," he says.
Des Gunewardena, chairman and CEO of D&D London, which owns several restaurants favored by the City's financial elite, is preparing for the downturn. At the group's Plateau restaurant in Canary Wharf, bookings plummeted by as much as 25% in the wake of the crises at Lehman Brothers and Merrill Lynch (MER). "People didn't want to go out for lunch," he says. "They just wanted to stay in their office and stare at their screens."
Business is slowly starting to pick up again, but Gunewardena acknowledges that to survive restaurants will have to fight harder for business and keep a tight lid on costs. "Next year we will probably see more restaurants closing than opening for probably the first time in a decade," he says. It's already starting to happen in France, where nearly 3,000 restaurants have closed this year (BusinessWeek.com, 9/24/08).
It's not just on expensive lunches that Britons are cutting back. With housing prices down by 10% or more in many parts of the country, "people have had to have a bit of reality check," says Cate Dodkin, sales manager at the Canary Wharf branch of real estate agents Foxtons.
Case in point: A broker at Canary Wharf real estate agency Alex Neil tells a story about one of the firm's clients, who had been trying to sell a two-bedroom apartment he bought as an investment prior to losing his job with Lehman. Now, the client has not only been forced to take the property off the market but has moved into it to save on rent.
Dog days
Lucy Kennedy, the owner of Happy Dogs in London's tony Kensington neighborhood, also has felt the "Lehman effect." In the days leading up to the brokerage's collapse, a handful of her customers e-mailed and phoned to say they no longer needed Kennedy's dog-walking and boarding services. Then, a day after the bankruptcy, she showed up for a dog-walking appointment at the home of a Lehman employee, only to discover a maid packing up the family's belongings for a move back to the U.S. With Kennedy's business halved since the beginning of January, what's going on in the financial markets, she says, "affects everyone."
At Canary Wharf's upscale Reebok Sports Club, memberships are down from last year. With its business heavily dependent on the area's major investment banks, says the club's managing director, Ian Mahoney, "We're monitoring the situation pretty closely." After Lehman failed, a steady stream of headhunters started showing up to hold interviews with laid-off workers in the gym's coffee shop. "We joked that things might be going badly at the gym, but at least coffee sales have picked up," Mahoney says.
Of course, among the country's ranks of über-wealthy, the concept of scaling back is relative. Dallas Dacre Lacy owns an eponymous domestic recruitment agency in Fulham, a London neighborhood that's home to many City hotshots and their families. Lacy says demand for everything from housekeepers to butlers is holding steady—so far. The main difference she has seen recently is that whereas in the past wealthy clients tended to employ several staff, now they are hiring just one or two that act as "good all-rounders." So-called house managers, who can earn up to $200,000 for managing a client's home and staff, are also now sometimes taking on the duties of butler or chef.
Christine Ford, owner of the London luxury travel agency Preference Travel Ltd., says she, too, is noticing a growing trend among wealthier clients to economize. Ford says her business has dropped by half since April, but customers at the top end of the market are still traveling. One of her clients, who works in finance, often booked high-end holidays at short notice, without even thinking about the price. Now he is taking his time before booking to search out deals. The credit crunch won't stop these people from taking holidays, Ford says, but now they are putting greater emphasis on getting bang for their buck.
One man's poison...
Other businesses see the downturn as an opportunity. Upscale supermarket chain Waitrose plans to introduce a range of cheaper cuts of meat at its stores next month, including trotters and bath chaps (for the uninitiated, that's pig's feet and lower pig's cheeks, respectively) which sell for as little as $4 a kilogram ($1.82 a pound), vs. $12 per kilogram ($5.45 a pound) for boneless pork shoulder.
Publisher Hodder & Stoughton is reissuing legendary British chef Delia Smith's 1976 cookbook, Frugal Food, to appeal to increasingly thrift-conscious British consumers. And as the super-rich cut back on buying fancy automobiles, business is booming for Michael Breen, owner of a membership club for so-called supercars.
Breen's P1 International, which has offices in Manchester and London, offers members all the benefits of owning top-end luxury cars without any of the hassle—a sort of time share for fancy cars. Customers pay a one-time joining fee of $4,600 plus an annual membership fee of up to $27,000. In exchange, they can use cars ranging from a BMW M3 (which sells for around $100,000 new) to a Mercedes SLR McLaren (which costs $612,000). "Ironically, the turmoil in the markets is actually working in our favor," Breen says. (It's also boosting short-term rentals of all manner of other luxury goods, from designer handbags and evening gowns to Apple (AAPL) iPhones, available through providers such as Erento (BusinessWeek.com, 8/22/08) and Zilok.)
Breen says P1 is picking up a growing number of customers who have either canceled orders with dealers or decided to sell their cars to avoid the expense of keeping them. "With the cost of servicing, insuring, and maintaining luxury cars running as much as $100,000 a year, our members see P1 as a smarter way to access these cars," he says. "We've had lots of people, including a number of bankers, asking us to buy their cars because they can no longer afford to spend all the money needed to keep them up." If Britain's economy continues to sink, more customers may be on the way.
With reporting by Mark Scott in London
Before it's here, it's on the Bloomberg Terminal.
LEARN MORE