Rich Profits for Packaged-Food Makers
While Wall Street firms are in crisis, food producers General Mills, Kellogg, Kraft, and Nabisco are boasting strong balance sheets--and stocks
By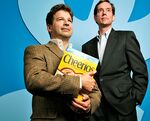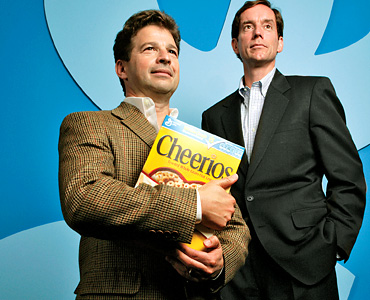 Move over, Wall Street. It's time for the Golden Valley to shine. Golden Valley, Minn., so named by early settlers for the shimmering fields of wheat that once swept across the landscape, is the home of General Mills (GIS), maker of boring-but-reliable everyday brands such as Cheerios, Betty Crocker, and Hamburger Helper.
In a week that saw the humbling of New York financial titans, General Mills beat Wall Street earnings estimates by a dime on Sept. 17 as sales rose 14%. Its stock hit a 52-week high, padding a 22% gain so far this year. While others scramble to cut costs, General Mills' marketing spending was up 17% in its most recent quarter and will rise again as it promotes new soup flavors and broths.
General Mills isn't the only Midwestern packaged-foodmaker to morph from stodgy to sexy amid the turmoil. The stock of rival Kellogg (K), in Battle Creek, Mich., also reached an all-time high the same week. "It's a good time to be in food," says Kellogg CEO David Mackay.
REASON TO CELEBRATE
Cheese king Kraft Foods (KFT) in Northfield, Ill., which posted a 21% jump in sales last quarter, stormed the canyons of Wall Street on Sept. 22 by replacing beleaguered insurance company AIG (AIG) on the blue-chip Dow Jones industrial average. Kraft CEO Irene Rosenfeld was in Toronto at the time, addressing employees at a global town hall meeting, and chose not to mention the honor until an employee asked about it after her speech. "Joining the stocks of the Dow Jones index is a wonderful affirmation of our leadership in the food sector," said Rosenfeld. "I think the most important question for us is: What will we continue to do to justify our place on this index?"
While Rosenfeld chose not to pop any corks over Kraft's entry to the Dow, food giants clearly have reason to celebrate. About 45% of Americans are eating out less this year to save money, an increase from 2007 of nearly 12 percentage points, according to BIGresearch in Worthington, Ohio. That's good news for the makers of breakfast cereal, soup, and macaroni and cheese, who have been able to offset rising commodity costs by jacking up their prices. By and large, consumers have grudgingly gone along. People don't eat less in a recession, analysts say. They're simply more inclined to eat at home.
But if foodmakers are the new masters of the universe, it's a title they're loath to embrace. Kellogg's Mackay argues that "we stand out in a tough market, but it could be that we are the tallest in a group of pygmies." Ian Friendly, General Mills chief operating officer, U.S. retail, is also reluctant to gloat, saying: "We are not chest beaters." Adds Chief Financial Officer Don Mulligan: "We're not here to promote us. We're here to promote our brands."
That said, General Mills' decision to raise its earnings projections for the year is a strong show of confidence in itself. As consumers eat out less often, Mulligan says, that "clearly benefits those like us who play in the grocery stores." Lehman Brothers (LEH) analyst Andrew Lazar notes that with price increases and cost-cutting initiatives such as halving the number of pasta shapes in Hamburger Helper, General Mills "could well see even more upside as the year progresses." (Of course, Lazar's own company just filed for bankruptcy court protection, though his unit has been bought by Barclays (BCS).)
This isn't the first time that humdrum packaged-goods companies have felt their oats. In the 1970s the cream of the business school crop wanted to work at Kraft, General Foods, or Nabisco (MO). A generation later, consulting, investment banking, and technology became big draws. Now, the brightest minds in business may head back to the pantry.
Before it's here, it's on the Bloomberg Terminal.
LEARN MORE