Main Street's Rage at the Financial Crisis
Working folks are outraged about the government's proposed Wall Street rescue
By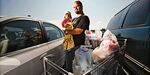 Allentown, Pa., is in some ways a profoundly ordinary place. Like cities and towns all over America, it has been shaken by economic changes seemingly beyond its control: the churning of industries, the dislocation of workers. Many residents just sigh at the mention of Billy Joel's anthem to the gritty, struggling Allentown of the 1980s, when the once-great Bethlehem Steel mill went into a death spiral: "Every child had a pretty good shot to get at least as far as their old man got. But something happened on the way to that place."
Allentown has reimagined itself since then. The city's biggest employer, Lehigh Valley Hospital & Health Network, is thriving. Officials have enticed companies to the area with tax breaks. A small group of businesspeople is trying to make the city center more vital: Allentown Brew Works, opened a year ago in the old Harold's Furniture building, seats 400 on four floors.
Lately, though, a familiar economic anxiety has been creeping into people's lives. Some retail businesses are starting to cut back on employees' hours. And Mack Trucks announced in August that it is moving its century-old headquarters from Allentown to Greensboro, N.C.
The latest details of the government's proposed $700 billion rescue plan was not the main story in the local paper, The Morning Call, on Sept. 23 (an article about the end of a teachers' strike was). But it is on people's minds. For many of Allentown's residents, the rescue is an occasion for anger, even if that feeling is at times blunted by fatigue and resignation. They dislike what goes on in Washington, but those ill feelings are nothing compared with their view of Wall Street. "People see that the chief executives of these finance companies are making millions on the backs of taxpayers," says Ed Pawlowski, the Democratic Mayor of Allentown. They are worried about how the next generation will fare in an America that many feel has mixed up its priorities.
At Wal-Mart (WMT) SuperCenter Store #2641, Brett Slack, one of the owners of Lehigh Valley Paintball, was picking up groceries with his two-year-old daughter while his wife was at her part-time job as a cashier at Giant Food. He, like most others here, believes that the government has no choice but to intervene, since the consequences of inaction appear to be far worse. So fine: He can live with his tax money helping to prop up America's financial system. But he wants the chief executives of those companies (unnamed by anyone in Allentown) to pay, too. "The government should go after the CEOs," he said. "I own a business, and if I went under, the bank would come after me. They made bad decisions and figured the government would bail them out. If the CEOs end up sleeping in cardboard boxes, that would be O.K. with me. They don't deserve to be multimillionaires."
Slack, who is 32, has had to lay off 20 of his 35 employees in the past year as rising gas prices slowed business. He and his two partners took pay cuts, too. "That's what CEOs and owners should do," he says. He put all his savings into the company when he started it four years ago. "If I have money to invest one day, I'll just start another business. I won't invest in the stock market," he says.
Cold, Hard World
The $6.95 lunch special has become very popular at the Trivet Diner. On Tuesdays it includes a jumbo sauerkraut hot dog, french fries, a drink, and pudding. Still, the lunchtime crowd isn't what it used to be. "I understand," says Carol Madura, a waitress in her 50s. "We don't go out much anymore, either." A few years ago, Madura and her husband, a self-employed contractor, decided to scale down. They sold their home (and another that they rented out) and moved into an apartment. Financially comfortable themselves, they worry about their children finding their way in a world that seems indifferent—or worse—to those without means. "Now, if you don't have a lot of money, you're doomed," she says. "I brought up my kids to work hard and save money. Now what? The rich are getting bailouts."
At the diner, a bright throwback to the 1950s, she hears people talking a lot more than usual about Washington's arrogance and a diminishing sense of their own importance. "We're frustrated because we feel our input doesn't matter," she says. Her customers—the 90-year-old U.S. Navy vet, the 26-year-old line worker—all feel there has to be a better way. "The government just keeps taking our money and giving it to people who don't deserve it," says Madura. "We should be worried about those who are really struggling."
Warped Reality
Down the street at Wegmans, they're offering "consistent low prices" and samples of a cream pie at the bakery. Twenty-three-year-old Georgia Goodman works part-time in the meat department while she reconsiders her college education. She's studying philosophy at Indiana University of Pennsylvania, where she's six years into her undergraduate degree. Her parents paid for the first four years but after that told her she was on her own. Still, she has money in the stock market, and she's keeping it there. "It's bad, but I'm not checking my account every day," she says. "I'm not retiring anytime soon."
As to how a multibillion-dollar bailout will come to affect her generation, she says: "I'm intrigued that the government is willing to pump money into corporations who have successfully pumped money into CEOs' pockets." She, too, regards this as further evidence of the strange, distorted reality that prevails on Wall Street. "It was supposed to be that if you worked hard, you would benefit. And if you worked harder, you would benefit more. Now it seems to be the reverse. If you break your back working 60 hours a week, you make $12,000 a year. And if you work in a penthouse overlooking Central Park and take long lunches, you make $12 million."
Allentown has plenty of low-wage jobs. Nancy Wood is an administrator in a cardiac care practice affiliated with the local hospital. Wood, in her mid-50s and divorced, earns $22,000 a year. She rents an apartment and has no savings. "They're spending billions on the fat cats. What a total waste," she says at the end of her eight-hour shift. "Poor people like me, we never get that kind of help. I'm kind of down and out myself. Why can't they provide normal people with affordable health care instead? I haven't been to the eye doctor in seven years."
As evening falls, the Allentown Brew Works begins to draw people in. Like other local establishments, it is adjusting to tougher economic times. "This feels much more substantial than the dot-com bust," says Beau Baden, the brewmaster at the pub. "We're feeling it everywhere: at work, at the pump, at the grocery store." Recently, Mike Fegley, the restaurant's marketing director and a member of the family that owns the Brew Works, helped reengineer the menu. The $23 steak is gone. Among the new entrees is crab sliders for $11.99. But the most popular item is still the half-pound all-natural hamburger, which goes for $8.50. On Tuesdays it's half off.
Derrick Davis is a regular. He's a construction manager, 42 years old, single, and living in a loft right across the street. He rarely uses credit cards (he keeps them in his safe deposit box), and he puts 20% of his income into his retirement account. Even now. He's buying low. "My 401(k) is suffering, and no one is bailing me out," he says. "If it's vital to the economy, O.K. But the people who ran the companies into the ground shouldn't be bailed out. We have a bit of an issue with that. We're covering for them. I'd love to do badly and get a bonus. I want people held accountable for their failures."
Join a debate about whether the bailout is fair to taxpayers.
Before it's here, it's on the Bloomberg Terminal.
LEARN MORE