Lehman Collapse Hits Japan Bond Market
Sayonara, samurai: When the U.S. brokerage failed, Japanese investors were left holding $1.8 billion of its yen-dominated bonds
Kenji Hall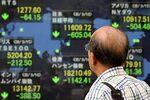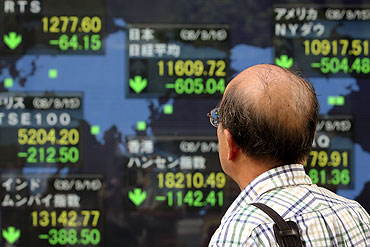 Plenty of Japanese lenders got burned when Lehman Brothers (LEH) went bust. Major banks, for instance, had been counting on Lehman to pay back an estimated $2.7 billion in loans, but they're likely to recoup only a fraction of their investment.
And big lenders aren't the only ones feeling the pain. When Lehman filed for bankruptcy on Sept. 15, midsized regional banks, life insurers, and pension funds were left holding nearly all of the U.S. brokerage's $1.8 billion in yen-denominated, or samurai, bonds. With the first half of Japan's fiscal year ending in just two weeks, Japanese financial institutions now face the prospect of writing off losses estimated at $3.5 billion, Credit Suisse (CS) estimates.
An even bigger concern: a collapsing samurai bond market. This week, Deutsche Bank (DB), Société Générale, and a unit of British utility National Grid (NGG) shelved their plans to sell samurai bonds, and trading is at a standstill. As Japanese investors close the money tap, multinationals are deprived of a key source of affordable credit. "We have been helping the banks of the world extend the maturities of their debt," says Mizuho Securities' analyst Tetsuo Ishihara. "The financial sector is funded very short-term, and if you're funded short it could kill you, like Bear Stearns (JPM)."
The Fallback Fund-Raiser
Japan is one of just a handful of places in the world where banks and businesses can raise billions of dollars in a matter of days. After the U.S. subprime loan market imploded last summer, credit dried up in the U.S. and Europe, and Japan has become the fallback fund-raising market for corporate and sovereign borrowers such as Wal-Mart (WMT), UBS (UBS), Daimler (DAI), and Australia & New Zealand Banking Group.
That explains why samurai bond issuances have soared lately. This year some 2.4 trillion yen ($22.3 billion) in samurai bonds have been sold, exceeding the 2.25 trillion yen ($20.9 billion) sold for all of 2007, according to Shinsei Securities estimates. Last week, Citicorp (C) sold a 315 billion yen ($2.9 billion) samurai bond—the biggest ever.
Japan's ultra-low interest rates lay behind the market's surge. Samurai bonds offered Japanese investors higher returns than other yen-denominated debt. Though issuers were offering returns of 0.3% to 1% higher than government bonds, those rates were a steal compared with rates in the U.S. or Europe. Since most issuers were big-name banks and businesses with strong credit ratings, Japanese investors assumed that they were making a safe bet.
Frantic Investors
So much for that idea. Lehman's was the first samurai bond default since December, 2001, when the government of Argentina suspended payment on its foreign debts. In the past few days, some investors have sold samurai bonds issued by other U.S. brokerages, to free up cash and prevent the possibility of further losses. Others have begun pricing the securities at 20% of what they originally paid. "We haven't decided what we will do yet," says a spokesman for Shinkumi Federation Bank, the central bank for 164 Japanese credit cooperatives, which had invested $55 million in Lehman samurai bonds.
Brokerages have been fielding calls from frantic investors who want to know when they can recoup some of their money and how much they should write off in losses for the fiscal first half, traders say. "They're disappointed when I tell them that it will be some time before we get details from Lehman's books," says JP Morgan's (JPM) chief credit strategist, Mana Nakazora.
No Telling
There are now few investment options left for Japanese investors. "They are conservative," says Nakazora. "They won't buy complex securitized bonds; they are looking for something that's easy to understand and safe."
There's no telling when the samurai market will recover. The Sept. 11, 2001, terror attacks in the U.S. and Argentina's default depressed the samurai market for years. It wasn't until late 2005 that activity began to pick up again. One hope, say traders, is that the U.S. government will approve a sweeping plan to relieve financial companies of their bad assets. Lehman bond-holders hope some of that money would go to paying them off or rolling over their debt into a new bond. But until currency and credit derivatives markets calm down, would-be samurai issuers and investors won't have any way to hedge their risk and may stay away, says Credit Suisse Managing Director Ayumu Fukuzawa. "The situation is changing every day, every hour," says Fukuzawa.
Before it's here, it's on the Bloomberg Terminal.
LEARN MORE