How Will Vulture Capital Ply the Financial Crisis?
Wilbur Ross is one of many Wall Street bottom-feeders eyeing a surge of distressed assets. Even some stronger companies might need to file
David Bogoslaw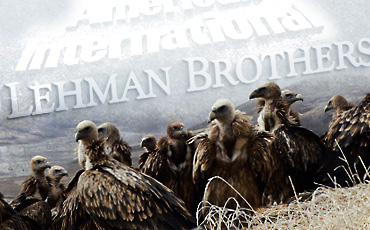 The long, painful process of forced liquidation of assets by Fannie Mae (FNM) and Freddie Mac (FRE), Lehman Brothers Holdings (LEH), and American International Group (AIG) is just beginning, but already market observers are trying to figure out where the vulture capitalists who typically swoop in to take advantage of such distress are training their attention.
Investors in distressed assets know from experience that it's better to wait until the cycle matures a bit before stepping in to buy anything, says Jeffrey R. Manning, managing director at Trenwith Securities, a Costa Mesa (Calif.)-based boutique investment firm that offers advice to companies going through bankruptcy.
"The weakest in the herd goes down in the early part of the cycle and by the middle of the cycle, you start to see pretty strong companies forced to file for bankruptcy," he says. (Many healthier firms wind up filing to remain competitive with peers that have already done so, as they have a more advantageous cost structure.) "That's where the better values are."
Time to deleverage
Vulture capitalists do best in situations where the value of target companies has been allowed to decay over an extended period of time, as opposed to the sudden meltdowns seen in the financial sector, says David Astorino, who leads the Management Due Diligence Practice group at RHR International, a management consulting company based in Wood Dale, Ill. Slow decay gives private equity firms more time to do due diligence tests to be sure of what they're really buying and to marshal the financial resources needed to make the deals, he adds.
With the entire financial system in shock, and firms trying to decide what to do about their balance sheets, it could be anywhere from 30 days to 12 months or longer until the necessary deleveraging is completed, says Manning at Trenwith.
Wilbur L. Ross Jr., the billionaire investor with a long track record of betting on distressed companies, told BusinessWeek on Sept. 17 that he thinks banks will be very badly affected by the Wall Street meltdown and therefore should present strong opportunities for vulture investors. Earlier this year, when the financial guaranty sector came under pressure for exposure to subprime mortgages, Ross injected $250 million into Assured Guaranty (AGO), wagering that the bond insurer would be in a good position to buy up some of the weaker players likely to fold because of risky credit investments.
1,000 banks could fail
His most recent involvement with bank turnarounds has been in Japan, but Ross points to his experience restructuring U.S. banks during the banking crisis in the late 1990s, when he ran a private equity fund within Groupe LCF Rothschild. "We're comfortable about banks and we have a joint venture with John Kanas, who built up North Fork Bank from a little tiny $20 million in deposits to $60 billion deposits and then sold it at the top of the market," he said. "So we feel we have the people to deal with the banks."
Ross, who is chairman and chief executive of WL Ross & Co., predicts that roughly 1,000 U.S. banks will fail as a result of the current crisis. The fact that his company currently has 70% of its assets in cash puts it in "a very liquid position to deal with these issues," he said.
For his part, Manning agrees that 1,000 banks folding is a reasonable estimate, given that he's heard 8,000 banks haven't undergone regulatory reviews since the credit markets tightened. However, because buying banks—as opposed to commercial enterprises—entails thorny regulatory issues, he thinks vulture investors are likely to have limited interest in them.
Targeting "soft asset companies"
Manning sees a much richer field of opportunity in what he estimates to be 800 to 1,000 private equity deals done over the past five years in various industries; they are starting to mature and won't be able to be refinanced at the old leverage ratios. "As those loans mature, either private equity [firms]—if you did a deal at six times senior debt leverage and the market will only let you do four times leverage—will have to write a check for the difference, or find mezzanine financing, or go to court to file for Chapter 11 to ask for restructuring," he says.
The prime targets for bankruptcy, he says, will be "soft asset companies," such as software makers, information technology service providers, and medical device companies, which are all driven by intellectual property. The key assets, he says, are the employees who "go home every night."
RHR's Astorino says stable balance sheet and flush cash position give Barclays (BCS) a much better stance to buy Lehman's North American investment banking and capital markets businesses than any private equity firms have. Barclays' proposed $1.75 billion acquisition includes the majority of Lehman's staff, franchise, brand name, and clients—but not the risky trades and liabilities that forced the investment bank into a Chapter 11 bankruptcy filing on Sept. 15.
Private equity might pass
"I don't think you could have taken those businesses and put them into a typical private equity fund," he says. "Private equity funds have different requirements for what they can invest in."
Nor does Astorino think that private equity investors, who "have a very specific sweet spot they look for in investments," are going to change their criteria to take advantage of the current crisis.
Whether vulture investors will choose to buy entire companies—as opposed to select businesses or assets—will depend on where they see the best opportunities to make money, says Manning. As far as the financial industry is concerned, he thinks investors will prefer to buy the mortgage-backed securities, not the corporate structures that offered them. "I don't have to buy the people. Give me the financial instrument," is likely to be their attitude, he says.
Before it's here, it's on the Bloomberg Terminal.
LEARN MORE