Yahoo Is Counting on Apex
Can a new ad-sales system fend off Google and Microsoft?
Robert D. Hof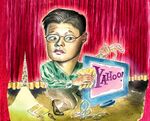 Slouched in a chair in the Holy Cannoli conference room at Yahoo!'s (YHOO) Silicon Valley headquarters one recent September day, a taciturn Jerry Yang looks every bit the embattled chief executive he is. With profits falling and sales growth slowing, the Internet portal's stock price has sunk below 19—a five-year low and 40% less than what Microsoft (MSFT) offered before walking away from its $47.5 billion buyout bid in May. Angry shareholders are still calling for his head. Then Yang starts talking about the imminent debut of an ambitious online advertising system. He leans forward, and the words pour out. "This is a big bet," he says, his voice rising. "It is truly the next generation of advertising."
It's also a do-or-die proposition. More than any other project, the ad system could be Yang's last chance to reverse the flagging fortunes of the company he co-founded in 1994 with Stanford University buddy David Filo. The culmination of a marathon effort by hundreds of engineers, the system—code-named Apex, for Advertiser Publisher Exchange—will be unveiled at the annual Advertising Week conference in New York, which opens on Sept. 22. Apex' goal is to make it far easier to buy and sell display ads, those pictorial and video banners that are the chief revenue source for most Web sites.
The core of the system is an open online marketplace where publishers—Yahoo and its network of partners, including 784 newspapers—use a simple dashboard to post ad slots available on their Web pages. Advertisers, using anonymous data on visitors to the pages, can target ads to the most likely prospective buyers in particular geographic areas—say, ads for minivans to married women aged 31 to 40 in the Chicago metro area. In one transaction, they can reach potential buyers on Yahoo and on partner sites.
Yang's big hope is that improved targeting, greater reach, and less buying friction will make advertisers willing to pay higher rates. In particular, Yahoo aims to help more Web pages, especially "remnant" pages with little obvious commercial value, command something a bit closer to the rates Google (GOOG) gets on search-results pages. This way, Yahoo can start to close the widening gap between Google's expected $16.2 billion in revenue this year and Yahoo's $5.6 billion.
Under a previous ad deal, some newspapers already have generated ad rates on some Yahoo pages two to three times what Yahoo itself was getting. In Atlanta, Cox Newspapers grossed an additional $1 million this year selling ads on Yahoo, thanks to the ability to get broader reach among local consumers and thus lure bigger-spending advertisers. Apex will automate that process, allowing partners to sell ads on many more Yahoo pages. Leon Levitt, Cox's vice-president of digital media, says his company eventually plans to shift all its display ad placement business away from its current partner, Google's DoubleClick unit.
Yahoo's ambitious plan has gained urgency in recent days as a tentative $800 million-a-year search-advertising deal with Google faces intense scrutiny from antitrust officials. If that setup is nixed, Yang will be all the more dependent on display ads to convince shareholders he didn't mess up in resisting the Microsoft deal. Meantime, rivals are pursuing similar plans. Next year, Google is expected to expand DoubleClick's own ad exchange, which matches ad buyers and sellers. "We want to apply the science of search to what is today the art of display," says David Rosenblatt, a Google ad executive. Microsoft hopes to expand its display reach in the coming year or so, too.
"WEB 2.0 WORLD"
Yahoo has a lot to prove. Its last big software project, a search-ad system called Panama, was delayed repeatedly and has failed to slow Google.
Moreover, Yahoo's expertise has always been in building audiences, not creating whiz-bang technology. Indeed, a key piece of Apex is technology from the ad exchange Right Media, which Yahoo acquired last year. The overriding question is whether the company can reinvent itself as a tech power that can compete with the übergeeks at Google, Microsoft, Facebook, and a raft of Web upstarts gradually stealing away Yahoo's audiences and advertisers. "We have to build an advertising system that lives in the Web 2.0 world," says Yang. If he can't, Yahoo's future could be a slow fade to irrelevance—or, if new Yahoo board member Carl Icahn and other shareholders get their wish, a quick meal for a still-hungry Microsoft.
The Apex project got under way in late 2006 as Yahoo's fortunes headed south. Tensions over the new tech-focused ad initiative broke into public view in June 2007 when ad sales chief Wenda Millard left for Martha Stewart Living Omnimedia (MSO). In an unusually blunt press release about the staff shakeup, Yahoo said "the industry has shifted and requires a different set of skills." Millard later decried unnamed ad networks that sell ad inventory "like pork bellies." The same month, with no sign of a turnaround, CEO Terry Semel resigned and Yang took over.
Despite the turmoil, the project stayed on track through more than a year of development. A half-dozen project leaders and executives conferred every Sunday at 7 a.m. for an hour to plan the week's activities. As a December 2007 deadline to produce a working demonstration system neared, teams worked around the clock to mesh their code.
They made it, but Yahoo's business was deteriorating. On Jan. 29 the company said fourth-quarter profits plunged 23%, and its stock slid to a four-year low. Two days later, Microsoft pounced with a hostile bid to buy Yahoo. For all that, Apex rolled out on time to newspapers in mid-August.
Yahoo's not done yet. It will open Apex initially to newspaper publishers, plus other partners such as WebMD and CNET Networks, this year and through 2009. Advertisers, agencies, and ad networks will follow, and eventually it will expand it to all kinds of online advertising, including search and mobile ads. Meanwhile, the growth of display ads is starting to slow as the economy slumps. "Yahoo's trying to move more into display at just the time it's declining," says Jeffrey Lindsay, an analyst with Bernstein Research. Yang insists Yahoo is in for the long haul. But his time is running short.
Before it's here, it's on the Bloomberg Terminal.
LEARN MORE