Russian Stocks in Free Fall
It looks like a replay of 1998 as both foreign and local investors bolt from ruble assets
Jason Bush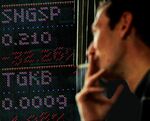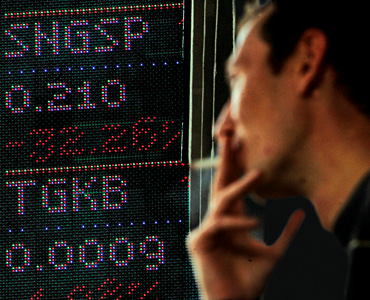 The ruble is tumbling, capital is fleeing the country by the suitcase-load, interest rates are soaring, and stocks are collapsing. Sound like Moscow, 1998? Sure, but it's also Moscow, 2008. A decade after Russia's financial crash, the country's markets are again in turmoil. On Sept. 16, after digesting the news of Lehman Brothers' failure, Moscow shares went into a tailspin. The biggest bourse, Micex, fell 17.5%, its largest one-day loss since 1998, while the rival RTS exchange was down 11.5%. "Stop Falling!" the daily Vedomosti pleaded in a Page One headline.
That plea went unheeded as the slide continued on Sept. 17, spurring regulators to suspend trading on both exchanges. The Russian central bank pumped a record $17 billion into the financial system, while the Finance Ministry said it would provide $45 billion in short-term loans to banks. That followed a $20 billion injection one day earlier, which failed to keep overnight bank rates from jumping 2.41 percentage points, to a record 10.83%.
The collapse has created a vicious circle. Many investors had taken out loans to buy stocks in a multiyear bull market. As prices fell, they suddenly found themselves forced to put up extra collateral, and the only way to raise cash in a hurry was to sell more stock. "Once things start, you get automatic mechanisms that kick in," says Richard Hainsworth, general director of the RusRating credit rating agency in Moscow. "People don't know where it's going to stop." Since July, Russian shares have lost nearly two-thirds of their value.
The sudden panic shows how apparently unrelated events can combine to create a powerful downdraft. The first shock came in late July, after Russian Prime Minister Vladimir Putin accused steelmaker Mechel (MTL) of price-fixing. A bitter shareholder dispute at Anglo-Russian oil company TNK-BP added to market nerves. Though both conflicts appear to have been resolved more or less amicably, traders soon had another crisis on their minds: Russia's invasion of Georgia in August.
Fearing a new Cold War, foreigners dumped the ruble, Russian bonds, and stocks. By early September, locals anxious about a further slide in the currency began piling out of ruble assets and into dollars and euros. "The time when the dollar was considered a much safer investment wasn't that long ago, so many people just had a reflex reaction," says Evgeny Nadorshin, chief economist at Trust Investment Bank in Moscow.
KREMLIN ASSISTANCE
Some seasoned investors say the troubles are overblown. "The world has gone mad," says Eric Kraus, who runs the Nikitsky Russia/CIS Opportunities Fund. The market implosion, he says, "is a negative bubble...completely disconnected from economic fundamentals." Second-quarter growth in gross domestic product reached 7.5%, down only marginally from the first quarter, and with oil prices strong, Russia recorded a $260 billion trade surplus in the first half of the year.
Help may come from the Kremlin. For months, business leaders have pushed for tax cuts to boost corporate profits. That would be a boon for the hard-pressed oil sector, which has curtailed production because of a crippling tax burden. While the government has been squabbling over the extent of any relief, the stock market crash may break the logjam.
But lower taxes wouldn't solve the underlying problems in Russia's financial system. Long-term savings in Russia are close to nonexistent—leaving companies largely dependent on foreign funding. And with oil prices off 35% since July, the global appetite for investing in such an energy-driven economy could fall even further. "If foreign investors don't buy debt and equity, Russian companies will find it harder to raise capital," says Kingsmill Bond, chief strategist at investment bank Troika Dialog. "That is the Achilles' heel of this market."
Before it's here, it's on the Bloomberg Terminal.
LEARN MORE